ABOUT US
Drinks+ is a unique pool of experts in one of the oldest media groups in Eastern Europe.
We are specializing in the promotion of wines, alcoholic and non-alcoholic beverages, food and all the information coverage of all the aspects of this industry.
The task of the Communication Media Group Drinks+ (D+) is to establish contacts between professionals and the broad masses of consumers, as well as – among all international English speaking markets, – with the markets of countries where a significant part of information channels are in Russian.
The communicative function is performed by each division of D+, primarily by the Marketing Agency "Mix", that is responsible for conducting specialized events – round tastings, tastings for importers, festivals, presentations, masterclass, including showcases within the most famous and recognized international exhibitions.
DRINKS+ Partners
DRINKS+ magazine, website Drinks.ua, digital newspaper Drinks'o'Clock and our special projects as Drinks+  tour guide honored with long-term cooperation with international companies, local and global brands, national promotion agencies and world's most influential industry shows, including such national promotion associations and projects as Consorzio per la Tutela dei Vini Valpolicella, Consorzio dell'Asti DOCG, Austrian Wine Marketing Board, Wines of Greece, Wines of South Africa, Wines of Moldova, US Meat Export Federation, Kiwi from Greece, Peaches from Greece, EU Dairy, such world's leading shows as Vinitaly, Vinexpo (France, China), ProWein, Brau Beviale, Euroshop, Drinktec, ProWine and Food&Hotel Asia (Singapore), London Wine Fair (UK), Alimentaria (Spain, EC), Identita Golose gastronomic congress (Italy), and many more.
Portfolio
Drinks+ includes Publishing House "N", that has been operating within the market of Eastern Europe since 1993.
Publishing House "N" includes:
Drinks+ Magazine in 2 formats: B2B & B2C;
website Drinks.ua;
digital newspaper

Drinks'o'Clock

;
special project – the guide to the wine-producing countries Drinks+ 
almanac on gastronomy Menu;
gastronomy guide – 

Must visit in Ukraine

.
The main topics of our publications are connected to wine and gastronomy, spirits, soft drinks and water, wine tourism, restaurants, and hotel businesses.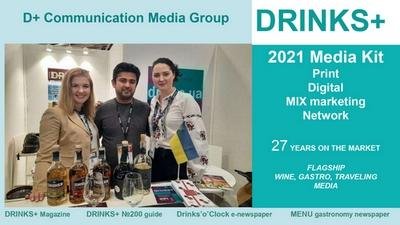 Promotion Options in Ukraine
Promotion of wines and gastronomic of your region: tastings, presentations, lectures, master-classes…
As the main tool for promoting publications, we use direct mail. This includes the classic direct mailing in envelopes via personalized distribution bases, and massive free distribution from company`s stands (including restaurants and hotels, wine boutiques, delicacy markets, airports, etc.) among participants and visitors of professional events in Ukraine, Georgia, Moldova, Bulgaria, Italy, Great Britain, Germany, Spain and other countries of Europe and Asia.
Advantages:
Coverage in all our media: print, online, and social.
The audience: leading wine and travel professionals, press, distributors, sommeliers, restaurateurs, chefs, embassies, trade offices, and tourism departments representatives, journalists of specialized magazines on wine, gastronomy and tourism.
Venues: varying from respectable hotels, restaurants, conference rooms to speakeasy bars and popular festivals.
Print and digital versions of materials are actively and respectfully supported on social networks:
DRINKS+ Magazine
Drinks+ is a specialized magazine, that covers topics about wine, alcohol, gastronomy, and traveling. The key function is to establish B2B communications within the Ukrainian and international markets.
10 editions per year with a circulation of 20 000 copies.
bilingual (Russian/English);
distribution: direct-mailing to key operators of the beverage and restaurant business in Ukraine, subscription;
distribution at the world's leading exhibitions.
Drinks.ua since 2016
Website www.drinks.ua encompasses all topics covered in our magazines: wine and alcohol (production, markets, design, equipment…), wine critique, cocktail culture and mixology, restaurant reviews, wine, and gastronomy traveling.
More than 232 000 views per month, over 23 000 visitors per month, professionals all around the world visit the www.drinks.ua: Ukraine – 61%, East European countries – 22%, Central European countries – 3%, USA – 7% and others – 7%
Categories:
Articles about the wineries, new products, restaurants and gastronomy
News
Interviews
Wine tastings& Events, Reports
Wine tourism
Calendar of exhibitions and tastings all around the world
Analytics and ratings
Jobs and education
Catalogue of distributors
Offers for distributors
Map of world wine roads
Video recipes of cocktails
Drinks'o'clock electronic newspaper
Drinks'o'clock is the new digital issue of Drinks+ International Communication Media Group in English and Russian languages with news and relevant markets analytics for professionals all around the world.
Despite the cancellation of exhibitions and other restrictions in connection with the pandemic, the business should develop, get new opportunities and contacts. The safest and at the same time effective way to establish new contacts is the promotion through the direct mail in an electronic newspaper with unique content and a unique subscribers' database.
To whom do we address Drinks'o'clock (20,000 emails)?
importers, buyers and distributors – 53%
representatives of the network retail – 18%
producers of alcoholic beverages – 22%
specialized media and wine bloggers – 7%
Drinks'o'clock mailing geography:
America (USA, Canada) – 22%
Central Europe (France, Belgium, Germany, Austria, Poland) – 21%
Eastern Europe (Ukraine, Russia, Moldova, Kazakhstan) – 20%
Asia (China, Hong Kong, Singapore, Korea, Vietnam) – 18%
Northern Europe (Sweden, Norway, Finland, Denmark, Baltic countries, Great Britain) – 14%
Australia and New Zealand – 5%
What is Drinks'o'clock interesting about?
concentration of data on potential markets in one letter
exclusivity of information
English version
clear targeting of a hard-to-reach professional audience in various world markets
in the conditions of the global virus outbreaks, the online resource is the safest advertising campaign
If you are interested in posting information about your company in Drinks'o'clock edition with a monthly mailing to the current database of 20,000 addresses, including leading buyers, importers, retail and industry media, select the option for your presentation. You also have the opportunity to post a video information: online presentations of your products, estates etc. from YouTube or any other video channels. 
Important! All information from Drinks'o'clock is duplicated in Drinks+ social networks absolutely free!
And a bonus for everyone who signs a contract for at least half a year is the distribution of letters of recommendation to your potential partners (distributors, buyers, importers) with our personal recommendation about your product, as well as the possibility of conducting online or offline tasting for partners.
We will be sincerely glad to see your company among our partners, so we offer a number of joint advertising activities. Information about event's organization conditions or promotion in magazines and sponsored print & digital packages is available on request.
To contact D+: