For good financial performance, a decent institution needs very little – literally a couple of introducing essentials: a professional sommelier and a competent wine list
. But seriously, the path to success really runs through the wine list. It is not a secret that the sale of alcohol is the main source of profit for many restaurants.
---
The creation of a wine list is a quite painstaking and hard work. A number of questions arise: "What drinks should be chosen? Is there room for personal expression here? Focus on the buyer or the seller?" Well, plus 1000 other questions.
Many establishments choose to include wines from regions and grape varieties that their guests are well aware of, and they can confidently choose, what they like. Others, on the contrary, are looking for something unusual to surprise and interest the guest. It's hard to say with confidence, which approach is better.
It is quite often that the wines chosen for the wine list reflect the taste preferences of the sommelier, which does not always justify itself. If we ask several sommeliers how to correctly make a wine list, we can get completely different and often contradictory answers. At the same time, each of them will be sincerely confident that it is he or she who knows, which wine list will sell better …
Let us take a closer look at this important aspect of the restaurant's operations by shuffling the wine lists of the most renowned establishments in the world.
Wine list: how are the matters arranged?
The main condition for making a wine list is a joint work of the chef and sommelier. Only in this case, guests will receive an unforgettable gastronomic experience, and the institution will increase its revenue. Correct structuring is no less important: a guest should be able to easily navigate the list, even with a large number of positions.
Basically, wine lists allocate drinks according to the following categories: country, region, and grape varieties. Separate positions for sparkling or sweet and fortified wines are also common. Descriptors such as body (light, medium or full) or wines with or without oak can also help people make choices.
A wine list enabling one to quickly select a wine or cocktail will significantly increase sales. After all, the sooner guests decide on the first drink, the earlier they will place an order and the higher is a likelihood that they will do it again.
On a separate note, I would like to broach the corkage fee. The policy pursued in this matter should be openly declared via the wine list. Some establishments limit the number of bottles that guests may bring, while others absolutely prohibit such policy. In my opinion, nothing strengthens a relationship better than freedom of choice
. Guests will appreciate the corkage fee service, when you can come to a restaurant and enjoy your special wine for a fee. A reasonable compromise: it should not be less than a price of the cheapest bottle of wine on the wine list.
The world's winning wine lists
James Suckling Wine Central
2nd floor, 22 Staunton St, Central, Hong Kong
Reservations@jswinecentral.com
The world-renowned American wine critic (# 1 in Asia) James Suckling opened a wine bar in downtown Hong Kong in 2018. Its wine list is impressive due to its variety, and offers the most innovative wine program in China and, possibly, throughout Asia.
This is the most significant "wine-by-the-glass" figures, of which I am aware: 400 wines from 700 names from all over the world when ordered in bottles. Plus, daily wine tastings and conceptual wine workshops hosted by James himself.
The 2019 Top 10 Wines, which received the highest points from James, open the wine list.
Siro Pacenti Brunello di Montalcino Vecchie Vigne 2015

Renieri Brunello di Montalcino 2015

Muga Rioja Prado Enea Gran Reserva 2011

Marchesi Antinori Umbria Cervaro Della Sala 2017

Schafer-Frohlich Riesling Nahe Felseneck GG 2018

Rippon Pinot Noir Central Otago Mature Vine 2010

Chateau Larcis Ducasse St-Emillion 2016

Eredi Fuligni Brunello di Montalcino 2015

Errazuriz Las Pizarras Pinot Noir Aconcagua Costa 2018

Cheval des Andes Mendoza 2016
Thereupon, the wine list is structured according to the varietal composition: Chardonnay, Pinot Noir, Cabernet Sauvignon and so on, with the wines having their own ratings and possibility to taste almost every position, using Coravin.
There is a page in the wine list with the so-called rock stars' wines. These wines have always been associated with James Suckling's unforgettable special guests' parties, interesting people, and exciting stories. This wine list includes such wines as Cristal, Krug, Ornellaia Toscana Bianco, Dominio de Pingus, Chapoutier Hermitage L'Ermite, Petrus and others.
The next page is dedicated exclusively to Bordeaux wines and is called Bordeaux Confidential. They are very popular in Hong Kong, and every year, there is a tasting of young Bordeaux wines. James Suckling Wine Central presents primarily the grapes of 2017, 2016, 2015 and 2014 harvests. Mr. Suckling calls these young wines "the new classicism of Bordeaux".
The establishment pays great attention to vertical tastings, when you can try Barolo, produced during the period of time from 1940-s to 2000-s by such producers as Giacomo Borgogno, Pio Cesare, and Conterno.
As you can see, the marketing of this establishment is closely related to the owner, his biography, taste preferences and tasting experience. This factor is luring for the guests who want to taste the wines recommended by such connoisseurs as James Suckling.
He himself assesses the institution in the following manner: "For me, this wine bar is the embodiment of my career as a wine critic over the past four decades. It is a physical extension of my experience and love of writing, reviewing and drinking hundreds of thousands of wines. And this is the dream of my dear wife Marie, who left her native Korea to work for 15 years in the wine merchantry in London and Hong Kong".
Talking about pairing or gastronomy: thereupon, guests are offered to taste delicious Korean cuisine according to the menu developed by Suckling's wife (I recommend Maries Royal Bulgogi Tteokbokki – beef fillet marinated in soy sauce with rice noodles) – this is a must, but there are also Italian and American dishes.
HIDE
85 Piccadilly, Mayfair, London W1J 7NB, Great Britain
http://www.hide.co.uk/                  info@hide.co.uk
Wine Mecca of London – HIDE restaurant – established by the flamboyant Russian businessman Yevgeny Chichvarkin, opened its doors in 2018. The restaurant has three floors. There is a bar on the ground floor, the second floor – Ground – is the heart of the restaurant, providing food and comfort, and the third level of HIDE –  Above – is dedicated to fine dining.
In HIDE, you can choose wine from a digital wine list (there are about 1000 positions) or order from the Hedonism Wines wine store, where there are about 5000 wines. Delivery to the table takes only 15 minutes.
Digital-list is very convenient. Visitors have the opportunity to display their favorites from a large list of drinks on a separate page and only then make a final decision. The structure of the list is classic, everything is divided by regions, a great emphasis is placed on the Old World, California (most likely, this is affected by the owner's taste and, certainly, the demand for Parker's 100 points), there are also many Australian wines.
The wine-by-glass page is impressive due to a large selection of champagne and a patriotic price for British sparkling Nyetimber – the top-end Cuvee 1086 costs 38 pounds, which is roughly the price of Cristal and Winston Churchill. White Burgundy and Californian Chardonnay are popular among whites, Pinot Noir, Bordeaux, California are popular among reds. There is an interesting specimen – Syrah from Morocco. By its example, a tendency can be traced: the presence of inexpensive and unknown wines on the list in order to promote a new product.
Ukrainian wines also appear on HIDE's wine list, including such producers as Shabo and Beikush (Shabo Grande Reserve, Saperavi, and Kara Kermen).
In HIDE's Above you can order a set menu: dishes and wines for them, which are selected by Chef & Sommelier (incidentally, one of Ukraine's best sommeliers Dmitry Goncharuk is the chef here). There is a classical winepairing of 8 courses and 8 wines for 565 pounds, as well as a hedonistic winepairing of 8 courses and 8 wines for 895 pounds, where it is nice to see our Ukrainian "Massandra": Massandra Kuchuk Uzen Madeira 1923.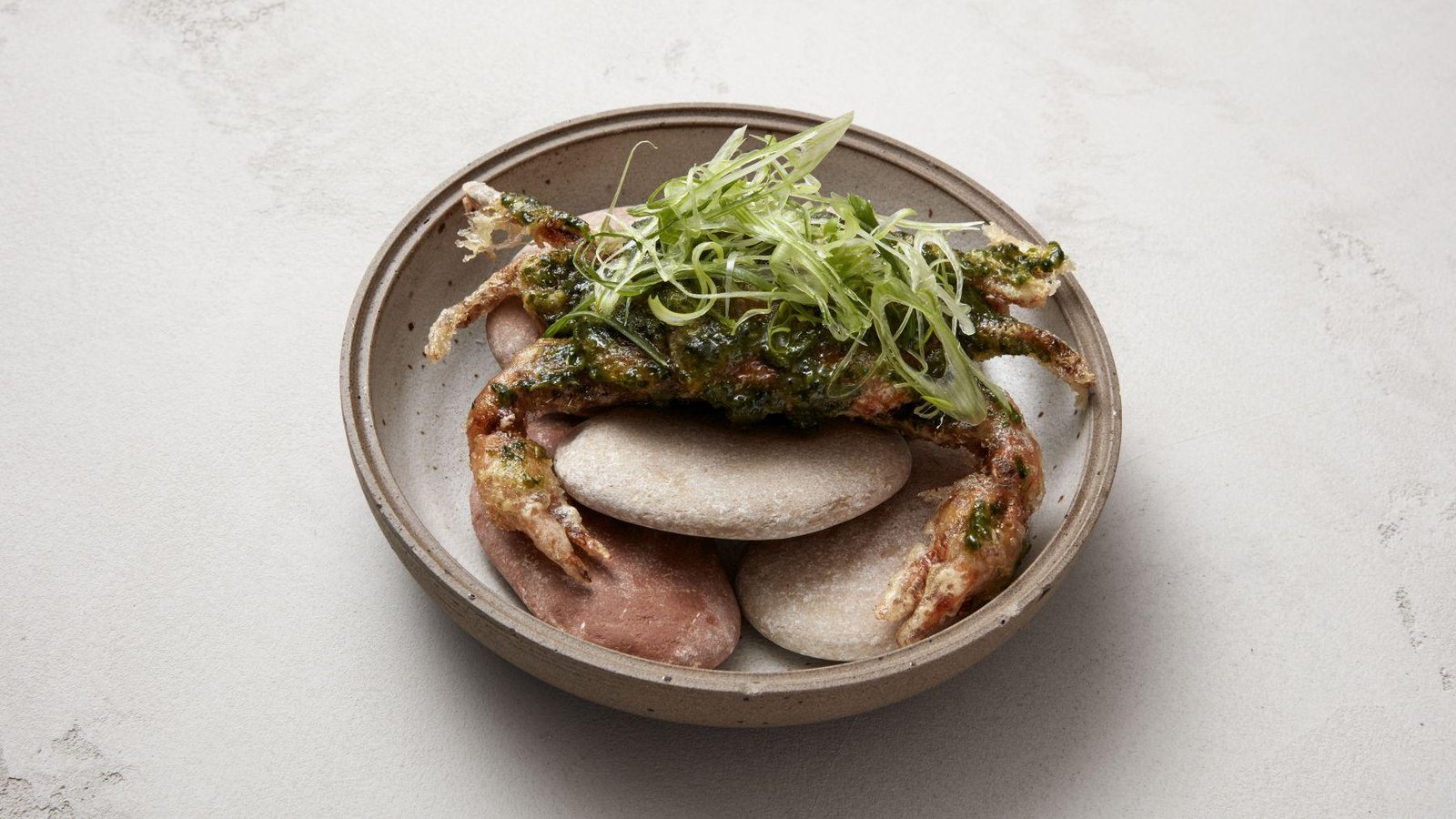 Since HIDE's wine list is in digital format, it is very convenient to place orders for wines, without worrying much that some position may fall out: it can be immediately replaced with something else. The program is elaborated in such manner that the menu is updated online, and if the last bottle is sold, then it automatically disappears from the list. Therefore, the wine list update here is a flexible, prompt, and simple procedure.
Bern's Steak House
1208 S. Howard Ave., Tampa, Fla., USA
Bern Laxer's luncheonette was established 60 years ago as a small bar in a shopping mall. After Bern had purchased the adjoining premises, he expanded the bar up to a huge restaurant. At the present stage, the establishment has 8 halls for 350 guest seats. In 2002, after Bern Laxer's death, his son David carried on the family's business. He became the owner, general manager and wine director. The wine cellar contains approximately half a million bottles and the wine list has 6 800 positions!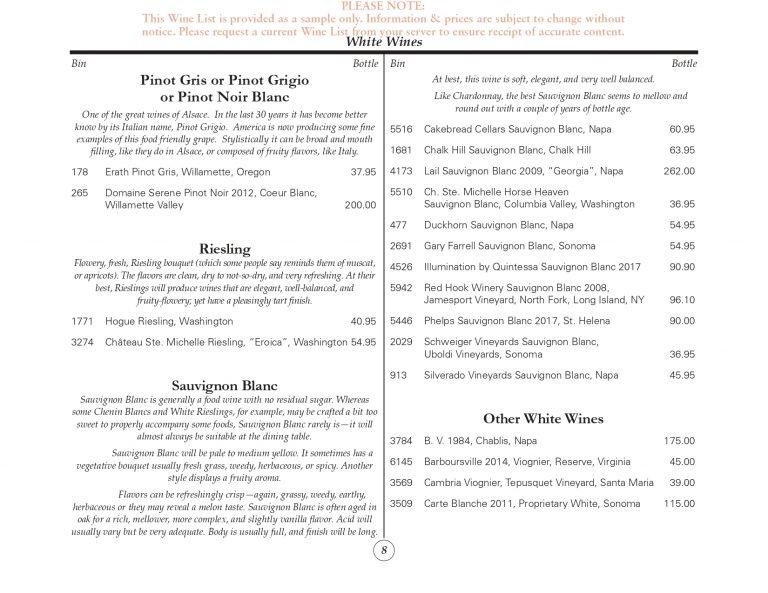 The wine cellar's collection includes an enviable quantity of Penfolds Grange: vintage wines dating from 1986, and 21 Château Margaux vintage wines, including the oldest bottle dating back to 1909. Guests are offered a huge selection of wines below $100, 200 wines for wine-by-glass, to say nothing of 300 dessert wines. The credit primarily goes to restaurant's sommelier's team headed by Eric Renaud, Director of Wine, and Brad Dixon, Head Sommelier.
Chef Habtib Hamde prepares classic steakhouse dishes and surprises guests with 5- and 8-week filet mignons and ribeyes.
Тhe best of the best 2020
There are numerous awards established for certain aspects of a restaurant's wine list. One of the most reputable is the Wine List Confidential Awards in Britain, which is awarded to a specific restaurant in a specific category every year.
Best-By-The-Glass Offering: went to the restaurant "67 Pall Mall"
This restaurant's wine list offers 800 wines by glass, including such as Latour 1961, Harlan Estate 1997, Sassicaia 1985, as well as Sangiovese made in amphora and trending orange wines.
With perfectly polished Zalto glasses and 17 professional sommeliers, this establishment has rightly received the Best By the Glass award.
Cuisine: European
Price per glass from £ 7.00 (125 ml)
67pallmall.co.uk
info@67pallmall.co.uk
Best For Champagne: Greenhouse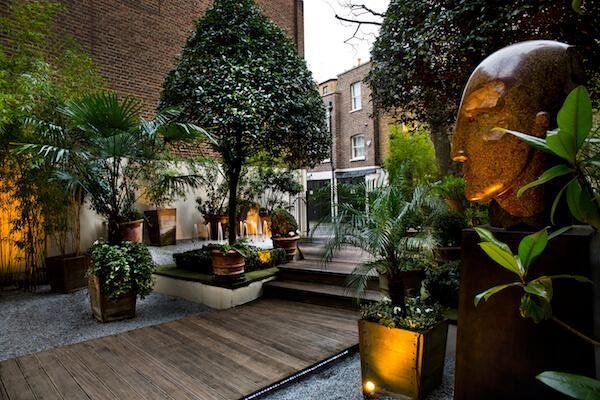 London Greenhouse surprises with a champagne list containing 3400 positions. One of the judges assessed it as follows: "The list of champagne is just insane! A lot of interesting things can be found here: champagne from individual vineyards, old vintages and from the best producers".
Cuisine: European
Price per glass from £ 9.00 (125 ml)
greenhouserestaurant.co.uk
reservations@greenhouserestaurant.co.uk
Best Micro List: Top Cuvée
The wine list can be distinguished not only for its huge selection, but also for its brevity and simplicity. "Since a wine list rarely takes one page, our goal is to get people to try new things. There are a few drinks on our list that I thought would be tricky. But because the list is so small, guests will try them" – Brodie Meah, founder of Top Cuvée, says.
Format: wine bar
Price per glass from £ 6 (125 ml)
www.topcuvee.com
Most Original: the winner is DIOGENES THE DOG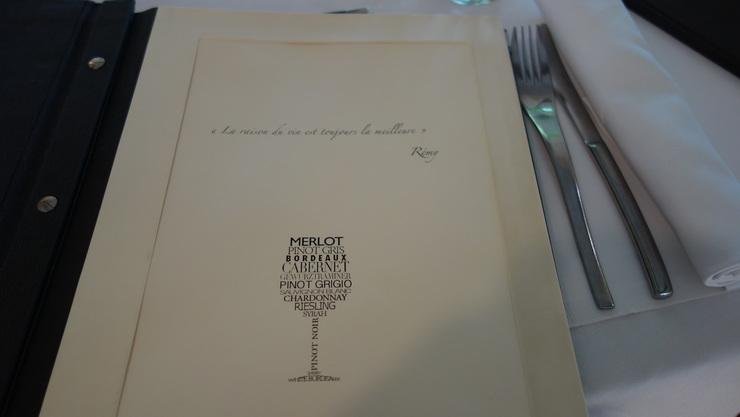 The Elephant & Castle Wine Bar, named after a Greek philosopher who championed a simple, property-free life, gives visitors the opportunity to taste capricious wines from atypical varieties and from unheralded regions. From PetNats based on Riesling from Bulgaria, red sparkling from Britain, to the Japanese oranges based on Koshu from Honshu, as well as oranges from Czech Moravia.
Cuisine: European
Price per glass from £ 5 (125 ml)
www.diogenesthedog.co.uk
Another reputable organization – World of Fine Wine – also unveiled its list of the best wine lists in the world. Each year, this organization meticulously reviews 1000 wine lists. The assessment is provided by an independent commission of renowned international wine experts. In November 2020, this prestigious competition took place online for the first time. The jury consisted of journalists Andrew Jefaur, Elin McCoy, sommelier Andreas Larsson, James Tidwell. Who won in 2020?
Wine List of the Year – Pix Pâtisserie, Portland, Oregon, USA и Park Hotel, Vossevangen, Norway. For the first time for seven years, two establishments received the highest award.
Best Long Wine List in the World: Park Hotel, Vossevangen, Norway. The Scandinavian win again! Last year, that was the restaurant Geranium in Copenhagen.
Best Champagne & Sparkling Wine List 2020 – Pix Pâtisserie, Portland, Oregon, USA. Winner in two nominations: "Best Wine List of the Year" and "Best Wine List with Champagne and Sparkling Wine". The restaurant also offers a huge selection of desserts and chocolates.
Best Dessert & Fortified Wine List 2020 – L'Atelier de Joël Robuchon, Hong Kong. Visitors are always impressed by the stunning design of this restaurant (make sure you get a seat at the bar) and the impressive selection of fortified and dessert wines (Tokay, Ports, Sauternes, our Muscat Massandra).
Best Sake List in Japan 2020 – Ryan, Tokyo, Japan. The establishment offers different types of sake: Junmai, Ginjo, Daiginjo, unfiltered, sparkling.
Most Original Wine List 2020 – Ferment Asian, Tanunda, Australia. The list consists of 99 pages, where guests can find classic wines of Europe and the world, treasures of Australian winemaking, as well as experimental wines from Barossa Valley and rare wines from the personal collection of Peter Lehmann (the credit goes to sommelier Grant Dixon).
Best Airline Wine List 2020 – Air France. The French airline has won the recognition for the third year in a row for its selection of Laurent-Perrier, Deutz, Heidsieck champagne, Gerard Bertrand and Jean Marc Brocard wines. The selection of wine is entrusted to the Best Sommelier 2013, Paolo Basso.
Best Short Wine List 2020 – Supernormal, Melbourne, Australia.
Best Micro Wine List 2020 – 28°-50° Wine Workshop and Kitchen, London, UK.
Best Regional Wine List in its Region 2020 – The Yeatman, Porto, Portugal.
Best Regional Wine List outside Region 2020 – Atrio Restaurant Hotel, Cáceres, Spain.
Best Sake List outside Japan 2020 – Cocoro, Melbourne, Australia.
Best Spirits List 2020 – John Howie Steak, Washington, USA.
Best By-the-Glass Wine List With Coravin® 2020 – Wally's, Beverly Hills, USA.
Best By-the-Glass Wine List Without Coravin® 2020 – The Purple Pig, Chicago, USA.
Best Wine Bar List 2020 – Terroir, New York, USA.
Best Hotel Wine List 2020 – The Fearrington House Restaurant, Pittsboro, North Carolina, USA.
Best Designed Wine List 2020 – Blue Hill at Stone Barns, New York, USA.
Best Cruise Line or Ship Wine List 2020 – The World Residences at Sea.
---
Nota вene
Now, we can summarize what modern trends in wine lists you need to pay attention to, in order to achieve the desired results in your establishment.
List design. Minimalist, often in electronic version, sometimes just on a chalk board, if it's some kind of a small family wine bar. Nowadays, you can hardly find a leather-bound encyclopedia-type list.
Wine style. During recent years, craving for proper nutrition, healthy lifestyle has pushed restaurant owners to put such items as petnats, orange and light red wines on the list.
Wine geography. Everyone is already fed up with Italian Pinot Grigio and Chilean wines, the wine lovers demand new emotions, new countries and regions: Austria, Germany, Portugal, Sicily, Catalonia, Slovenia, Switzerland. Although classics such as Burgundy, Champagne (especially Récoltant wines), Piedmont are still loved.
Serving. Coravin remains a trending device (an upgrade up to model 11 is an eye catcher!), which will help preserve the quality of your wine and give the guest an opportunity to taste top positions by glass.
What will happen to the wine lists in 2021? Will importers go bankrupt? Will there be more Contactless Wine Cards? Will they become less diverse? Let us hope for the best! And most importantly, an element of communication between the sommelier and the guest will not be lost, and while visiting a restaurant or wine bar, we will continue to enjoy an unforgettable atmosphere.
Author: Maxim Pobivanets, sommelier, teacher in Wine School Baku, WSET Level 2 and 3, Certified Diploma (Court of Master Sommeliers)