Dominated by an unprecedented health and economic crisis, 2020 was particularly challenging for the Champagne wine sector and its exports worldwide. However the industry is showing real resistance as the report of the Committee Champagne reveals. The Committee collected data from all shippers and carried out the studies on the various markets to make an analytical report on Champagne sales 2020.
---
In 2020, Champagne shipments reached 244 million bottles, a decrease of 17.9% compared to 2019. Turnover for the sector was €4.2 billion excluding taxes: a loss of €845 million in just one year.
The French market, already bearish before the crisis, continues to decline. The United States, the United Kingdom and Japan, the three largest export markets for Champagne wine, also recorded a sharp drop in volume in 2020. However, this drop in exports is mitigated by the relative resilience of traditional continental European markets. There was significant growth in the Australian market as well. Despite a sustained decline, the Champagne's export markets appear to be more resilient than the French market.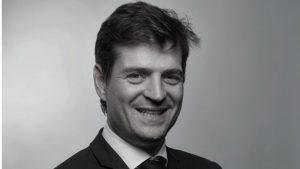 Finally, Champagne's ability to avoid a much worse hit from the crisis is testimony to the fact that consumers still hold it close to their hearts. "Consumers have been keen to bring a little sparkle into dark days, to treat themselves with quality products when so many other sources of pleasure have been inaccessible. The strength of this emotional bond with consumers is an invitation for both winegrowers and Champagne houses to increase educational efforts around Champagne in 2021 and work to further enhance the appellation's desirability", notes Charles Goemaere, General Director.
The Champagne appellation of controlled origin, with which quality, prestige and celebration are associated, constitutes an invaluable heritage. It is a symbol of France in the world. The people of Champagne have been protecting this common heritage for over 150 years.
There are 16 200 winemakers, 130 cooperatives and 360 houses producing Champagne in France. Champagne wine territory constitutes of 34 300 hectares, 3 regions (Grand Est, Hauts-de-France, Île-de-France), 5 departments (Aube, Aisne, Haute-Marne, Marne, Seine-et-Marne), and 319 Crus (communes).

An unusual year
Exports of French wines and spirits suffered from the effects of the global pandemic in 2020. Turnover in the sector fell by 13.9% to €12.1 billion after a record 2019. Nevertheless, the sector remains France's second biggest trade surplus (€11 billion) after aeronautics. Wine exports decreased by volume (-5.1%) and by value (-11.3%).
Despite suffering a greater decrease in exports than the rest of the sector, Champagne wine retained the second highest turnover among French wines and spirits, accounting by value for 30% of wine exports and 20% of wine and spirit exports combined. Despite a particularly testing 2020, Cognac remains the number one French wine and spirit export, with a turnover of €2.7 billion (-21.4%).
The closure of bars and restaurants, restrictions on celebrations and the cancellation of numerous events have curtailed Champagne sales and consumption, often drastically. The year has been a roller coaster, with very sharp falls (April -68%, May -56%) and equally sharp rises (+50 points between April and June), demonstrating the circumstantial nature of the drop in sales.
The global pandemic has accelerated the shrinking of the French market, with 2020 marking its tenth consecutive year of decline (-19.9%). The domestic market now accounts for 46.4% of Champagne sales, compared to 47.5% in 2019. The closure of bars, hotels, and restaurants for part of the year, alongside a major drop in supermarket sales, particularly in spring, had a significant impact on sales within France.
Exports also suffered because of the pandemic and the uncertainty that marked 2020. Champagne exports fell by 16.1% to 130.8 million bottles. In contrast to previous years, it was the European Union—including the United Kingdom— that weathered the storm best, with sales dropping 13.4% to 66.2 million bottles. In the rest of the world, the downturn was stronger: 64.6 million bottles were sold, down 18.8% compared to 2019. Export markets now account for 53.6% of Champagne sales (compared to 52.5% last year).
The turnover of Champagne shipments in 2020 reached 4.2 billion euros (excluding taxes, from Champagne), thus shrinking by 16.7% compared to 2019. In France, it stands at 1.6 billion euros (-17.9%) and 2.6 billion euros for exports (-15.9%).
In 2020, for the third consecutive year, Champagne wine exports overtook sales inside France, albeit in a very different context to previous years. Sales outside of France totalled 130.8 million bottles (-16.1%), resulting in a turnover of €2.6 billion (-15.9%). This meant exports accounted for 53.6% of sales by volume (+1.1 points) and 61.0% of turnover (+0.6 points).
Leading markets experiencing difficulty
5 first markets on volume and value of Champagne wine are the UK, the US, Japan, Germany, and Belgium.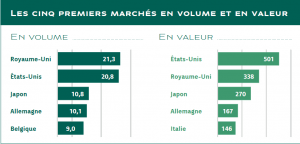 The year was marked by severe disruption to Champagne distribution. The closure of bars and restaurants for part of the year forced distributors to reinvent themselves: they developed a whole host of innovative solutions to try to weather the crisis, from food and wine pairings for delivery or to take away to diversification and the growth of online sales.
However, it was not enough to maintain Champagne sales: the United States recorded a drop of 18.8%, the United Kingdom was down 21.7%, and Japan—a country particularly affected by the closure of bars and restaurants—saw volumes fall by 24.5%.
That said, four of Champagne's leading markets managed to withstand the challenges of 2020 or even post growth: Canada (-5.1%), Belgium (-1.9%), Sweden (+1.0%) and Australia (+11.2%).
Regional pockets of resistance emerge
There were some regional trends towards stability and growth in 2020. The Scandinavian countries (Denmark, Sweden, Norway) all saw a growth in volumes compared to 2019.
While this trend was less marked in East Asia, Taiwan, Hong Kong, and South Korea managed to withstand the crisis, with a fall in exports of less than 10% and growth in the latter case.
Finally, Oceania emerged from 2020 with a clean sheet, thanks to dynamic growth in Australia, stability in New Zealand and the region's effective handling of the pandemic.
French overseas territories
In 2020, Champagne exports to French overseas territories amounted to 4.1 million bottles, down by 16.4%. As a result of this decrease in volumes, turnover shrank by 16.4% to €58.4 million.
Martinique and Réunion were the two main markets in the French overseas territories, with 1.2 million bottles each, down by 18.7% for Martinique and stable at -0.3% for Réunion. Guadeloupe completed the top three, with 1.0 million bottles (-28.9%).
All the markets experienced a drop in sales, with the exception of New Caledonia (+2.0% at 0.3 million bottles) and Saint Martin (+18.5% at 0.1 million bottles).
Based on the materials of the Committee Champagne.