The best Rieslings of the year were honoured today at the digital awards ceremony. A total of over 2,400 Rieslings from all over the world once again faced a jury of experts.
---
Winners come from the Palatinate, Franconia, Württemberg, Mittelrhein and Mosel. Rieslings from Austria, Australia and the Czech Republic impress.
Besides well-known wineries, new "hidden gems" were discovered in the exciting final tastings of the eight competition categories. Third place in category 1 was won for the first time by a winery from the Czech Republic with a "Ryzlink rýnský" from the 2015 vintage.
The results of the category winners show that top quality wines were produced in all German wine-growing regions, especially in the 2019 and 2020 vintages.
Among the first-place winners are well-known names such as the wineries Philipp Kuhn and Neiss (both Palatinate), winery Dautel (Württemberg) and the wineries Schloss Sommerhausen and Horst Sauer (both Franconia). But also many up-and-coming wineries such as winery Harald und Jürgen Krebs (Palatinate), winery Emmerich-Koebernik (Nahe), winery Albert Lambrich (Middle Rhine) or winery Würtzberg (Mosel) are among the winners.
This year, the Moselland eG Winzergenossenschaft (Best Dry Riesling in Food Retail), Weingut Loimer from Kamptal, Austria (Best Dry Riesling Europe) and Weingut Grosset from Australia (Best Dry Riesling from the New World) were awarded one of the coveted special prizes.
Most of the Rieslings that received an award came from the Palatinate (488 Rieslings), followed by the Mosel (338) as well as Rheinhessen (254).
The international top ranking of the best Rieslings this year is led by Alsace with a clear margin, with 102 award-winning Rieslings. It is followed by Austria (59), Luxembourg (12), as well as Australia (8) and the Czech Republic (7).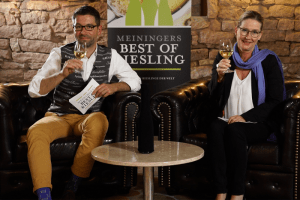 "We already saw the huge potential of the 2019 vintage last year. The Rieslings from 2019 tasted now show that these wines are now showing their greatness through bottle maturity. The 2020 vintage is very exciting from our point of view. Some wines are already captivating at a very young stage, but a lot can be expected here as well," Christian Wolf, tasting director of Best of Riesling, summarises his impressions.
"We were particularly pleased this year that very many older Riesling vintages were submitted to the competition. The 2015 from the Czech Republic was a real surprise."
On a total of nine tasting days, the Rieslings entered for the competition were intensively tasted, evaluated and the best were awarded one of the coveted prizes. The wines were tasted blind by an expert jury of oenologists, specialist retailers, sommeliers and journalists who were very familiar with the diversity of Riesling.
The winners of the eight categories as well as the top 150 will be presented by Meiningers Weinwelt in its July issue.
Based on the press release of Best of Riesling