Italian company Mastroberardino, a tenth generation family estate, reproduced the ancient Pompeian wine. Experts say that Villa dei Misteri is the rarest wine produced on Earth. D+ has visited the replanted vineyards in Pompeii and the family winery of the company and described our experience below.
---
In the beginning was the death. On the ninth day before the Kalends of September, 79 A.D., approximately at 2 PM people of Pompeii, a prospering city of the Great Roman Empire, went to the local amphitheatre built by Gaius Quinctius Valgus and capable of seating 16,000 spectators, to see gladiatorial contests. Unlike in Rome, fighting to death was prohibited in Pompeii. Suddenly, the spectators gasped in fear and surprise, their eyes focused on the nearest mountain called Vesuvius. None of them thought that this imposing mountain which they perceived as part of the peaceful landscape could bring death and devastation.
By the way, this took place just one day after the Vulcanalia, the annual festival held to honor Vulcan, the god of fire. Frozen in astonishment, the crowd in the amphitheatre was watching a formidable 30-meter pine-treeshaped cloud of steam and smoke towering above Vesuvius. The sky became dark, and large flakes of black ashes covered the faces of Pompeii's inhabitants. And only when redhot stones started to spread out of the volcano, people rushed in panic to their homes, grabbing their belongings, children and jewels. Some people were trying to hide in buildings, behind tightly closed doors; others attached pillows to their heads and rushed out of the city, as explosions were heard from the fire-breathing mountain and the earth was rising up to five meters…
The eruption lasted the whole day and night. The catastrophe reached its culmination at 7:30 in the next day's morning: everyone who had not left the city for whatever reason was burned by a wave of pyroclastic flow that had a speed of 100 km/h (which is similar to the speed developed by car on highway) and reached 18 meters in height. Gases of incinerating temperatures immediately killed everything in the "city of the rich". But tuff blocks and hot black ashes were covering the dead city for two more days. In three days it was completely – up to the roof level – covered by a grey smoking mass. After the rainfall Pompeii became buried in a giant volcanic mausoleum, which lasted for 1 500 years.
However cynical this might sound, but it was this "conservation" that helped the future generations to take a comprehensive snapshot of the life and circumstances of death of the ancient Pompeii. Scientists discovered that the people of Pompeii, unlike inhabitants of the nearby cities, were killed by a gas flow that was twice colder, just 250 to 300 degrees. This is why everything in the city was not burned to ashes, but rather remained in a sort of sarcophaguses, surrounded by hollow cavities that developed with time.
Giuseppe Fiorelli, director of excavations, made a revolutionary discovery in 1864. As archeologists knocked on the surface and found hollows, they started making holes and injected plaster into them. Filling the cavities, plaster recreated the last minutes of life of the great city to details, including pleats on clothes, hair style, and even face expressions…
…And then life came. The project for studying and partial reconstruction of this museum city is called PompeiViva for a purpose. Today we know quite well not only how the last people of Pompeii died, but also – up to the smallest details – how they lived, what they were afraid of, what they strived for, what they loved, what they ate and drank. Remarkably, home-made food was a privilege reserved to rich citizens of Pompeii, because firewood for ovens was expensive. Other people bought ready food in ancient public cook shops called thermopolia, where ready-to-eat food was stored in round recessions made from local stone like in a refrigerator. The city had 118 bars and taverns offering food, drinks and entertainments to people from the whole Roman Empire. By the way, inhabitants of Pompeii, like Romans, were true gourmets.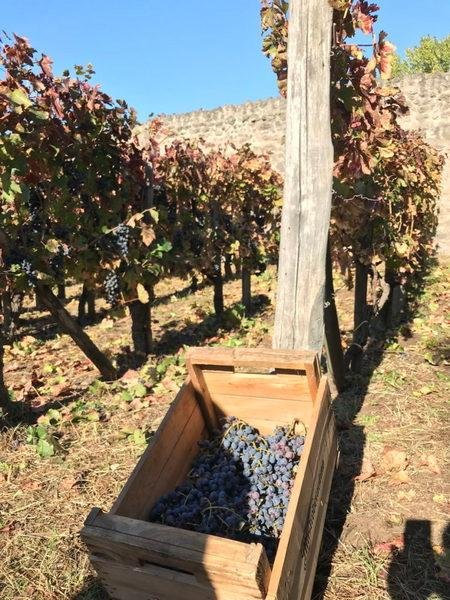 There was a market with a pool with live fish, so everyone could pick fish of his choice. Archeologists found that for these people, a visit to a theatre started from the bar, so spectators enjoyed snacks and drinks in a quadriportico before the show or during the break. Falerno wines, for example, were well known far beyond the Empire. People of Pompeii preferred to drink wine, diluting it with warm water in proportion of at least 2:3 and adding honey, and enjoy it with goat cheese.
During the excavations it was revealed that due to amazingly fertile soil fertilized by volcanic ashes, wheat was harvested two times a year, and harvests of apples, figs, cherries, melons, almonds, and garnets were also abundant. Due to archeological excavations and examination of imprints of vine and vine roots in pumice, archeologists concluded that vineyards were planted at the walls of the ancient Pompeii, near the amphitheatre.
It is here, where vineyards of the ancient Pompeii were buried under ashes two thousands years ago, young vines of ancient grapes have been recently planted again. And this is here, at the entrance to the Amfiteatro, we were met by Antonio Capone, an agronomist who leads one of the most amazing projects in the human history – archeological reconstruction of ancient wine of the destroyed city.
---
The same theme – a blend of ancient history and modern style – is found in decoration of the family winery. In my opinion, paintings by Raffaele De Rosa and Maria Micozzi that decorate the arches, are second to none and although made in modern times can be called gems of world art heritage.
---
This unique project was started by prominent wine-maker Antonio Mastroberardino, whom friends jokingly called a grape archeologist. He came from a family of wine-makers and deeply studied the history, methods and principles of archeology. One of the most important achievement of the wine estate owned by him was the revival of autochthonic grape varieties, the Greek heritage of Campania, where Aglianico, Fiano and Greco are the leading varieties.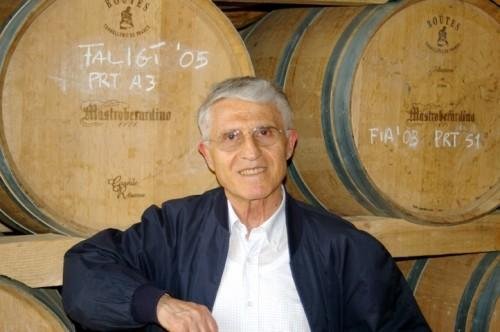 The Archeological Society of Pompeii contacted him and offered to combine efforts for creation of wine which was subsequently called Villa dei Misteri as a tribute to one of Pompeii's most important landmarks – Villa dei Misteri with its famous frescoes, supposedly the place where locals conducted rituals in honor of the god of wine Dionysus, ty was given to 3 leading grapes, including Aglianico – a great ancient late maturing variety, extremely capricious and sensitive to diseases, but giving Taurasi, which is often called a brother of the legendary Barolo and Barbaresco.
2000 marked the next stage of the project, which entailed massive planting of vines in the area covering 1 hectare.
Signor Capone guided us through insulas – museum territories closed for tourists, and inside we found separated green areas where now autochthonic grapevines are cultivated. The project currently has 15 of such experimental grounds located in various parts of the museum complex, covering 1 hectare of area and containing 7,000 of grape bushes. Every plot has its own distinctive character including its own grapes, various support systems, historic objects (such as houses, ancient fountains, wineries, and triclinia, local dining rooms) аnd other things. The vineyard in the Garden of Fugitives is probably the most impressive in terms of such objects from the historic point of view. Here, surrounded by live cheerful vines, is a terrifying exposition: 13 plaster figures of dead inhabitants of the insula, whom scientists believe to be members of the same family, and who could not escape from the deadly danger because some of them were not capable of moving quickly. They remained in the eternity, frozen in movement and supporting each other… But, enough with sad stories, let's talk about life.
In 2009, the Monument Conservation Society approved planting in the Garden of Fugitives of another vineyard, where the system called Albarella ("small tree") was used. A vine is cut short and tied to a stronger supporting bar designed for a larger quantity of heavy grape clusters. Lower leaves are cut off to increase the access of light. Such system was first discovered in Greek sources. It is successfully used in dry regions, and wine-makers think that it is the best option for Aglianico. Some experts, however, believe that it originates from the Etruscan winemaking school.
---
I guess that no one will be surprised that a bottle of Villa dei Misteri costs 100 euro in the winery shop. In the souvenir shop next to the entrance to the complex, however, it is 250 euro. As scientists expect the next activity of Vesuvius in the coming years, buying some bottles of Villa dei Misteri can be a great investment idea…
---
Over all these years, participants of the Villa dei Misteri project have gained experience which provides grounds to say that on volcanic soils rich in minerals vines grow fast and demonstrate outstanding results in terms of yield and organoleptic properties. Pompeii's vines look 2 times older than their peers.The oldest vines will soon reach their 20th birthday. Today, both white and red old grape varieties are grown in the museum's territory. The latter include Piedirosso, Sciascinoso and Aglianico.
By the way, the Villa dei Misteri wine is a blend of Piedirosso and Sciascinoso. Villa dei Misteri – the dream wine, the legendary wine and the symbol of revival – has been produced at the Mastroberardino facilities since 2001. Remarkably, despite its age and archeological origin, the company boasts cuttingedge equipment and machinery, and only the most advanced technologies available today are used at all stages of production of this amazing wine. Considering that Mastroberardino "borrowed" the vine cultivating conditions from ancient Romans and used aboriginal grapes with which the Pompeians worked, the Villa dei Misteri can be deservedly called an astonishing symbiosis of the past and the present, death of Pompeii and life after death.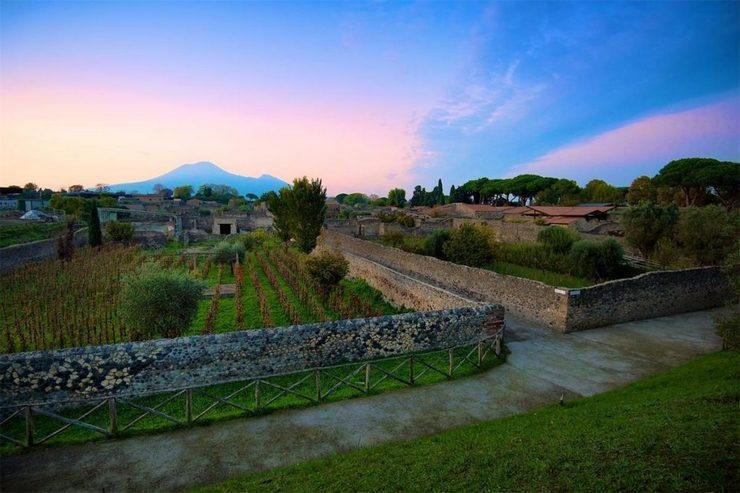 ---
D+ File
Taurasi DOCG, the first winemaking area of the highest quality category in Southern Italy, emerged in 1993. And the first bottle of Taurasi DOCG was produced by Mastroberardino. The age of Vesuvius is estimated at 17,000 years. This is the only active volcano on the European mainland. Supposedly, it has erupted about 100 times, but only few eruptions were more catastrophic than the eruption in 79 A.D.: thermal energy released during the eruption was 100,000 times more the thermal energy released by the Hirosima bombing. Pietro di Berardino, a famous wine-maker, was already producing wines back in 1750, and a little later he was granted the title of Mastro ("Master"). The wines were renamed "Mastroberardino". The winery was officially registered in 1878 by Cavalier Angelo Mastroberardino, which is considered the year of birth of this wine estate. This date now decorates the winery's coat of arms, flag and wine maturing casks.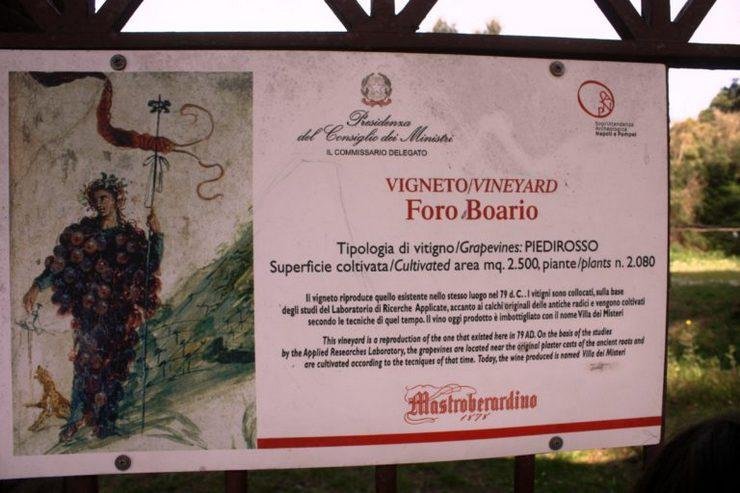 ---
The editors would like to thank Oksana Khristich, a wonderful translator from Naples,


vesuvio70@mail.ru    +39 3357154964