The choice of wine for your meal is not always straightforward. Vegan dishes are often light and less reach comparing to meat or fish dishes and cheese plates. How then should we choose the right wine? Chefs and sommeliers of reputable gastronomic restaurants from Denmark, Austria, Ukraine and USA helped me to answer this question.

---
Lots of wines are recommended to be paired with meat and fish dishes, or cheese. I often come across these "prescriptions" on back labels of wine bottles or in wine blogs. And there is nothing wrong with pork, hamburger, meat tartare or venison, which can be perfectly combined with full-bodied, solid wine, the qualities of which will not be lost against their background, such as rich red Grenache, Syrah or Mourvèdre.
However, how should a vegan or vegetarian choose wine for their dishes? Are there any rules for wine pairing? Сan vegan dishes be gastronomic? These and some other questions, I will try to answer in the article due to short interviews with chefs and sommeliers of reputable restaurants all over the world.
The global movement of the transition from vegetarian to vegan has gained incredible strength, so that The Economist declared 2019 'The Year of the Vegan'. Google search for 'veganism' has increased by 580 percent over the last five years. Currently, the total number of vegans, vegetarians, and all related categories, is close to 14 percent of the world population. And I believe wine marketers should take a closer look at this trend.
So, we are starting with the bread-and-butter issue regarding the wine pairing principles. In her book "The 24-hour wine expert", Jancis Robinson shares a couple of tricks: if you are planning to drink a young energetic red with a high tannin content, i.e., somewhat astringent, generous and rich in taste dishes will be the optimal pair for it; aromatic, full-bodied white wines such as Riesling and Gewürztraminer, especially with pronounced fruitiness, go well with spicy food, for example in an Asian style; if you want to keep drinking wine with something sweet, make sure the wine is sweeter than food – otherwise, the taste of the wine will be very tart and poor; beware of artichokes, they will play a trick on your palate and give any wine a metallic after-taste, so expensive wines are inappropriate in this case.
Søren Ledet, wine director and general manager at Geranium, commented on how different wine can be paired with plant-based dishes: "There are basically no limits today on what you can cook plant-based, so I actually think that all wine styles can be used with the right dish. It's a matter of understanding the acidity, sweetness and balance in the dish and choosing the right wine to compliment that or highlight those flavours. I would always recommend tasting the food first and looking for the structural elements like acidity, bitterness and sweetness before picking the wine."
Geranium is a 3-star Michelin Guide restaurant located in Denmark, on the 8th floor in Fælledparken (Common Gardens) in the centre of Copenhagen, from where one can follow the seasons' journey through the tree crowns, catch glimpses of the city's green copper roofs and just see the windmills of Oeresund. The location emphasizes Geranium's vision of gastronomic clarity and diversity.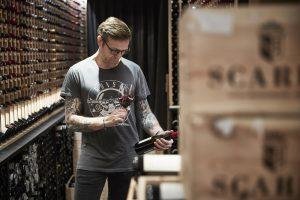 "On our vegan menu, we serve a red beet steak with horseradish and capers. That dish pairs really well with a fruity Pinot Noir from California or a northern Rhone Syrah. My favourite is a good plant-based hot dog with celeriac, pickled cucumber, roasted onions and ketchup. This would be best paired with 2018 Etna Rosso from Federico Graziani," noted Søren Ledet.
*Photos are taken from Geranium's more casual pop-up, plant-based restaurant Angelika and are not served in the same form in Geranium.
Paul Ivić, Chef of TIAN Restaurant, together with Andre Drechsel, TIAN Sommelier, kindly agreed to share their experience of pairing wine with plant-based dishes: "Our entire menu can also be ordered vegan. There is no exact recommendation that fits all vegan dishes. It varies from dish to dish. However, we like to serve the wine "Birdscape" by Christian Tschida or "Anadjucka" by Erich Andert because these wines have a super acidity and good balance."
TIAN is a one-star Michelin Guide restaurant specializing in exclusively vegan and vegetarian dishes and organic wines. It is located in Vienna, Austria. The philosophy of the restaurant says that a truly well made, creative, vegetarian cuisine can be an integral part of the modern lifestyle. The restaurant team respects natural cycles and pays attention to preferably organic products. Their seasonal ingredients are predominantly supplied by regional partners that understand and adhere to their high standards of quality concerning fresh food.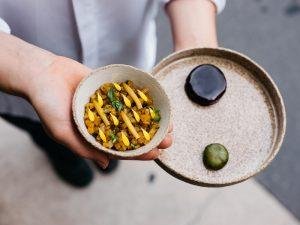 Does all wine can be paired with plant-based dishes? Or should we prefer certain grape varieties, wine regions, etc.?
Paul Ivić: All wines can be served with vegetarian-vegan cuisine. In general, we can say that white wines are more suitable. Of course, all wines have to fit our philosophy when it comes to sustainability. Therefore, we enjoy working with natural wines.
How does the process of wine pairing take place? For example, what would you recommend to an amateur who follows a plant-based lifestyle and likes wine, to start with a wine or a dish choice?
Paul Ivić: We first taste the food to identify the individual components. Then we taste different wines. After the tasting, we decide which wine harmonises well with the food.
What is your personal go-to wine and plant-based food matching?
Andre Drechsel: Personally, I always recommend Austrian wines first. Not because I am a patriot, but because we are blessed with super wine-growing regions in Austria.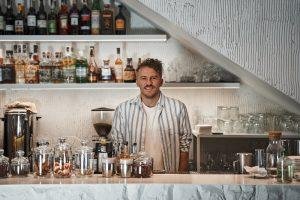 As the Drinks+ magazine has a Ukrainian origin, I could not miss a chance to discover an approach and tendencies at the Ukrainian restaurant business. Yevhen Klopotenko, Chef, Co-Owner of the Restaurant "100 rokiv tomu vpered" (Kyiv), combines Ukrainian gastronomic heritage and modern culinary techniques in order to create a new Ukrainian cuisine without stereotypes. This is a fundamentally new form of Ukrainian cuisine with its own superfoods, amazing recipes and rethought traditions.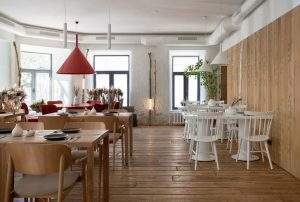 Yevhen, you have repeatedly said that traditionally Ukrainian cuisine is quite healthy and balanced. And are there dishes that can fit into the category of plant-based?
Indeed, Ukrainians have always been vegetarians, because pork or veal on our table was only for the holidays. The basis of the diet was vegetables and cereals. That's why we had so many fasts – there was no opportunity to eat meat during those periods. So, we are historically vegetarians, situational.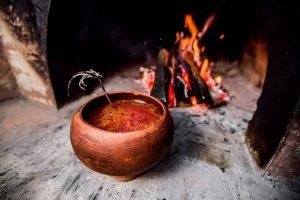 Once you come to the restaurant "100 rokiv tomu vpered", is it possible to taste Ukrainian vegan dishes? What are those dishes on your menu?
Our restaurant does not specialize in vegetarian dishes, but they are on our menu. So, from vegan dishes we have an opportunity to serve:
Zucchini with green peas and ripe apricot sauce.
Salad with spinach, sorrel, apple, French fries and green cream (Ukrainian avocado).
Lean borsch from the oven with plum marmalade.
Baked eggplant with tomatoes and thyme.
Sorbet to make cold (with Cahors and juniper).
These dishes show our love for the concept of slow food, which we support in every way in the restaurant.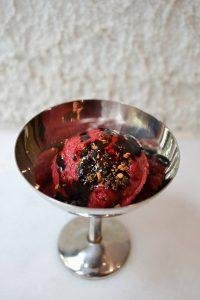 In your opinion, can all wines be combined with vegan dishes? Or maybe one should focus on certain regions, grape varieties?
Wines aged for 3 years (our restaurant, for example, has wines aged for 10 years) are better combined with the same complex dishes. Vegan dishes are mostly light, so we recommend choosing a light young wine. However, we always leave room for the individual preferences of our guests, they clearly have priority over all the rules of wine pairing.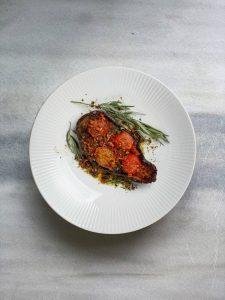 How does the process of wine pairing take place? Would you recommend starting with the choice of wine or dish?
The classic method indicates that you should first choose the dishes, and according to this choice – wine. However, in my opinion, it is not necessary to set priorities here and thus create a "framework" for something. The only recommendation will be to try as many different wines as possible, to shape your experience, to experiment with tastes.
What is your personal vegan dish favourite? And what wine do you choose for it? Maybe something from Ukrainian wine producers?
The restaurant menu includes a salad with a "Ukrainian avocado". Of course, an avocado has never been in our cuisine, because it is not a Ukrainian product, but the chefs managed to prepare a delicate cream of green peas, reminiscent of guacamole. This is definitely one of my favourite dishes. To pair with it, I would recommend a glass of EL CAPITAN PINO GRIS from 46 PARALLEL.
The process of choosing wine for your dish or a dish for your wine seems so interesting, complex, but at the same time creative and versatile to me, that I could not help but discuss it with the chefs who participated in the 3d edition of the Worldwide oeufs en meurette Championship organized by the Château du Clos de Vougeot at the beginning of October. And here I would like to finish up with the comment of Eric Ziebold, Chef at Kinship (one Michelin Star), Washington D.C., that he gave to me: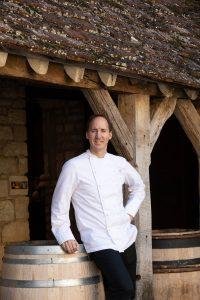 "I do both: sometimes I decide what I am having for dinner, sometimes I decide what I want to drink. It depends on what kind of night or celebration it is. And if I decide what I want to drink, then I build the dish around that. I think all wines can be paired with plant-based dishes, there is nothing about vegan that makes it work with certain wines. And if you want to do a red wine with a vegan dish, then you need to be conscious of that and think about how you will give the dish enough weight, enough richness, and enough texture."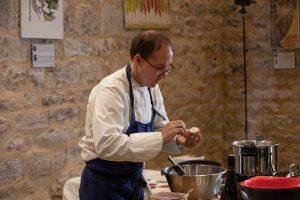 Despite some basic wine and food pairing principles, there are different approaches to it. And you should not be necessarily a professional to create your own experiences and develop your own tastes. In my opinion, celebration of Christmas and New Year is a great opportunity to practice!
Photo credits: Clase Bech-Poulsen (Geranium), Ingo Pertramer (TIAN), Vlad Nahornyi (100 rokiv tomu vpered), Bénédicte Maniere (Eric Ziebold)