Carried out in the Côtes d´Auvergne and in Canada, a study shows organoleptic markers specific to volcanic wines.
---
"The volcanic wines have clearly identifiable chemical and organoleptic markers". This is demonstrated by the first results of the scientific study conducted by the VINORA association (Salon International des Vins Volcaniques) from September 2020 to June 2021.
The association, which created the first exhibition dedicated to volcanic wines in January 2020 on the Vulcania site, near Clermont-Ferrand, wished to list the international volcanic vineyards with an official label.
The study brought together many international specialists in mineral analysis, chemistry and sensoriality of wine, including John Szabo, Master Sommelier, Canadian journalist and writer. It was carried out on 8 test plots of Gamay d'Uvergne. "The two types of plots turned out to be geochemically distinct and present a low water deficit, but even lower for the four basalt plots, compared to the four clay-limestone plots. Certain elements and parameters are statistically more present in basaltic soils: pH, volatile acidity, lactic acid, tristimular b coordinate (colorimetry), tint, sodium and strontium; also, a lower manganese concentration".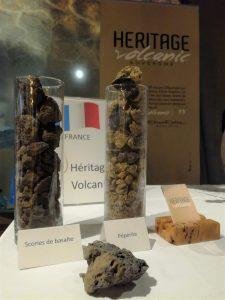 At the same time, organoleptic criteria have been demonstrated. A typical profile emerged during blind tastings, with very marked characteristics: intense peppery notes, salinity, roundness (lower acidity).
The next stage will continue for the 2021 vintage. On the program, plot micro-vinifications, work to characterize the plant material with an emphasis on the mineral fraction, integration of other types of volcanic soils: nuggets, pumice stones… and continuation analyzes of two vintages.
An ambitious project that will result in specifications for the future "Volcanic wine" label, the objective of which will be to guarantee the volcanic origin of wines to buyers and consumers and to provide winegrowers with a scientifically validated recognition tool.
Photo: MP Delpeuch
Based on the material of www.terredevins.com