Archaeologists have discovered a large wine-making complex dating back to the Byzantine era in the Israeli city of Yavne. This find confirms the 1500-year history of winemaking in the region.
---
It seems that one and a half millennia ago, the Israeli city of Yavne was a significant world center of winemaking.
Judging by the found five presses and the volume of four storage facilities, this winery could produce up to 2 million liters of wine per year. There were also found clay containers for storing wine and ovens for burning them. These are typical jars from the site known as a Gaza jar or an Ashqelon jar, besides, Palestinian Baggy Jars – the main kind of jars which was found all over the area of Israel right through the Byzantine period – were found as well.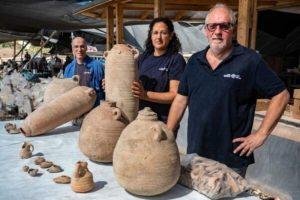 Supposedly, "wine from Gaza and Ashqelon" was made here – it was a trademark of quality light white wine from grapes from all over the southern part of the coastal plain.
Researchers believe that the wines were exported to territories that are today Egypt, Turkey, Greece, and southern Italy. This was prestigious wine widely distributed around the Mediterranean. In addition, some of the wine remained for local consumption.