Along with Decanter, The Drinks Business, and other authoritative publishing houses, our media group will cover the events of the largest online beverage trade show.
---
The Сommunicative Media Group Drinks+ is engaged as an information partner of one of the most significant international wine exhibitions – London Wine Fair, which gathers beverage specialists from all over the world on its site.
This year, the exhibition will be held on May 17-19 online. It promises to be a large-scale event in the wine world, to talk about which the organizers have invited the most authoritative specialized publishers, including the oldest publishing house about wine and winemaking in the UK Decanter and the influential British magazine The Drinks Business which writes for professionals in the wine and beverage industry.
Drinks+ was also honored to become an information partner of London Wine Fair and is ready to tell its readers about all the interesting and bright events of the exhibition.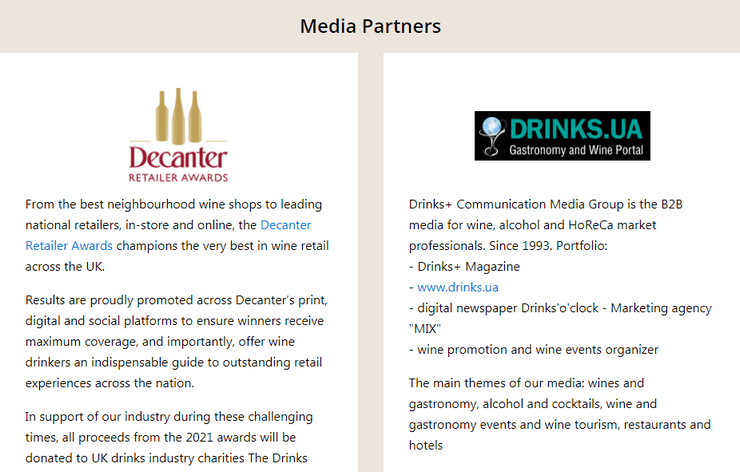 The schedule is very eventful this time: during the three exhibition days, the organizers host several dozen master classes and conferences, the speakers of which are the world's leading winemakers, industry experts, and wine writers.
Masterclass programme
MON 17 MAY
10:00 – Wine Trading 2021: "Where are we?"
10:00 – Discover Alternative Varieties of New Zealand
11:00 – Chenin Blanc – South Africa's Superstar with the Kleine Zalze winemaking team
11:00 – How the drinks industry can drive diversity
12:00 – Levelling up: a taster of WSET's Level 1, 2 and 3 Awards in Wines
12:00 – The Rise of Cyprus
14:00 – Indian Wine: Exploring one of the world's most exciting emerging wine regions
14:00 – How do you run a sustainable business?
15:00 – Peeling Back Portugal
16:00 – Côtes du Rhône white wines
16:00 – Future Fantastic!
TUE 18 MAY
10:00 – Wine Trading 2021: "Are we there yet?"
10:00 – A fresh and breezy expression of Rhône Valley vineyards
11:00 – Can wine be part of the circular economy?
11:00 – The Wines of Felline
12:00 – Blind tasting, the WSET Diploma way
12:00 – Wines of Attica: Savatiano and beyond
14:00 – IWSR session
14:00 – Beyond Tradition Whisky
14:00 – How to succeed with DTC and e-commerce
15:00 – Organic/Biodynamic tasting with Michel Chapoutier
16:00 – International Wineries for Climate Action – How to reduce wine's carbon footprint
16:00 – New Zealand Pinot Noir – Off the Beaten Track
WED 19 MAY
11:00 – Finding and retaining talent
12:00 – Knowledge, skills, confidence: training your team for success
12:00 – Indigenous White Varieties of Cyprus
14:00 – Spanish Wine Academy by Ramón Bilbao: Discovering Diversity in Spain
For full details and speakers – click here  
Follow the reviews of the most interesting workshops and conferences on the Drinks.ua portal!