On August 12-15, Poznań hosted the First National Craft Spirits Festival within the framework of the National Festival of Good Taste (Ogólnopolski Festiwal Alkoholi Rzemieślniczych).
---
The craft segment of Polish spirits has started to develop dynamically in recent years. Following Polish winemakers and brewers, distilleries also began to show activity: their products can increasingly be found both in HoReCa establishments and in specialized stores and even in some retail chains.
Polish craft alcohol brands Destyl, Herbarius Gin, Jonston Gin, Manufaktura Cieleśnica, OVII Spirits, Podole Wielkie, Smarduch Family Distillery and Wolf & Oak are already known throughout the country and are attracting more and more fans of high-quality domestic alcohol.
Young creative people who launched and, despite the difficulties, successfully develop brands of craft spirits, decided to present their products to the general public and for this purpose founded the Festival of Craft Spirits.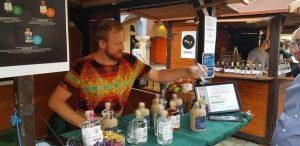 A bright event, held in Poznań, brought together producers and connoisseurs of high-quality alcoholic beverages. Within the framework of the festival, master classes, revealing the secrets of the production of craft alcohol, as well as tastings with comments from recognized experts in this field were held. After tasting several dozen alcoholic beverages – vodka, distillates, gin and liqueurs – authoritative experts chose the best drinks of the festival.