Following three years of groundwork, the Austrian Wine Marketing Board has introduced a unique online service.
---
Where does the Austrian wine you pour into your glass come from? This question can now be answered at austrianvineyards.com. This site brings together all of Austria's legally defined wine origins on a single interactive map – from the bottom level, where a wine's origin is simply defined as being Austrian, through to the next levels of the country's 27 winegrowing regions and 458 winegrowing municipalities, to the top level of origin, where wines originate from one of the highly revered single vineyards (Rieden), of which there are more than 4,300 in Austria.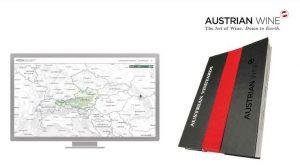 Interestingly, even for small vineyards, you will find the most detailed information. Every single vineyard (Ried) description contains information about the area under vine, elevation, incline, orientation, average temperature, precipitation and sunshine hours, for example, which are key parameters for determining the quality and characteristic flavour of a wine. The Steiermark (Styria) single vineyards are still in the process of being officially defined, but they should be ready to be added to the platform by the end of the year.
Alongside the digital version, new single vineyard maps of all winegrowing regions are now available in printed form, showing all single vineyards that have been legally defined as such.
Commenting on the release of the Austrian wine atlas, Chris Yorke, head of the Austrian Wine Marketing Board, said: "Right from the outset, our goal was to provide our winegrowers with the best tool to drive their marketing forwards, whether this be to promote ex-cellar sales, wine tastings or exports. However, wine merchants, sommeliers and journalists from all corners of the world can now gain unprecedented insights into the wine-producing country of Austria, too. The project makes us international pioneers!"