Daniel and Florence Cathiard, the owners of Château Smith Haut Lafitte, have invested enormous resources in the renovation of the 18th century Château  and winery buildings they acquired in 1990. And besides finances, Daniel and Florence brought their own worldview to the cause, consisting in the desire «to do everything so that every vintage of red and white wines reflects the potential of a magnificent terroir».
---
Florence Cathiard in an exclusive interview for D+ shared her wine business philosophy.
D+: Mrs. Florence Cathiard, this is a long-standing story and probably you were often asked about this, but we are also interested: why does a family of athletes, high-level sport professionals suddenly decide to radically change their business activities – from a logical activity for themselves – sporting goods stores Go Sport, go on to wine business. Was there any doubt? And what prompted you to buy a Château in Bordeaux?
Florence Cathiard: After 10 years of competition skiing (between the age of 12 and 21 for me), we worked very hard to develop our supermarkets over 20 years as well as Go Sport business. Daniel and I began to cross each other in airports and forgetting everything about family life in order to become even more successful in our respective careers.
When Daniel decided to sell his shares, I was unhappy and terrified at the very beginning but soon I understood that it could be a good opportunity for our couple to start over again with a new adventure… a small niche rather than a big company .
 At that time, the only drink we used to have and loved very much was Bordeaux red wines.
So we looked for some estates to purchase in Bordeaux and fell in love at first sight with the one single piece, great terroir of SHL, surrounded by 65 Ha of forest and meadows. Even if it was pretty derelict at the time.
D+: Could you recall the moment when you crossed the conditional threshold of Château  Smith Lafitte – already as a mistress and left alone with your domains? What were you thinking about at that moment? What particular problem bothered you the most and what should you do first?
F.C.: The very important thing for us at that moment was the terroir and on the other hand we need to have a certain estimate what we have to do! At the first time what we thought, that we wanted to be organic! But it was a total disaster with organic processes! We didn't have our own organic company, it took us 5 years to get a result and it was very expensive.
D+: Did you have any wine-making ambitions at that moment – let's say, that you will make a better wine than in such Château? Who, then, was your opponent who you wanted to overtake? Or at that time you did not pay attention to other leaders?
F.C.: As my always optimistic husband Daniel said, we were learning the job! (in the hard way). It took us until 1995 to really succeed in making a great vintage in both red and white. We understood that we need more recognitions in our wines. They should be more elegant, less oaky and have a long-long finish. We chose to hire Fabien Teitgen who just graduated from the best university for wine making and agricultural engineering.
We took him not only because of his diploma but because he also shared our same inner conviction about organic farming. Michel Rolland also became part of the project, and is still today our consultant and friend, as well as Stephane Derenoncourt who joined us more recently.
What we also did, we organize our own cooperage in the Château and it was a great idea! With our own oaks we decided to change a lot in our wines.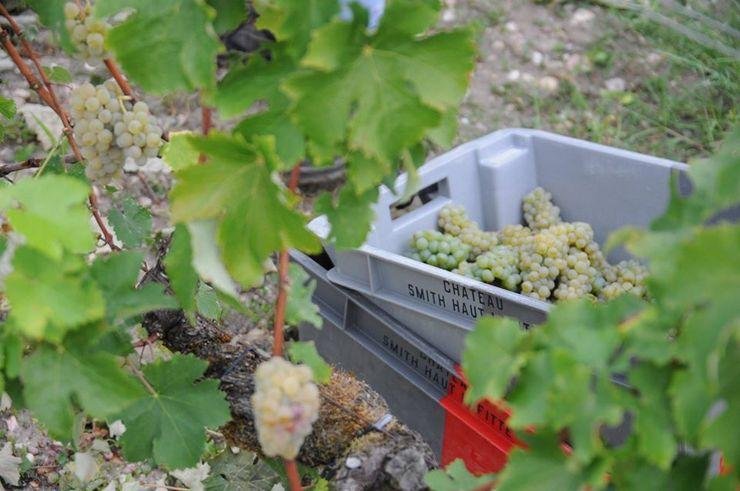 D+: Château Smith Haut Lafitte – one of the 4th (and there are about 6000 in total !!!) in Bordeaux with its own barrels' production. Why did you decide to make your own barrels? What you did not like about the quality of suppliers? How did this affect the quality of your wines?
F.C.: We decided to make our own barrels because we think it is very important to master the supply of the oak and the subtleties of the toasting for the wood never to overwhelm the fruit nor the specificities of the terroir.
We feel no need to violate the rules of the region because a great growth of Bordeaux must precede the trends: we were and still are pioneers in oenotourism, in organic farming and now in biodynamic and phytotherapy…
We like to thrive on the constraints of having to compose our symphony in the crystal glass with a very limited name of varietals, of not being allowed to irrigate etc… Because a 650 years old Château as ours must remain Classic, avoid the mistakes of the past, and not follow the fashion which will not last…
D+: What difficulties did you encounter at the beginning of the wine-journey in principle? Have you studied the winemaking theory, viticulture, or everything were comprehended in practice? Whether there were any mistakes in your decision-making? Could you please remember it, if possible?
F.C.: In 1991 our expectations were greater than our fear. But 4 months after we bought the estate, we suffered from frost and lost 80% of the crop alike the four leading appellations of Bordeaux! It was an agricultural and financial disaster. Then in 1992 endured continuous rain and in 1993 we were half breaking but still pretty naïve and certainly a little arrogant, we decided to convert in organic farming and it was a complete failure. Yields went drastically down, our home made organic compost was totally inefficient and the vines suffered a lot…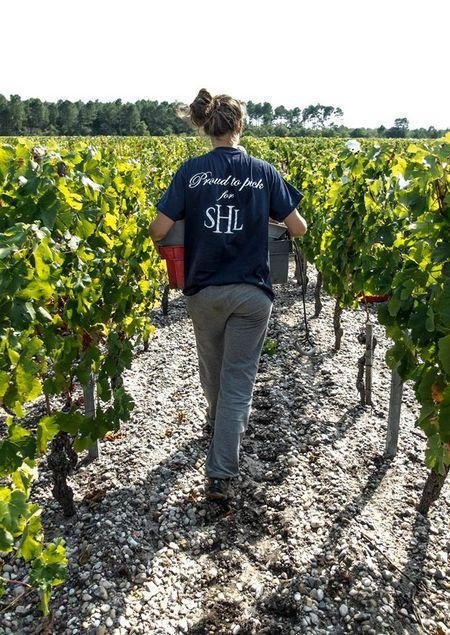 D+: Robert Parker once spoke of Smith Haut Lafitte like this: "Under the impeccable leadership of the Cathiard Family, the Château has become one of Bordeaux's brightest stars since the mid-1990s." Could you please name three or five basic steps that led the Château to success?
F.C.: Leading a Château to success requires:
 a great terroir;
an excellent team;
stop using chemicals and pesticide;
 living on your estate or very near…
 making no difference between your job and your way of life as well as a passion fully shared with your partner;
a lot of luck and optimism to deal with Dame Nature and the weather.
D+: What changes/trends in the wine business can you personally notice over the past 10-15 years? Could you divide them into positive and negative?
F.C.: Positive in the last 15 years is that what we call 'La Place de Bordeaux', I mean the 50 wine merchants, negociants, they have given to SHL a worldwide exposure making our bottles famous in more than 30 countries. But on the other hand we have to back up the Négociants since some huge companies sell our wines to big markets, like the United States or Asia and don't pay as much attention to the small markets, the ones we call niche, to divide our risks. Negative – what we can see now it is like postapocalyptic world because of Covid-19. Only our team is working on the vineyard, and we hope that in July it will end and people will come again to our Château. We rather prefer small individual sales, because we believe the people we meet directly, later becomes world ambassadors for our wines. The good thing about our new vintage, 2019, even it will not be easy to sell it like previous vintages, it might take more time, but it will only get better with a bit of ageing. We shall release the wine on the Place de Bordeaux at the end of June, and the odds are that prices shall be more interesting than last year, with a quality that is no less better. Smith Haut Lafitte 2019 will definitely be a good buying opportunity for fine wine lovers.
D+: Bordeaux is famous for its red wines and a few dare to risk breaking this tradition. But we can say that you are still sporting producing white wine. And do it brilliantly. Our editorial team visited you last year and we tasted one of the most outstanding vintages – 2011. In your opinion, what other years among your whites can be recommended to serious collectors?
F.C.: With our whites as well as with our reds we would like to show the best of Bordeaux. In the world they are the finest, not the first. For our white wines we have 10.5 ha. The soil is very special; it gives slow ripening which we think is excellent for our wines. We have 90% Sauvignon Blanc, 5% Semillon, 5% Sauvignon Gris. We have a special wine, special blend, special soil and every year we are among of three best white wine of the whole Bordeaux appellations. We are very proud of our whites, they are much smaller than red, but for us it is a niche and we have two kind of vintages. One type is full of energy and very straight like an arrow, direct, pure, with a lot of acidity, freshness. These are 2011, 2013, 2016, 2017 vintages. 2013 was selected among the 10 best wines of the world by Wine Spectator. For me, I prefer wine with more body, roundness in the mouth, the kind of wine that can confuse people. It is – 2005, 2009, 2015, 2019. In this wine people don't recognize 90% Sauvignon Blanc and it is surprising. This kind of wine goes very well with fish. The first type of wine goes better with seafood. You decide. Better is to have both and choose.
D+: The vines in your vineyards, according to the information, are up to 40 years old. But there are also 60-year-old – Sauvignon Blanc varieties. Was there any temptation to make a cépage wines only from old vines or would it be a violation of the rules?
F.C.: We are doing now 90% Sauvignon and it will not change radically. We did the pure Sauvignon till 1998 and then we decided to add 5% Semillon, 5% Sauvignon Gris. We did this because Great Bordeaux wines are bland, not pure varietal. We wanted to stay faithful to the traditions for Great Bordeaux wines.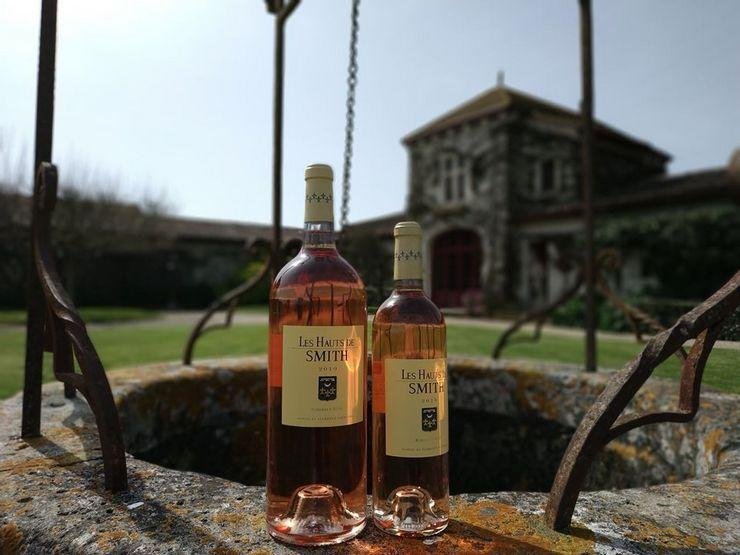 D+: How do you feel, that today more and more winemakers are violating the rules of the region in order to make wine according to their own rules? What, in your opinion, is more important – the originality of the style or features of the region, area? What change in the winemaking law in France, in your opinion, would be worth making? Or current legislation is almost ideal for producers?
F.C.: We love our wines, and it should be like this. Château  Smith Lafitte is 650 years old and we are very proud of it. We learn from our failures and therefore we get better, yet we want to pursue a typical terroir wine. Making a fancy wine outside the lines is probably a good bet for a small château/vineyard, but definitely not a good strategy for one of the top Classified Growth of Bordeaux like SHL.
D+: Your Château  has been following the principles of organic winemaking for several years. Tell us about the work done and your personal attitude to organics. Why does a Château  with a name Smith Haut Lafitte to have the organic status? Is it not about a business at all?
F.C.: My father wanted to call me "Nature", but lucky enough my mother objected. I did all my skiing training by running in the southern Alpes mountains in my young days and Daniel, whom I met at a very young age, was even more passionate about the mountain and its nature, thanks to the snow which was very abundant in our childhood. There we found ourselves on the front line when climate change started to show its negative impact. As for our two daughters, they grew up in an isolated farm north of Grenoble. Mathilde, the founder of Caudalie, was very into animals and managed to tame two hens at a young age while Alice was always concerned about plants & vegetal, she now set up a huge organic vegetable garden at Les Sources de Caudalie.
To be more organic in your life style it is now very important – the planet is damaged to a point where it can no longer heal on its own, it's time to take care of it as much as we can. Even if we have the impression of living in a protected environment in the heart of our vineyards, the least thing is to preserve what surrounds us.
We also took part in COP21 2015 (Climate changes conference). I was a president of the CSO (Conseil Supérieur de l'Oenotourisme) and as such, I met with all the major wine institutions in France as well as the related ministries such as agriculture, tourism, health… I spread the words about ecology. We were then invited to Cop 21 2015 where we sent our daughter Alice to stand for the new generation.
On the other side, we are fully committed to "phytotherapy" (herbal medicine) by cultivating and drying our own plants such as comfrey, wormwood, yarrow, wicker, valerian and tansy but also pick up horsetail, nettle and fern growing naturally in our forests, and later make a decoction out of it in a large teapot to then spread in our vineyard. Examples below:
Cow Horn filled with humus mixture to dynamize soils life.
Horsetail: Against fungal diseases, mildew, with action from silica and calcium.
Osier: To fight against fungal diseases
Oak bark: Improves grape resistance, fights against grey rot
Ferns: natural insect repellent
Nettles: A fertilizer that enhances interchange and chlorophyll storage
We also so far planted some 8.5km of multi-diversities hedgerows and we continue to plant. We set up a dozen hives as well to enhance the diversity around us. Even it can be very restrictive sometimes since the hedgerows sometimes make the vines frost-sensitive (by shadowing them) and the bees are sometimes attacked by Asian hornets, even if we need to dedicate large surface to cultivate our plants and build up barns to dry them, we believe that the other wine estates should also try to commit more in this fight according to their means and encourage them to do so.
We strongly believe that a healthy & beautiful environment is the best thing we can do for the people following the SHL adventure along with us. So far it really helps with certainty, living in harmony with nature, far from all kinds of city pollution and aggressiveness.
D+: Could you please tell a few words about "Les Cinq" (except for Haut Smith Lafitte, this includes: Canon La Gaffeliere, Gazin, Branaire-Ducru and Pontet-Canet) – an alliance created to promote in the world markets. Tell us how did the idea of unification come about? What is your relationship with the owners of these Châteaux?
F.C.:Our Club "Les Cinq" was founded by my husband Daniel and Stephane Von Neipperg during an Air France strike in 1993… Pontet Canet decided to leave the club a few years ago and now we are just 4 châteaux (But with Daniel and I that makes 5 friends) and we do not tour together as we used to do because we have grown differently in many aspects but we still communicate a lot and share some good meals and wines of course.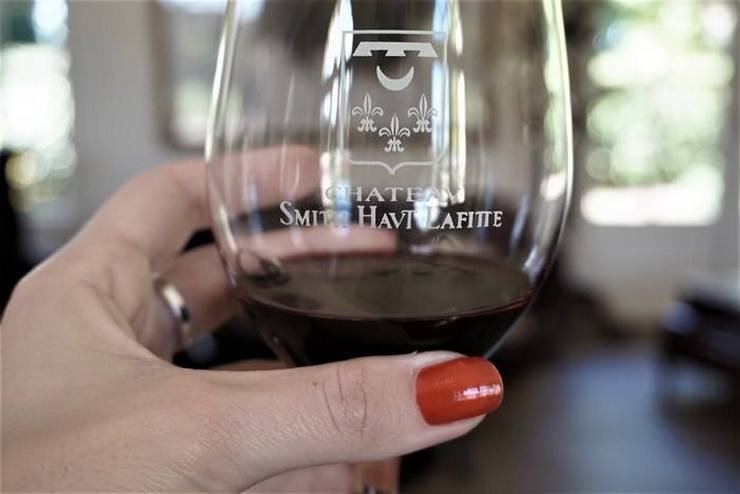 D+: When we wrote a report about a visit to your Château, we quoted your high opinion about the vintage of 2019, but at the same time you spoke out in the press with regret about the negative events of the past year: problems of the economic plan related to Brexit, Trump tax increase, uprisings in Hong Kong, triggering a downturn in Asian markets and price turbulence in China. And now here is the corona virus. How do you deal with current problems? Do you consider the uncertainty with en premier this year?
F.C.: Yes! We know that en primeur will be delayed. Now we send some samples to importers and to the great collectors of our wine we are very active in social media, we do it but we know that we will be cheaper even if the 2019 is a great vintage. We will not sell as much as we could, because some countries will be closed. But we think that people will never forget about drinking an excellent wine!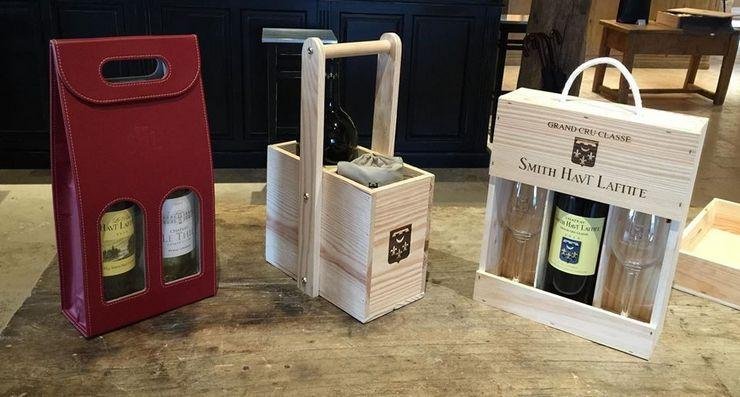 D+: What is the current situation with sales?
F.C.: Until now 20% to the US, including Canada, 20% for China, including Hong Kong, 20% for France, 20% for Europe. We are well sold in eastern countries also people from Switzerland love our wines and also Germany is a good market as well as Indonesia & Singapore. But this year with Covid-19 it will be disrupted and we don't have a clue yet how the sales are going to scatter. We hope that a vaccine will be released soon in order to come back to a normal life/normal activity. I hope wine will be the one of the main thing that people will buy.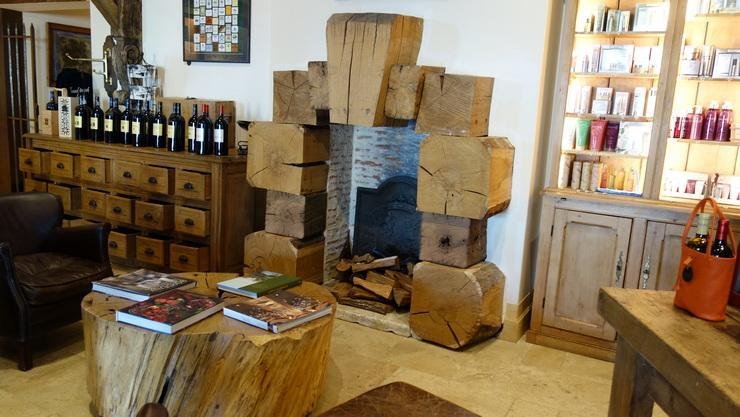 D+: How to minimize pandemic losses and keep sales? Is it worth to take it easy, maybe. As some say, it is better to wait out without investing in promotion? Wine does not go bad from aging, but only adds to the price?
F.C.: We try to minimize the very sad impact of Pandemia by taking time to answer to all our SHL friends around the world, proposing virtual master classes, setting up a drive in our boutique… and preparing a beautiful 2020 vintage every day! I think we should invest more in the Internet in a near future, as well as welcome our clients in our "small island of civilization".
D+: Perhaps, with the glory of Château Smith about Lafitte in the world, only the glory Caudalie cosmetics – created from oenoproducts – can argue. How did you organize the business, whose idea was it, did the success come straight? Do you taste new products? What do you like most from the latest developments?
F.C.: Caudalie cosmetics is totally another complete story by itself even if we gave the initial "coup de pouce" all the glory and merit belongs to Mathilde and her husband Bertrand! Alice and Jerome are now owners & managers of les Sources de Caudalie. They just sold les Etangs de Corots since it was no longer part of their strategy of opening superb resorts in the 5 best French wine regions: Bordeaux, Bourgogne, Loire Valley (a beautiful resort, similar to Les Sources de Caudalie is bound to open in July or August), Champagne and Alsace.Our children have the complete disposal of their own businesses and we interfere in their decisions only if they ask us for advises.
D+: Your château is special not only in its history, the quality of its wines, you make your own barrels and have a cooperage on premise and other production advantages. This is a territory with a special philosophical atmosphere. This is an art objects park and, in fact, the château itself is an art object. Tell us what all these installations mean to you, who selects them for you? Do you have the final say in this selection and how do they all relate to your personal philosophy?
F.C.: It is our personal collection. But at the beginning we just bought a piece of art with my husband (the giant bronze hare by Barry Flanagan) and if we have some money left after we pay everybody and buy the best technical tools, we buy a great sculpture each year. As people began asking about this, and we made a few booklets and designed a new visit "Art & wine". Now we are planning to go on with new sculptures
.
D+: As far as we know, this year the 8th World Wine Tasting Championship is planned at Château Smith Haut Lafitte, in which the Ukrainian team will participate for the second time. How will it be with this contest now, is it postponed? Why did you invite the organizers or they contacted you? Why such an event is interesting for the already famous Château like Smith Haut Lafitte?
F.C.: This year in November we shall be very pleased to welcome the 8th World Wine Tasting championship and specially the Ukrainian team! The organizers contacted us and of course we could not say no to such a prestigious event.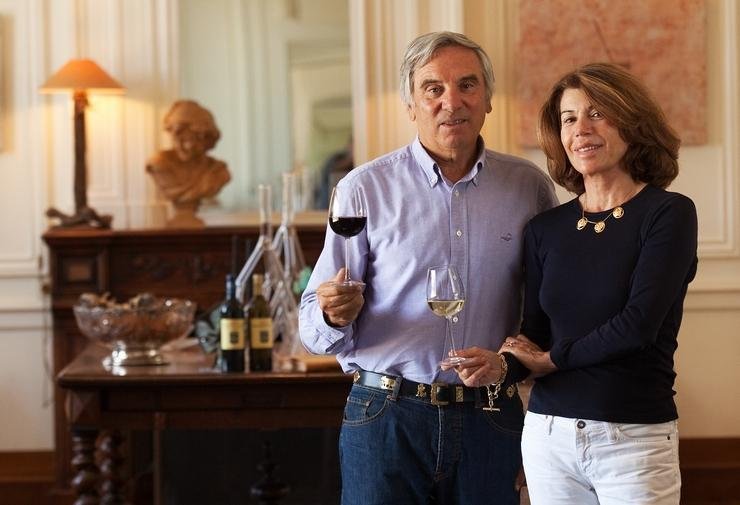 D+: You wrote a book called Art de Vigne ('The Art of the Vine') – what is it about? This is for winegrowers, about the history of the region, about wines – to whom is it addressed?
F.C.: The book I wrote and that my husband illustrated with his photos wasn't just only another nice coffee-table-book (I hope!) since 30 000 copies were printed, selling half of it and offering the other half. It was mainly read by great wine lovers, especially of SHL.
Blitz:
If you and your husband hadn't bought Château Smith Haut Lafitte at one time, then you… (please continue the sentence)
Then we should have been very stupid, wealthier than now but to which use … and bound to escape to some remote and very boring fiscal paradise maybe…
Please tell us about your daily routine and diet.
In these times of Covid-19, I spent every morning with my husband and our 2 dogs in the vineyard, speaking (with social distancing) to our valiant team (nobody missing!) then we taste (and spit) some blind samples of the last vintage 2018 and 2019, while having a simple and fresh lunch (meat with red wine, fish when we drink white…). In the afternoon we have "window conference" with Fabien to organize the life of the Château and take many decision, then answering my email and house party with family and friends…
How do you relax?
Walking through our Land Art forest.
Which wine from your vintages is most dear to you and why?
2009.2010.2015.2016 and the two last babies 2018 & 2019. (2013, 2017 and 2019 for the White!) see technical sheet enclosed.
What book/movie/event turned your life upside down?
My encounter with Michel Serres, a great philosophical author who became my friend and unfortunately disappeared last year and my tasting of Haut Brion 1989.
Which country have you not been to yet, but would dream to visit?
Georgia because it is the cradle of wines and Napa Valley because we like the place are bound to go back there soon.
What is Florence Cathiard goals for today?
To make one of the very top wine of Bordeaux, White and Red, for each vintage, and to have a happy family in good health (better to reverse the two propositions…)
What is the life philosophy of Florence Cathiard?
Take your chance, believe in your star, follow your way. 'À te regarder, ils s'habitueront' (René Char)