Text: Anna Gorkun, СЕО and Owner of 46 Parallel Wine Group
What is WSET, who needs a diploma from the British school, how education is regarded by employers and whether it affects salaries?
Within a framework of the author's project "Wine Hub with Anna Gorkun", a conversation about these and other related issues was held with Ekaterina Yushchenko, Director and Certified Educator of the Ukrainian Wine & Spirit School, a certified provider of the programme of the British School WSET (London), a member of the Association of Sommeliers of Ukraine and tasting commissions of the Ukrainian and international wine competitions. Anna Gorkun learned from Ekaterina Yushchenko how WSET courses were launched in Ukraine, how many levels they have, and why they not only enhance the graduate's qualification up to the level of an international expert, but also directly affect such graduate's salary. In addition, Anna also got to know why, being a financier, Ekaterina had forever thrown her lot with winemaking and how she was successfully combining sports and wine.
The story of how the WSET program was launched in Ukraine is not a new one, but nevertheless my question is – how did it emerge in your life?
Initially, I did not plan to engage myself with wine. At the time, I was graduating from the Kharkiv National University named after Karazin, the Faculty of Finance and Credit, as well as from the Institute of Foreign Languages, and my interest in wine was superficial like it was for many other persons. A few years later, I was lucky to meet the guys who were au fait with the winemaking, and they introduced me to this. Thereupon, we decided to start importing, which implied a further deep dive into the wine. I presume that if you work with a product, you should deal with the issue seriously. Thereupon, we chose the WSET format for training and, to our great surprise, found that Ukraine was not on the list of the countries where this program had a representative office. I wanted to share this valuable knowledge in my native country. Thus, in 2015, we had been certified to become WSET providers in Ukraine.
How is WSET working?
Students are trained and certified according to the same standards applicable in all countries. The educational materials and tasting facilities are identical to the British ones, and the entire educational process is clearly regulated. They teach how to teach, in a very structured and consistent manner. The stuff but not the fluff. Thus, WSET enables everyone who comes into contact with the wine as a commercial product to gain the unified knowledge system that allows them to speak the same language with anyone – either a distributor from Hong Kong or a supplier from Africa.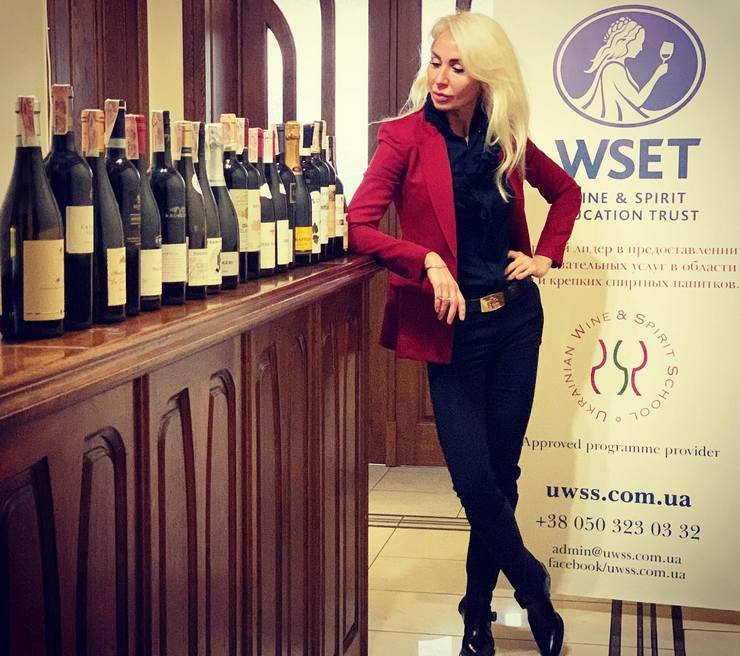 What are the WSET levels available and whom would you recommend each of such levels to?
WSET has four levels in total. I would recommend the first one to everyone – just for themselves. The second level gives more fundamental knowledge. The students and I are tasting a lot. The course is good because there is no analytics yet, but we are already digging deeply: terroir, varieties, as well as special features of soils, and we are discussing potential. It is adequate for both professionals and amateurs. At the second level, it is good to go through the main descriptors for tastings, so that at the third level, you no longer think about theory, but focus on analytics and forecasts. Therefore, the third level is great for producers, because there is a deep dive into the technological process: trimming, cutting, soil, sampling, and acidity. It is noteworthy that this course is attended by both lawyers and doctors, as well as by numerous representatives of the spheres related to winemaking. However, I would not draw any distinct boundaries: this course is suitable for sommeliers, and it is also suitable for importers, as well as  housewives. The fourth level implies absolute analytics, trends, forecasts, marketing, legal aspects, and tendencies. You are no longer a consumer, you are a market player, which means that you are already generating demand yourself.
Nowadays, there are many schools, sommelier courses and the like, but only your school has a truly international context. I remember when we studied at WSET, many guys who went on to work on cruise ships shared their opinion that this particular certificate was very important for them, since it was highly regarded by the employers. Is it true that the WSET diploma helps one to prove their qualifications and be eligible for a salary increase?
Indeed, there are many wine schools and they are all great and they all differ from each other. In our case, you get knowledge about everything – yes, with different depths, but you have no gaps. The volume of knowledge, even if you came as an already accomplished professional, expands significantly. But if we are talking about the WSET diploma itself as a tool for monetizing the knowledge gained, it should be pointed out that it is definitely highly regarded in the market. This is confirmation that you have gained the knowledge of unique program, which is presented in 80 countries and is taught according to standards in 17 languages. This is an evidence that you are an international specialist.
Personal observation: When you open the WSET Level 3 tutorial, a great number of specific terms is scary. Is it really necessary to present this material in such a detail and what pills does one need to take in order to digest this material?
In fact, everything is much simpler. If a person has an analytical mindset, he or she will be able, without much of a hassle, to digest the material offered by the British [school]. The important thing is that they do not give too much, so that it does not distract attention from the most important things. But it should be understood that out of the four levels of WSET training, only the first three are represented in Ukraine. We provide registration, teaching and organization of exams, but review of the exam papers and awarding of diplomas – all these stages are the responsibility of the London WSET.
Broaching such issue as you and wine… you and sports. How did you manage to combine the two passions – for wine and sports? Accidentally, having analysed your achievements in sports, it becomes clear that it is not just a hobby, rather it is a titanic work!
It is simple. Trivial health problems have brought me into sports – I am a mother of three children, and I have not been able to avoid the problems with my back. However, I replaced the endless health clinic-hopping with gym exercises and began to strengthen the muscle corset. With lapse of time, I realized that I wanted to do it with full dedication – in fact, it is my life principle. Thereupon, I developed a passion for the aesthetic vector and was nominated for participating in the fitness bikini contest, where I was ranked first. But in this case, the victory was not the main achievement, and the key aspect was that I set the bar so high for myself that I could no longer afford to relax. Now, sport is a part of my life. However, at the present stage, the aesthetic vector has been replaced by the functional one: I mean various competitions (Sportan, Race Nation, and DikoGonka). This is a real drive, adrenaline. Believe me, all this absolutely peacefully coexists with a passion for wine and everything related to it.