Legendary singer Mariah Carey announced the launch of her brand of Black Irish cream liqueurs and was immediately sued.
---
The rich and famous, ahead of each other, are in a hurry to announce their new alcoholic beverage enterprises. Drinks+ has written on numerous occasions about wineries of Sting and Francis Ford Coppola, wine lines launched by Australian diva Kylie Minogue and Hollywood actresses Sarah Jessica Parker and Cameron Diaz. We can also recall the alcoholic brands Aviation American Gin and Casamigos, to the incredible success of which actors Ryan Reynolds and George Clooney had a hand.
Now American singer Mariah Carey, who launched her brand of Black Irish liqueurs, has joined the list of celebrities who have released their own alcoholic beverages.
Carey shared the news about the launch of the drink on Instagram, posting her photo there on the beach where the singer poses, lying in a gold dress, with a bottle of liquor standing in front of her. The caption read: "Introducing Black Irish. Two years in the making. Truly a cause for celebration!!!"
The new line includes three drinks with a strength of 17%: original, with salted caramel and with a taste of white chocolate. Speaking about her product, Carey stated: "My goal was to create a drink for holidays and special occasions, and the name was born from my family heritage, as my mother was Irish (Irish), and on my father's side I have Venezuelan roots (Black). This is how Black Irish was born."
However, Mariah Carey immediately had to enter into legal battle over the new brand. It turned out that Dublin-based Darker Still Spirits owns the rights to the whiskey-based Black Irish alcoholic beverage, which was released in June 2020. The company said it officially registered the trademark in 2015.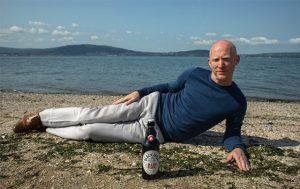 Richard Ryan, founder of Black Irish, imitates Carey advertising her cream liqueur bottlings.
David Phelan, director of Darker Still Spirits, said: "Myself and my partners in Darker Still are collective veterans of the Irish drinks industry, and it is unprecedented that we are defending our position against a US company, within an Irish industry that we have helped support for over 30 years."
Phelan also claims that Carey's team is claiming trademark rights for other products in the Darker Still Spirits portfolio, which he says is "a tactic to undermine our wider businesses."
He continued: "What is certain is that we will continue fighting any trademark objection whilst also engaging with the European Commission in regards to specific legalities surrounding Irish cream production. This will provide clarity on the matter and resolve an unfortunate situation not of our making."
Black Irish, owned by Darker Still Spirits, is available throughout Ireland and can also be purchased online from Amazon and The Whiskey Exchange.
Based on the material of thespiritsbusiness.com