Chateau du Clos de Vougeot celebrates the restrictions lift with the gastronomic dinner and night movies projected on the XII century wall in the wine cellar.
---
Innovation is what many businesses and facilities seek as the result of the pandemic impact. Developing new ideas and creating new meanings aim to reflect the current consumer needs and attract new audience to products and services one offers.
On June 30, Chateau du Clos de Vougeot held a gastronomic dinner prepared by its own chef and a cinema evening with the presence of film director Christian Vincent and winegrower-actor Jean-Marc Roulot. This was absolutely a new event format for the castle combining wine, gastronomy, and cinema art.
For an aperitif, Crémant de Bourgogne brut blanc tasteviné with traditional gougères (a baked savory choux pastry with cheese) were served at the inner yard of the Chateau. It was accompanied by a small historic narrative.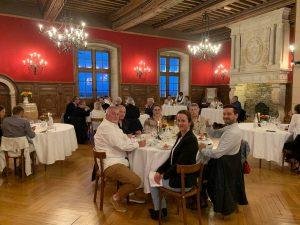 During the dinner, an exceptional meal and wine pairing was proposed. Half-moons of red mullet with crayfish and summer vegetables were served with Saint Aubin blanc premier cru 2015 tasteviné. Roasted aveyron veal tenderloin with oyster mushrooms was paired with Mercurey rouge premier cru 2015 tasteviné and selection of fresh and refined Côte d´Or cheeses – with Nuits Saint Georges 1er cru «les Chaboeufs» 2015 tasteviné.
Chateau du Clos de Vougeot no longer produces wine and do not promote specific wine producers of the region. That is why you can come across the variety of Burgundy wines on the table there.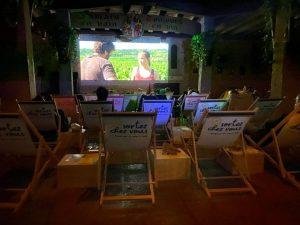 Finally, as the icing on the cake, two quality movies about French gastronomy and wine were selected to be projected on the XII century wall in the wine cellar – "Les Saveurs du Palais" by Christian Vincent (The Flavors of the Palace) and "Ce qui nous lie" by Cédric Klapisch ("Back to Burgundy").
The atmosphere of the transatlantic boat with chaise lounge reigned at night. Besides, the projection directly on the stones gave a special dimension to the films.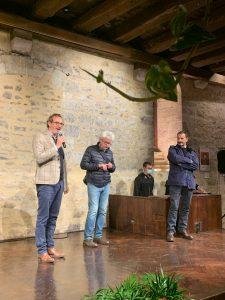 "During the Covid period, we had to think about new possibilities for the Chateau du Clos de Vougeot. At that time, we all felt lack of culture – all the theatres and restaurants were closed," shares Arnaud Orsel, General Intendant of the Confrérie des Chevaliers du Tastevin.
"Initially the idea of drive-vigne involved the projection of the movies on the facade of the castle in the middle of the vineyards. However, the weather conditions transported it to the XII century wine cellar. That is how we came up with the gastronomic and enological festival of films. This is an appetizer to a potential annual festival at one of the temples of Burgundy gastronomy", he concludes.