The first restaurant of Ukrainian cuisine in Paris near the Louvre was opened by Alina Wolf.
---
Without a traditional ribbon cutting in front of the entrance door which signifies the opening of a new business, Alina Wolf simply started welcoming wandering visitors in her restaurant Oranta. This is an opportunity to try traditional Ukrainian borshch, varenyky and potato pancakes in the heart of the city.
Ms. Wolf, the owner of the restaurant, was born in Ivano-Frankivsk but moved with her family to Paris when she was 10. She said she never lost her connection to the Ukrainian community and culture.
Alina Wolf in her restaurant Oranta in Paris.
"When I moved to France, and I said at school that I was from Ukraine, I was asked where it was. I had to explain that it is between Russia and Poland," Ms. Wolf said, adding that similar experiences pushed her to promote Ukrainian culture in any way she could.
The idea to open Oranta came to Ms. Wolf when she realized there were no locations where Parisians could find the traditional Ukrainian dishes.
Nearly a month after the restaurant's soft opening, Ms. Wolf said she plans to adapt the menu to each season. As the restaurant buys all of its products from local farmers, it will change the menu based on the seasonal availability of different vegetables and fruits. Ms. Wolf said she is working to soon include on the Oranta menu Hutsul banosh, a colorful dish made with grits and sour cream and served with cracklings, fried mushrooms and onions.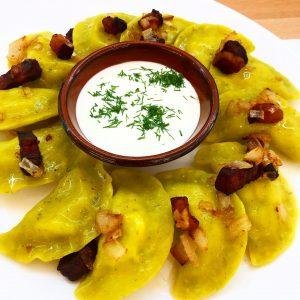 Borys Gudziak, metropolitan-archbishop of the Philadelphia Archeparchy of the Ukrainian Greek-Catholic Church, was one of the first the restaurant's guests. Recommending visiting Oranta, he shared his impression on his Facebook page:
"Smiles, empty plates and full hearts – the fruit of the first visit to the new Ukrainian restaurant Oranta. Uniquely light potato pancakes – quickly baked, juicy inside, melting in your mouth; varenyky with potatoes, cheese and meat; lordly ribs (come and see what I mean). Belgian and German beers, fine French wine and Ukrainian compote are offered. And, finally, dessert varenyky with cherries and blueberries!"
To make her place unique, Ms. Wolf came up with her restaurant concept due to learning about Ukrainian restaurants all over the world. She says she was inspired by examples in Belgium and East Asia, and especially Veselka in New York. But she strives to live up to the standard set by the top Parisian restaurants, and she aspires to see a time when there will be long queues to get into Oranta.
Oranta is located at 1 rue de Marivaux, 75002 Paris, France; the nearest metro station is Richelieu-Drouot (lines 8 and 9). The restaurant is open daily from 11 a.m. to 11 p.m.
---
* Oranta (from the Latin Orans – "pray"), one of the main types of images of the Mother of Jesus, which represents her with her arms raised and outstretched.
The icon of Our Lady of Oranta in the apse of Kyiv's Saint Sophia Cathedral is one of the most significant and sacred masterpieces of Ukrainian culture. The mosaic is more than 1,000 years old.
Based on the material of ukrweekly.com
Photos: Roman Tymotsko, facebook.com/Oranta.Paris