Paula Bosch, the first female sommelier in star gastronomy in Germany, tasted 2017 Thanassis Papaioannou, made from the new grape variety of the same name, and was impressed.
---
Drinks+ was one of the first to taste the first release of 2017 Thanassis Papaioannou and we are glad that such an authority in the wine industry as Paula Bosch got also interested in this wine.
The wine that became a sensation was released by the leading winery of the Greek region of Nemea – Papaioannou Winery. It was created from a new grape variety, Thanassis Papaioannou, a cross of Ukrainian Odessa Black and Austrian Gewürztraminer.
Paula Bosch is the most famous sommelier in Germany and for a generation she was the guardian of the cellar treasures of the legendary Tantris restaurant in Munich. She knows her job from the front and shares knowledge and interesting facts from her everyday wine life in the blog.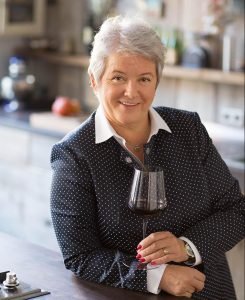 After having tasted 2017 Thanassis Papaioannou George Papaioannou, Nemea / Corinth, Greece, she shares her impressions:
"I got to know this completely unknown wine, 2017 is the first attempt and vintage, during a preliminary rehearsal for a Zoom meeting. A year before the pandemic, when traveling was still possible, I visited George Papaioannou's winery, although he had not yet mentioned his new breed, Thanasisis Papaioannou, which was named after him. It is a cross variety with high resistance to cold, drought and fungal diseases. Its parents are Odeski Tshiorni (Cabernet Sauvignon x Alicante Bouschet) and Gewürztraminer. Classic aging with 24 months of aging in new oak barrels."
In her tasting notes, she mentiones: "Finely honed tannins, dense structure, present freshness and juiciness on the palate, which scores with pressure and length. Quiet finish with Amarena cherries in a very long, extremely fine finish."
"The intense bouquet is reminiscent of an oriental spice market. Frankincense, cardamom, cinnamon, nutmeg, but also withered roses, dried plums, leather, tobacco, even dark chocolate.  Unbelievably rich, complex tannin, which is quite ripe and silky. The rich character, however, is only at the beginning of its development. A new grape variety with astonishing potential, in my opinion," Paula Bosch sums up.
Vintage 2017 is released in a limited-edition of 1000 bottles. For the information of interested parties and collectors: after the visit of the Drinks+ editorial office, the stocks of new Thanassis Papaioannou wine at the winery have significantly decreased
.
Prepared by Oleksandra Hryhorieva
Photo: www.paula-bosch.de