Bought last summer by Emmanuel Clausel, former real estate developer, Domaine de Valcyre, in Valflaunès, in Pic Saint-Loup, changes its name to become Domaine Uma. Supported by the brilliant Australian oenologist, Karen Turner, the new owner will create an upscale welcoming place, including a 5-star hotel, two restaurants, an art gallery and a tasting school.
---
Exit the Domaine of Valcyre, make way for the Domaine Uma. In Valflaunès, an emblematic village of the Pic Saint-Loup appellation, Emmanuel Clausel, the new owner, wants to make a clean sweep of the past: "We had to write a new story, give ourselves a real ambition by leaving our mark, our identity."
The former real estate developer, who bought the 120-hectare estate (including 60 of vines) last summer, aims to create a wine tourism site capable of receiving around 60,000 people per year and of employing around fifty people. On the program, a 5-star hotel with 23 rooms and a 400m² spa, a gourmet restaurant, a bistro, a tasting area, a boutique, an art gallery and a tasting school. "We have already made good progress on the project with the town hall, and we even held an information meeting with the inhabitants before the end of the year celebrations," continues Emmanuel Clausel. We are now waiting for the final return of the municipality to start the work."
First project: the new cellar. This will be enlarged and modernized on the basis of an existing building in order to be able to work by gravity and with equipment adapted to the style of the wines (small vats). "The foundation of the project, the starting point of everything, is the wine!" confirms the owner.
No wood, Italian grape varieties and bubbles!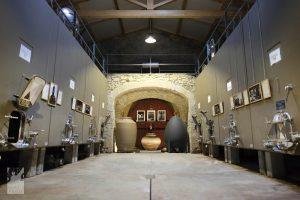 That's why he chose the expertise of oenologist Karen Turner. The Australian has a strong CV with experiences at Hugel in Alsace, at Chapoutier in the Rhône Valley or more recently at the Priory of Saint-Jean-de-Bébian, in Pézenas, in Hérault. She has also traveled a lot: Tuscany, Douro, South Africa… "My strength is to have known a lot of terroirs, not to be focused on France, to have this open-mindedness", she explains. So don't forbid yourself anything. Because "only" a third of the estate is classified in the Pic Saint-Loup appellation.
"On the other, we are going to plant Italian grape varieties such as Fiano (Campania), Sangiovese (Tuscany) or Carricante (Sicily) and we want to make bubbles", continues Karen Turner, whose bias is not to use wood. On this very fresh terroir, the winemaker has chosen to focus on whites (4.5 ha planted in 2021) and rosés. Ultimately, total production should be around 300,000 bottles around fifteen cuvées. The 2021 vintage, the first vinified by the Australian, and composed of five cuvées in a unique bottle, will be presented at the next Organic Millésime in Montpellier (postponed from February 28 to March 2, 2022): two Pic Saint-Loups, a rosé (Syrah-Grenache), a red rosé (Cinsault) and a white (Vermentino-Roussanne) can be tasted. This is a start of a new adventure!
Based on the material of www.terredevins.com