Radosław Froń, a Polish lawyer, judge of international wine competitions and author of the blog paragrafwkieliszku.pl, deeply studied the issue of winemaking in Poland and shared his expert opinion with D+.
---
How difficult is it for a small winemaker to obtain a license for the production and sale of wine? How long does it take for registration? And how much does it cost?
Vineyard registration in Poland is not a big problem. Winemakers who produce up to 1000 hectoliters of wine from grapes from their own vineyard are given a number of privileges. The requirements are relatively low, and the formal costs are low. The main problem is outdated anti-alcohol laws. They came from the distant 80s of the last century. The spirit of the law of the time is in no way consistent with today's economic, social and technological situation. The problem lies, among other things, in the prohibition of advertising and promotion of alcoholic beverages, the difficulty of delivering alcoholic beverages to the buyer, which hinders the development of online commerce.
And what about the cultivation of grapes – do you need a license, is there an opportunity to buy land for private ownership, are there any restrictions (by area, varieties, or some other kind)?
Poland is free to create new vineyards and we currently have 329 commercial vineyards registered in 2020. There is also no closed list of grape varieties that can be planted for wine production. We apply the general EU rules, which is why we plant varieties grown in other countries of the Community or included in the international list of grape varieties maintained by the OIV. The purchase of more than 1 hectare of land in Poland is mainly limited to trade between farmers. Otherwise, the consent of the state authorities is required. Unfortunately, this is a major barrier to entry for new farmers interested in viticulture.
Is there a nationwide association of small winemakers, or are there only territorial ones, by voivodeship? What issues do such organizations solve?
As a matter of principle, we do not single out small winemakers in Poland at all due to the fundamental shortage of large winemakers. The largest Polish vineyards cover just over 30 hectares. The joint activities of winemakers are predominantly local in nature and are concentrated in associations operating in the wine regions. Their main tasks include training, technical assessment of young wines, promoting local winemaking and organizing local events. Coordination and lobbying functions are mainly assumed by the Polish Institute of Vine and Wine, an organization that participates in public consultations on changes in legislation and acts as a co-organizer of the annual Congress of Polish Winemakers. The Foundation for the Development and Promotion of Winemaking GALICJA VITIS deserves special attention. This foundation was founded by Roman Myslivets, a senior specialist in Polish winemaking, who currently runs the largest Polish school for training winemakers (Subcarpathian Wine Academy), organizes one of the largest wine competitions in Central Europe (International Wine Competition GALICJA VITIS®).
Do Polish winemakers strive to unite in order to jointly lobby for legislation, advance on the world market, or is it every man for himself?
Polish winemakers are trying to unite around common goals, although they still focus mainly on the Polish market. The relatively small volume of production (14,361 hl in 2020) is far from providing even the domestic market. Of course, some winemakers actively sell wine on foreign markets, but this is by no means a priority or even a significant need. Shortly before the pandemic, a presentation of Polish wines took place at the Polish Hearth Club in London. «Let's Taste Poland» met with a very warm welcome and keen interest. Unfortunately, Brexit and recent restrictions have somewhat cooled the dynamics of established contacts.
What are the benefits of micro-winemaking?
Winemaking in Poland grew out of the hobby of amateur winemakers who, over time, acquired the necessary skills to start commercial production. In addition, now many farmers and representatives of agritourism seek to invest in the enotourism that is fashionable today, thereby standing out in the market. As a result, Polish winemaking takes the form of a small family business or additional economic activity. However, there are also projects of a purely business nature. This structure of Polish winemaking brings obvious benefits to consumers. The offer of Polish wines is extensive and rich in many different wine styles. Small farms produce wine with respect for nature and with minimal use of technology, which is highly valued in Poland.
Are small winemakers afraid of being absorbed by large industries?
There is practically no risk that small vineyards will be taken over by large companies in Poland. For years, the European Union has produced large surpluses of wine. Thus, few large producers have a chance to achieve significant profit margins – especially considering the costs and risks associated with doing such an activity in Poland. The profitability of the industry in the EU is also largely based on subsidies associated with the cutting of vineyards. Obviously, small craft projects are profitable, but their scale is not very attractive for potential acquisitions. Large producers in our country base their activities mainly on the production of wine products such as fruit wines or ciders, as well as on the bottling of wines imported into Poland from other countries. They create their own vineyards, but their main goal is more of an image one.
Has the "Wine of Poland" brand been formed in Poland, what is the attitude of winemakers towards it?
There is no separate Wino Polskie brand, but in fact Polish wines enjoy a good reputation among domestic consumers. Many of them make a purchase decision based on the origin of the wine from Polish vineyards. Our wines are appreciated for their natural approach to production and low production volumes.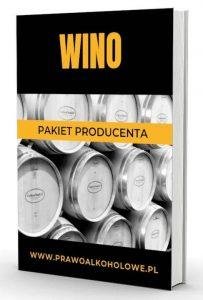 Is there an opportunity for Polish winemakers to export their products, are there organizations involved in programs to promote Polish wine?
Polish wines are attractive abroad due to their individual origin. But as I have already said, the volume of production currently does not allow expanding the export offer. Moreover, Polish winemakers do not feel the need for this since we have a very active domestic market.
Polish wine has confirmed that this is not a temporary fashion, but a real revival of wine culture.
P. S. Radosław Froń has prepared a "Detailed Guide to Vineyard Registration and Wine Production Procedures" which supports those wishing to implement a wine-making project. Radosław Froń offers novice winemakers the preparation of all the necessary documents and assistance in registering the official production of wine from one's own vineyard.