The results of the study "Sustainable Wine Tourism – Findings of a global survey" conducted by Geisenheim University and WineTourism.com were presented online on January 25, 2022. The streaming took place on Facebook, LinkedIn and YouTube at 4 PM (CET).
---
Together with his colleague from Sweden Niklas Ridoff, CEO at WineTourism.com, Gergely Szolnoki, a professor of Market Research at Geisenheim University (Germany) and Judge of the Wine Travel Awards, presented the study entitled "Sustainable Wine Tourism – Findings of a global survey." The aim of the study was to better understand the importance of sustainability in global wine tourism.
At the beginning, Gergely Szolnoki admitted: "Cooperation with WineTourism.com is the best thing that could happen. That was the moment when industry meets academics in a joint cooperation."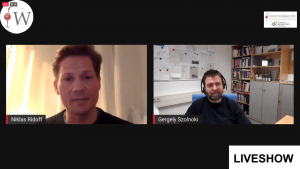 Sustainability gained importance over 15 last years. Now everyone is talking about sustainable tourism and sustainability in wine tourism. But what does sustainability mean exactly? What measures can we use for sustainable development? These questions the survey tried to solve in order to share the results and certain guidelines with the industry.
The stage of conducting the survey took place in November 2021. 1579 wineries from 42 countries participated. Italy and Spain were the most responsive. The full comparative cross-country analysis you can find in the final report.
The survey investigated different areas which consist of five focal points:
Relevance of sustainability in wine tourism.
The three-pillar model of sustainable wine tourism.
Measures contributing to sustainable wine tourism.
Drivers and barriers to sustainable wine tourism.
Communication and visitors' perception.
Chile and certified organic, biodynamic wineries perceive sustainability is highly important. Every third winery believes that wine tourism operations are sustainable (mostly in Italy and Spain). But there is a room for improvement. Not seeing overlap, correlation of sustainable wine production and wine tourism prevents the further development in this field.
The model of sustainability includes environmental, economic and social pillars. The cultural aspect is integrated in social one. Wineries of different scale and from different countries evaluated more or less equally these dimensions.
Qualitative research was conducted in Germany. The open survey suggested to answer the following questions: Could you please define what sustainable wine tourism is and what are the measures? Wineries' managers were not ready to answer it right away. So, the researchers perceived with a list of measures, and they selected top measures for each dimension.
Proceeding with drivers and barriers, Gergely Szolnoki noted: "Saving money is not the main driver, fortunately. Because sustainability is not about saving money. Though, it could be a side-effect of sustainability." Most of the top drivers are consumer oriented.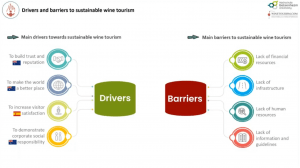 On the other hand, when you start practicing sustainability, it requires investment, infrastructure which should be built first, human resources (having enough know-how and being motivated enough). This is an active ongoing process for which wineries need information, governmental subsidies and guidelines.
How important sustainability is in the winery's communication? Will it be important for their visitors? Answers for these and other issues you can find in the final report here.