A tasting dedicated to red and white wines will take place on May 12-14, 2023 in the city of Poreč (Istria peninsula).
---
Istria is the largest peninsula in Croatia and one of the country's main tourist areas, bordering Slovenia and Italy. The people of Istria are historically connected to the production of grapes and wine. Wine here is a history of passion and an integral part of the culture of local life. The region is famous for the production of excellent wines, including iconic – Malvasia and Teran.
Both local and international grapes are grown in Istria. Currently, 4,000 hectares are under vineyards, and there were 44,000 hectares before phylloxera problems.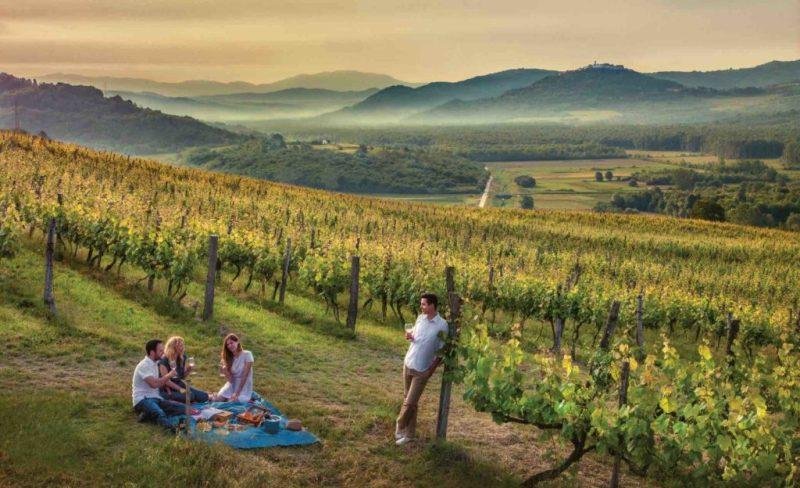 The variety of soils – from red along the coast to white within the country – adds another feature to local viticulture. The most famous and most common variety here is Malvasia Istriana, the wines of which have a refined aroma, fresh taste and are perfectly combined with seafood dishes.
Red wines made from Teran and Refosco are the oldest produced in the region. Their ruby color and pronounced fruity aroma make these wines a perfect pairing with meat dishes. Many Istrian wine lovers choose Muscat for its golden color, notes of wild cloves and exquisite aroma. It can be dry or sweet and is perfect for pudding.
The wine route of Istria, covered with numerous wine cellars, offers an unforgettable experience. The city of Porec has preserved many Roman, Gothic and Venetian monuments of antiquity. These include the main Euphrasian basilica of the 6th century, which rises above the city like a pearl in its crown. This early Christian church with a magnificent Byzantine mosaic is a UNESCO World Heritage Site.
Holding such an important event in Istria as the Concours Mondial de Bruxelles is another proof of the great potential of the region. The region has a proven winemaking experience, combined with a rich local wine culture and recent strong investments: today, Croatian Istria is considered a wine region that produces high quality wine.
More than 10,000 wines will be presented at the Concours Mondial de Bruxelles in Croatia for tasting and evaluation by a group of experts. Experienced tasters will appreciate competing samples in order to select wines of impeccable quality.
Photos: concoursmondial.com, planetofhotels.com