With 7 years living in Catalonia, many friends refer to me as "local" in this region. And even though there is still a lot for me to discover and visit around here, I will gladly share the best gastronomic and wine experiences of my second home.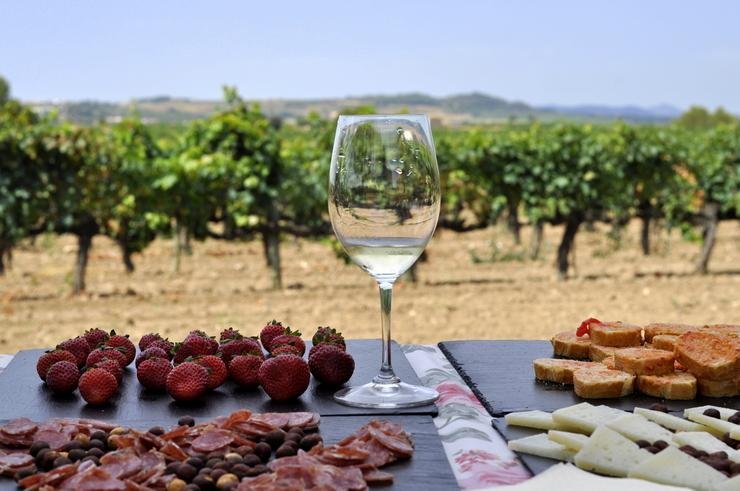 Catalan breakfast
The day starts with…no, not eggs & toast, tea & coffee. Think cheese, jamón, seasonal fruits, pan con tomato, garlic and nuts. Depending on where you are, this could be accompanied whether with a caña (330 ml of draft beer) or a glass of let's say dry Muscat that is served to you during the first meal at the local winery (Can Bas Domini Vinícola is a good example). After this, you are ready to dive into the vineyards or start a Barcelona tapas tour.
Ruta de tapas with Cava 
Continue the fully-charged gastronomic day popping in the best tapas places around the capital. Accompany all the finger food with Cava and you won't regret.
Here is my personal list with recommendations on what to order:
Vinitus. Here tapas are being cooked in front of you non-stop and the array of smells is impressive. Don't miss traditional local dish escalivada (smoky grilled vegetables) with goat cheese, grilled baby squids and croquetas with jamón
Ciutat Condal. Try their hot montaditos (small sandwiches) – crunchy baguette bread filled with jamón, prawns or tortilla.
Bar Ramon. A small hidden gem operating since 1939. Go for la bomba – the special type of tapas born in Barceloneta and now being of the Barcelona emblematic tapas. It is a deep-fried mashed-potatoes ball filled with meat and served with a spicy sauce.
Seafood at the beach
Even though the traditional paella with rabbit is a privilege of Valencia, I could not exclude fantastic sea-food paella that you can find in some Barcelona spots. Local families still gather together on Sunday at the sea-view terraces and share a big pan of paella de marisco. Here is the list of places where you could savor both paella and fresh seasonal fish & seafood. Lunch on a sunny terrace or dinner under sunset sky – you choose!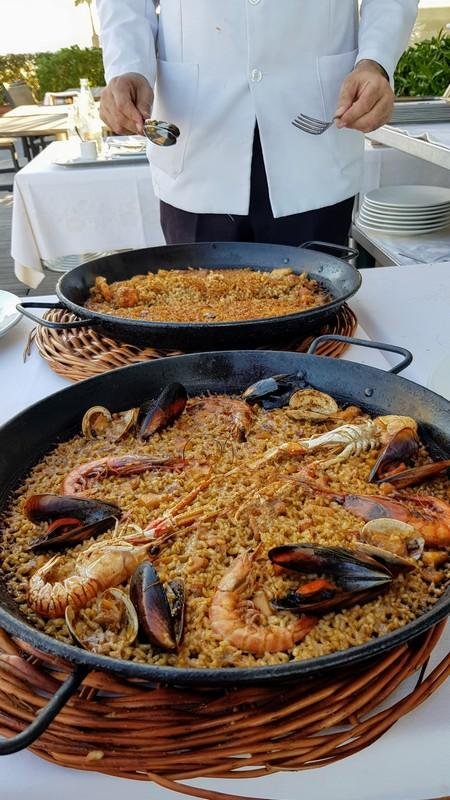 El Cangrejo loco. I love that it's located outside of the touristic walking path with an unwind top terrace featuring sea and Barcelona coast views. Paella Parellada is a delight. Pair it with a fresh Xarello (still wine), or Cava Rosé Brut.
Can Majó is located in front of the Barceloneta beach, so the outside terrace is less peaceful, but the environment around is very vibrant. The restaurant offers a range of fish and sea-food depending on the season. The classic choice includes zamburiñas a la plancha (grilled small scallops) rap al forn (baked monkfish). Albariño is the obvious wine choice, but if you want some local wine – go for Macabeo from Penedès or Costers del Segre.
Xiringuito Escribà is famous for all types of rice, especially black seafood rice- arròs negre. Gets crowded on the weekends, reservation is needed. Portions are generous, food is mouth-watering, no surprise many locals come here on Sundays.
Masias for meat lovers
Further inland, meat lovers will also find their favorite spots. Look for masias – rural, often old and historical houses. Nowadays, some of them boast restaurants with open fire and an ample yard for the use of the guests. The products are supplied directly from the farmers and garden. Open-air tables, fresh mountain air and delicious food are guaranteed.
Masia La Vinya Nova
One of the most picturesque is La Vinya Nova – located in the foothills of Montserrat mountain. It is not open every day and the table needs to be reserved for the weekend. Must order is lamb ribs (costelles de xai) or pork ribs (costellam de porc). Red dry wine from Monstant, Priorat or Terra Alta is a perfect pairing you will remember for a long time.
La Vinya Nova 
Calçotada
If you visit Catalonia between December and March, you can't miss the calçotada. A winter barbeque where the main star is calçots – a local cross between onion and leek – sweet & delicate when grilled and should be dipped in salsa romesco, a tomato-based sauce with origin from Valls (Catalonia).
For the full gastronomic experience and unique environment, it is advised to get to one of the rural restaurants outside of Barcelona. We liked El Mirador de Can Cases located in the natural park of Sierra de Collserola, offering splendid mountain views and a feeling of being on the backyard of someone's home. Together with calçots you will be served a full menu: local meat, white beans and red wine of course!
Vermouth land
Had enough of vino?  Head out to the vermouth mecca of Catalonia, an inland town Reus that could be on your way to Priorat wine region.
To go deep into it, visit a Museu del Vermut the ancient Vermuteria Rofes (founded in 1890). Alternatively, there are some nice vermuterias in Barcelona. To name a few: Puigmartí Bar, Vermuteria del Tano and Trencalòs.
Photo: Olga Verchenko