Visit Centaur Cafe in Lviv and you will see that it is deservedly proud not only of its food and history, but also of unique menu collection of Prince Curnonsky, author of the Michelin guide. This collection is now owned by Vardkes Arzumanyan, one of Ukraine's most prominent restaurateurs. This year his company Restaron released a book titled "Private collection of Prince Curnonsky's restaurant menus dating back to the first half of the 20th century and owned by Vardkes Arzumanyan"
I have been collecting menus for a very long time. My collection currently contains approximately 1,500 copies that date back from the early 19th century to modern times. The largest part of the collection is represented by antique menus. For me as for a restaurateur, a menu is something that is much more than just a list of dishes: it is an art, a culture, a story that the restaurateur is telling to the guest.
The tradition to create menus and make them an important part of the restaurant has emerged a long time ago. Every epoch has its own fashion for specific food, dishes, accents and art preferences. Many artists have created paintings not only on canvas, but on sheets of menu books, too. No wonder that food has always be perceived as an art, and the pleasure it gives can be compared to erotic feelings.
Erotic context is seen in French menus that date back to the late 19th and early 20th centuries. It felt like there was erotic in the air. Everywhere: in cabarets and theatres and on canvases. The aristocracy was obsessed with delicious food and seductive ladies on menu covers of famous restaurants. Fashion was changing, and with time pictures with a sophisticated message were replaced with more understandable, but equally interesting paintings. Black-andwhite or colored paintings, watercolors or graphic works all appeared on restaurant menus, because a nice meal should be, first of all, aesthetic. Artists and art trends might change, but gastronomic traditions remain the same.
People have always tried to stay as a community, and food has always and everywhere been the best reason for a get-together. Food brings people closer together and creates traditions, and these traditions give rise to culture. This is why calling menus an art separates business from the real restaurant culture which I develop in my restaurants. Food is also a kind of creative work, it should be properly enjoyed. When it comes to choosing a place to eat, I always recommend opting for places that have rich culture and traditions rather than places that just offer fast satisfaction of your natural needs.
In the beginning of the 20th century Curnonsky coined the name Bibendum for the character who was the symbol of the car company Michelin, and write a regular column "Mondays with Michelin" in Le Journal already by 1914. Curnonsky is regarded as the inventor of gastronomic motor-tourism, though he himself could not drive. He wanted to discover the cuisine of each French province and often called himself a "gastronomade", a practitioner of gastronomic tourism.
In 1921, Cur (as nicknamed by his friends) together with Marcel Rouff started the publication of La France Gastronomique, a collection of 28 reference books. In the same year he co-founded the Academy of Gastronomes and the Academy of Regional Gastronomes. Gastronomy was represented at the Autumn Salon in Paris as the 9th art. In France of that epoch it was popular to elect "great princes" of practically anything, from humor, horror and news to chansonniers and poets. This land of gourmets and delicious food needed its own "prince of gastronomy". Curnonsky was elected the prince of gastronomy in a poll held by Paris-Soir Newspaper in 1926. He was named a knight of the Legion d'Honneur in 1928, and was later promoted to officer.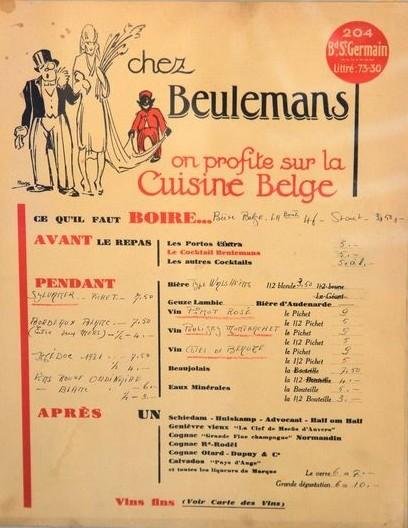 On May 8, 1930, Curnonsky initiated the foundation of the Academie des Gastronomes, taking the French Academy as a prototype. He became the President of the Academy in 1947. Curnonsky spent the years of the World War II in Bretagne. He returned to Paris in 1947 together with Madeleine Decure, and founded a magazine named Revue Cuisine et Vins de France, and in 1950 co-founded the Chaine des Rotisseurs. The renowned restaurant critic celebrated his 80th birthday in 1952. There was legend that eighty best restaurants in Paris reserved a table for him every night in anticipation of his visit.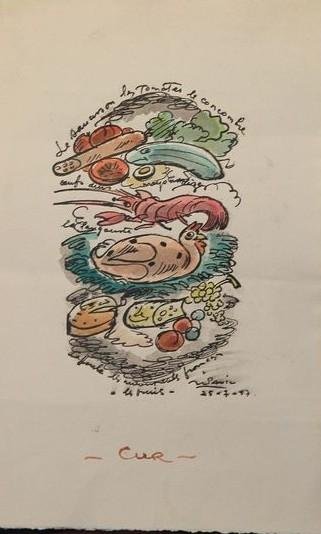 Life of the prince of gastronomy ended when he was 84. A memorial plaque is installed on the wall of the house in Paris where Curnonsky lived from 1904 to 1956 (14 Square Henri Bergson). The Association of Curnonsky's Friends was founded in 1964. A gastronomic expo was opened in Angers to celebrate the 100th birthday of Maurice Sailland-Curnonsky in 1972, and next year the local Saint Jean Museum opened a permanent exposition devoted to him.
Curnonsky's name was given to a street in Paris' 17th district. There is Curnonsky Cafe in Cairo, and in Antwerp you can find an "organic food restaurant" named in his honor. In October 2000 Michel de Brie gave "Curnonsky's archives" to Madame Jeanne Barondeau, who took the archives as a basis for a publication of three books, which were, in turn, used to reproduce a catalog of a part of menus from Curnonsky's collection owned by Vardkes Arzamanyan.
---
Maurice Edmond Sailland, Prince Curnonsky (October 12, 1872, Angers – July 22, 1956, Paris)
A famous French restaurant critic of the 20th century, who wrote or ghost-wrote over 65 books and enormous number of journal and newspaper articles. He was born in a well-to-do family in the city of Angers in the Loire Valley, and discovered the joy of tasting various dishes when he was a kid – due to the family's cook Marie who had "a God-given talent". In the early 1890s, Maurice Sailland came to Paris and studied literature at the Sorbonne. Russian literature and ballet were in fashion in France those days, and the name "Curnonsky" comes from the Latin cur + non ("why not?") plus the Russian suffix – sky.