Joint young talent project by WSET & ProWein reaps the rewards. It provided a unique opportunity for 30 young wine experts from ten European countries to acquire "Level 2 Award in Wines" out of charge.
---
The collaboration of the Wine & Spirit Education Trust (WSET), the world's largest education provider of wine, spirits, and sake qualifications, and ProWein, the leading international wine and spirits trade fair, as well as the largest industry meeting for professionals from viticulture, production, trade, and gastronomy, met all the aspirations. 30 young newcomers in the wine and spirit industry became certified wine experts with the "Level 2 Award in Wines".
In the tasting session of London Wine Fair 2021, WSET Wine Educators Joseph Hallam DipWSET and Lucy Stevenson DipWSET explored the key differences between WSET's globally recognised Level 1, 2 and 3 Awards in Wines and how these qualifications can benefit you throughout your career.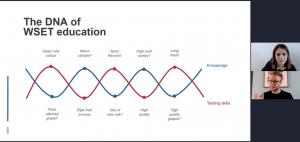 Focusing on the "Level 2 Award in Wines", students develop their understanding of key production options and learning of how to taste and describe the product with confidence. This level is more complex and allowed the young talents from ten European countries (Belgium, Germany, France, Great Britain, Italy, Netherlands, Poland, Portugal, Switzerland, and Spain) to describe comprehensively how balanced the sample is diving into more details of the palate.
The final exam includes the most different range of wine peculiarities: grape growing alternatives in the vineyard, production process, climatic conditions for the vines, the most important grape sorts of the leading European wine-growing regions, different wine styles, aspects of wine storage and bottle ageing influence as well as the basics in wine service and pairing of food and wine.
As an additional feature of this educational initiative, extra tastings considering precisely one specific wine region were proposed the Level 2 students. For this opportunity, the "Verband Deutscher Prädikats- und Qualitätsweingüter" (VDP), the "Consorzio Vino Chianti Classico" and "Wines of Portugal" should be thanked. The joint efforts made the wine tasting possible to be carried out at home.
More than 40 selected white, red, rosé, sparkling and liqueur wines were delivered to the young experts (the average age was 27 years, the youngest was 22, the oldest 30). Moreover, the students attended an additional meeting via Zoom to discover more about ProWein behind the scenes introduced by Bastian Mingers, Director of ProWein.
"We have really enjoyed working with these talented young professionals from across Europe. In a difficult year for the industry, the aim was to develop useful and transferrable skills to help this group become future leaders. Running the course by video conference has allowed us to reach a wide and diverse audience, which has been new and exciting for us too. We're looking forward to meeting the students in person at next year's ProWein", underlines Rachel Webster, Business Development Director EMEA WSET.
"I am very happy we managed to launch an international initiative for young wine talents in cooperation with the WSET – despite the COVID-19 pandemic and the cancellation of ProWein 2021 it caused. Originally, the final exam had been scheduled for the trade fair this year; this feature now had to be implemented online – which worked ever so well," says Bastian Mingers, Director of ProWein, and adds: "But nothing can replace the real trade fair; it alone provides both fresh talent and seasoned professionals with the platform for networking, know-how and tasting."
Photo: Messe Düsseldorf /Ctillmann