Since June, the Correns winegrowers' cooperative has been reviving an old habit that has been lost for 30 years: the deposit of bottles. This initiative aims to preserve the planet's resources.
---
In exchange for a returned empty bottle, customers earn two points on their loyalty card. It takes 100 to get a 75 cl bottle of wine offered by the store. Consumers have the choice between white, rosé and red.
Displayed on a shelf in the middle of the store, they all have the same name "Croix de Basson 2020" inscribed in red and black letters in the center of a large white label.
Above the name, a cross is depicted on mountains, in reference to the monument at the entrance to the village of Correns. At the bottom of the label, a small logo identifies the returnable bottles.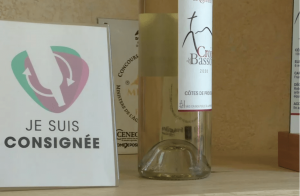 Fight against the overproduction of bottles
"Returnable bottles limit waste, testifies a client of the cooperative of wine growers of Correns, with a smile. We are talking about recycling glass, but it costs excessively expensive, so me, I would be to return to the instructions of my grandmother's time".
The Association Ecoscience Provence has revived this ancient habit in the south-east of France since 2012. Co-founder of the Réseau Consigne is developing this principle in close consultation with professionals in the vineyard sector in Provence.
Ecoscience Provence suggested that the Cave Coopérative des Vignerons de Provence use returnable bottles. The project is supported by the International Union for the Valorization of New Generation Waste (SIVEDNG), which brings together 34 municipalities in the Var and has been working for 20 years to reduce waste in the region.
Deposit rather than recycling
The goal is to reduce bottle recycling, as the returnable bottle consumes 33% less water compared to a recycled bottle. The idea is also to put an end to an overproduction of bottles of wine since 40 million are produced and consumed in Paca each year.
"We say to ourselves that this is a good idea, we will do everything to make it work, says Julien Demonchaux, the technical director of the Vignerons de Correns. In the end, if it works, we will feel much better. This is a small step on the scale of all bottles on the market. If everyone is playing the game, it can really be meaningful."
The bottles used by this wine company are made in France and in the Piedmont region of northern Italy.
Credits: francetvinfo.fr