Winery Father`s wine VB was founded by Vladimir Buyachek. In 2010, the enthusiast planted experimental seedlings, and after a while the debut wine release took place; thereupon, the hobby grew into a passion and business: albeit small, but successful – like everything that Buyachek's hand touched. Over time, Vladimir Miroslavovich planned to organize a wine festival, but, unfortunately, did not get a chance …
After the death of Vladimir Buyachek (in 2018), his family continued his beloved work:  his wife Nadezhda and children – Taras and Oksana.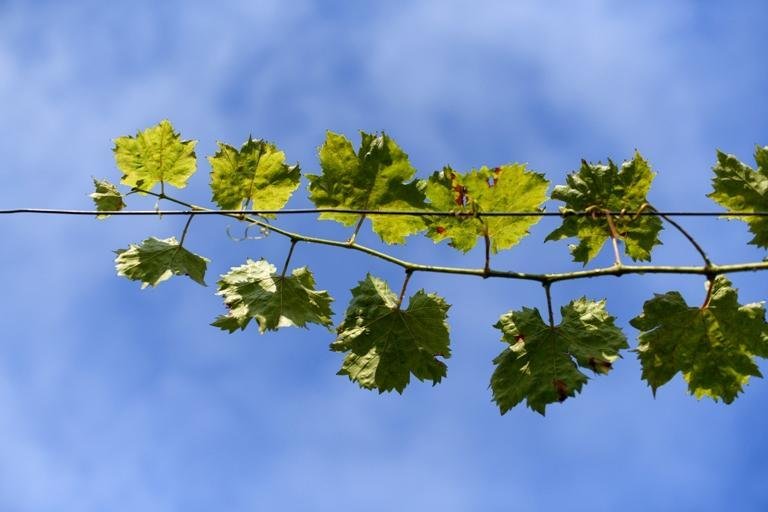 Currently, the winemaker of Father`s wine VB is Victor Kondrat, and the company also cooperates with the renowned Ukrainian consultants: Alina Tenetka and Masha Skorchenko. The winery's credo, which was voiced by its founder, has always been the same: "To make wine for others as if you are doing it for yourself!" Today, the production volumes are equal to 12,000 bottles per year.
The area of Father's wine VB's own vineyards is 4.5 hectares, leased vineyards – 2 hectares. The winery grows such varieties as Jupiter, Johanniter, Muscat Ottonel, Riesling, and Helios. The seedlings are purchased from the Ukrainian nursery – Vinograd-Odessa LLC. In the near future, the winery plans to expand the vineyard with white varieties: "Our region is ideal for them", – the winemakers emphasize.
Additionally, the winery purchases in Odessa Region such red varieties as Merlot, Cabernet, and Odessa Black. For several years, the winery has been cooperating with the same vineyards, with which it entered into the vineyards lease agreement and agreed processing and harvesting terms (condition, ph and sugar values). Hand-harvesting only! Raw materials from Odessa Region are transported within 10 hours via temperature-controlled vehicles.
Father`s wine VB range includes more than fifteen wines, most of which are produced in small volumes.
Father`s wine VB received a license for microwineries in September 2019, and commenced sales in 2020. "Internet sales of our wines began during the quarantine period, and the experience was successful. It all started with purchases by our friends, hashtags in social media, and sales through partner websites. We sent products all over Ukraine! We held raffles for individual bottles of wine and sets, participated in raffles together with other brands, and collaborated with bloggers. All of these tools are efficient and yield great results. Online sales are efficient for wines. We are currently working on launching our own website", – they say at the winery.
In 2019, Father`s wine VB produced rosé Pét-Nat for the first time; this experiment was a success and in the new season, it is planned to produce rosé again, as well as a trendy white sparkling drink. In addition, the winemakers also intend to produce traditional sparkling wine pursuant to Charmat-Martinotti method. The winery is waiting for its aged wine – that was the first experience with oak barrels. In the near future, it plans to expand the range of orange wines, new white blend, and start producing natural wines shortly.
But the family winery is also elaborating some additional plans! Already this year, "Daddy's wines" is to lay out a new vineyard and buy professional equipment: a closed press, a crusher, fermenters, and tanks.
Perhaps, not everyone has felt the fullness of organoleptic properties of wines by Father`s wine VB, but many may be already familiar with the label. Bright geometry, color kaleidoscope, allusion to ethnic costume, and generations' code … All this hypnotizes and does not enable one to avert eyes.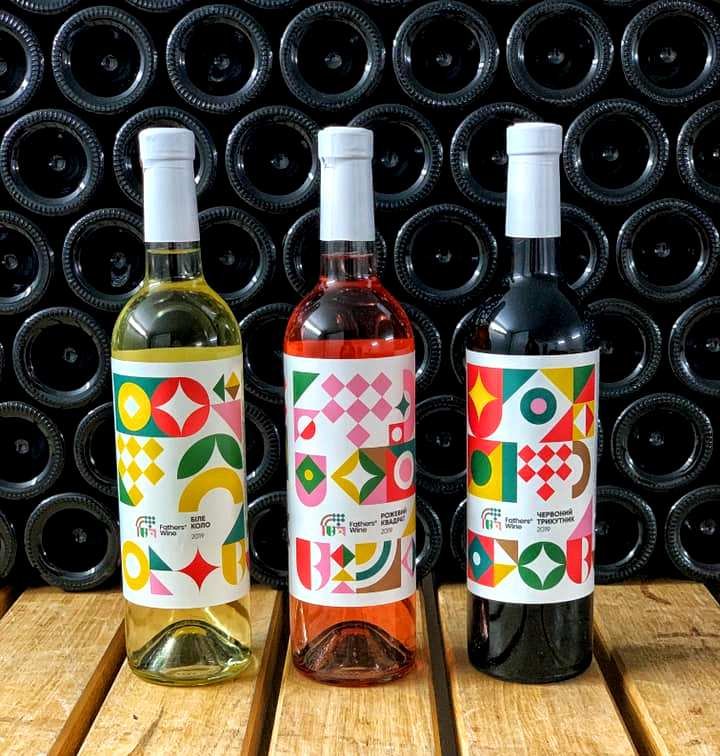 The R Agency's super-team helped to create the logo and identity: they are based on the geometric symbolism that our ancestors used. They combine the history of succession of generations, connection with the elements, family traditions and simplicity. This can be traced in the new logo, on the labels, and in the names of the wines. On the back of the bottle, there is a special heraldic field, and the set includes a series of stickers enabling one to create their own family coat of arms and give the bottle to the beloved ones.
The winery conducts tastings in restaurants, so potential partners can learn about "Daddy's wines"; accepts small groups of visitors at its production facilities. "Ordinary wine lovers; those who are interested in everything originating from Ukraine; tourists who have visited our country; buyers whom we meet at various festivals and, certainly, our friends, come to visit us. We are receiving a lot of guests, especially during this period of closed borders".  In the near future, the winery is to equip a tasting area and will be ready to open the doors for a full-scale wine tourism.
Father`s wine VB has gained its own experience in wine tourism: producers of "bright geometry" visited Hungary (Tokaj) and Croatia, where they had the opportunity to exchange experience with the owners of microwineries whose vineyards range from 4 to 6 hectares. We also visited major production facilities: wine factories in Bordeaux and Moldova. This year, we set a goal to visit Ukrainian wineries: "All the more so because we are on friendly terms with many [wineries] 🙂".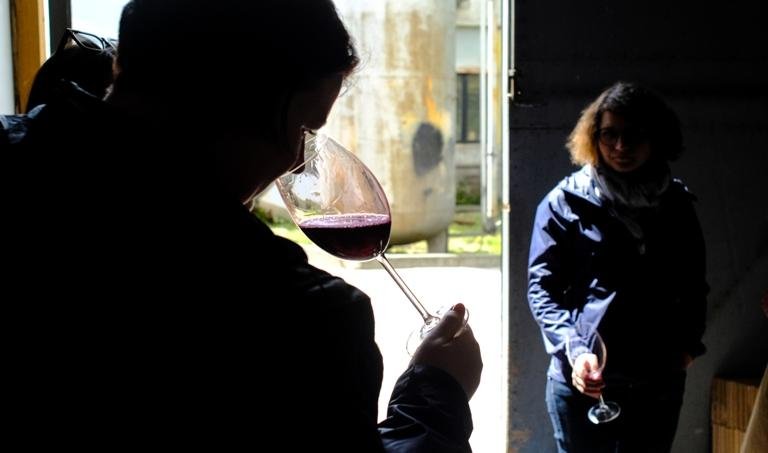 Followers of Vladimir Buyachek say that with each new season, they strive to improve, introduce innovative technologies, and experiment, because the best way to master theoretical knowledge is experience, although it is a long way … They often resort to consultations with oenologists + exchange experience with colleagues. The winemakers gained their wine education in Ukraine, and now they are thinking about studying abroad.
---
D+ Files
The winery currently sells:
"Rosé Square" (Jupiter, 2019), still semi-dry, aged without oak. The aroma has red berries and white fruits, a slight hint of rose and citrus.
"White Circle" (Riesling, 2019), still dry, aged without oak. Fresh and acidic, with tropical fruits, lime and grapefruit notes in its aroma.
"Red Triangle" (Merlot/Cabernet Sauvignon/Odessa Black 2017), still dry, aged without oak. The aroma has red berries and dried herbs.
"Red Rhombus" (Merlot/Cabernet Sauvignon 2018), still dry.