The Drinks+ Editor had a talk with Sonal Holland, India's 1st Master of Wine, experienced consultant at SoHo Wine Consultants and an expert in drinks, wines and spirits in India.
---
In her article for the Financial Times, renowned British wine critic Jancis Robinson said that the fact that Indian wine even exists is a miracle. However, despite serious challenges that range from an unfavorable climate to a ban on alcohol, the country's wine industry is finally moving closer together.
India is a booming wine economy, both in terms of production and consumption. It has the potential to become a significant player in the global wine arena.
The total production of grapes is about 1.7 million tons per year, but most of it is used for the production of table grapes and raisins. Only about 10% of the grape harvest is destined for wine production. In addition, only a fraction of them come from high quality international varieties.
Considering its location, it's hard to call India an easy place for large-scale viticulture. With latitudes ranging from 10 to 35 degrees north, the climate can be harsh, and tropical conditions mean the vines must withstand short growing seasons in addition to intense heat and unforgiving monsoon. Typical summer temperatures on the plains can reach over 47C and rainfall can be intermittent.
Fratelli Vineyards
The south-western part of the country is the cradle of Indian winemaking. Most India's wine regions are concentrated there, primarily in the state of Maharashtra but also in Karnataka. The slopes of the Sahayadri mountain range which forms the 'Western Ghats' have been identified as the most suitable place for viticulture, due to high altitudes and a correspondingly mild macroclimate.
Travelling to Maharashtra, we will definitely want to visit some of its most well-known wine-producing areas – Nashik, Sangli, Sholapur, Satara, Ahmednagar and Pune. And moving to the state of Karnataka, we will get to know that the best sites are situated on the foothills of the Nandi Hills on the outskirts of Bangalore.
Other notable grape-growing areas are found in the states of Himachal Pradesh, Tamil Nadu, Punjab, and Jammu & Kashmir. A few areas in the north-east are also attracting attention due to their high location and cooler climates.
What do we know about Indian wine – what varieties are grown, what are the characteristics of Indian winemaking, who are the producers and to which countries it is supplied? Sonal Holland, India's first and only Master of Wine, kindly agreed to answer these and many other questions.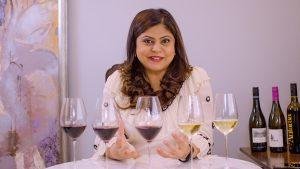 ---
"In fact, more people have been into space that have become Masters of Wine in the last 60 years. Even today, there are less than 450 MW's across five continents…"
---
But first I got interested in the personal history of Sonal Holland, how she managed to get the title of India's 1st Master of Wine and what has changed since then in this field.
Ms. Holland, could you tell us more where you studied and why you decided to enter the wine industry?
I decided at the age of 33 that I no longer wanted to work in a corporate environment as a Director of Sales at a NASDAQ-listed Fortune 500 company and instead, wanted to explore opportunities in a new industry achieving things that hadn't been done before. The wine industry at that time, in 2007, was very nascent and wine was virtually unknown among the vast majority of Indians. There were a handful of producers making wine and limited imported wines available to a small community of affluent wine drinkers. I thought then that this could be an industry that would propel in years to come, and wine would become more mainstream like whisky and rum was in India. I decided then to professionally pursue a career in wines by embarking on formal wine studies with the aim of wanting to become India's first Master of Wine.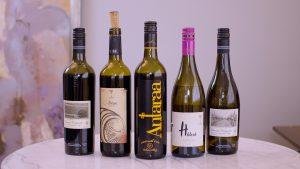 Was it difficult for you to obtain the title of India's 1st Master of Wine?
After a few early educational courses and concluding the WSET Diploma in 2010, I was the first Indian to be accepted on the Master of Wine program. I was so euphoric that I forgot the Master of Wine exams are among the toughest on the planet. In fact, more people have been into space that have become Masters of Wine in the last 60 years. Even today, there are less than 450 MW's across five continents and here I was on wanting to become India's first Master of Wine back at a time when even Italy didn't have one and neither did China, the new superpower in the wine world. What were my chances I thought!
The next few years of preparing to become a MW were among the most challenging and arduous years of my life. At times, it even seemed impossible. As an Indian, I had very limited access to tasting opportunities or study groups and I felt alone at many times. It required a big investment of time, effort, money and commitment. I have lost count of the number of regions, wineries and trade fairs that I have visited around the world, and the number of wines I have tasted to prepare for this mammoth of an exam. I had to put the exam ahead of everything else in my life, sacrificing personal time, my daughter's 4th birthday (which was heart-breaking), and my best friend's wedding. Being on the MW program had completely consumed me. But I am glad that at the end, my dream of being India's first Master of Wine was finally achieved in September of 2016.
Congratulations from the entire Drinks+ team! This is a great achievement. Moving on to the main subject of our conversation, from your professional point of view, what is the state of the Indian wine market now (what is good, what can be improved)? By whom is it represented (maybe by wine organizations, specific wineries or sommelier)?
The Indian wine market is still evolving, and consumption is growing at 14%-15% annually making wine the fastest growing beverage in India. Even up to 5 years ago, wine would not necessarily be served at weddings or house parties but now, it is always featured at large and small gatherings. Wine is now a mainstream drink and symbolised as success, celebration and romance across our media and movies.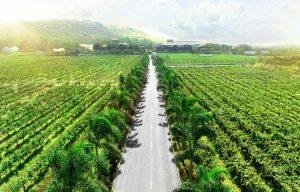 Sula Vineyards
India drinks 75% Indian wine and 25% imported wines although international wines are growing at a faster clip. The 3 main producers of wine, namely Sula Vineyards, Grover Vineyards and Fratelli Vineyards, enjoy nearly 70 – 80% of the consumption market share. I would love to see more brands and labels being introduced. But for this, consumption needs to grow at a faster rate. Wine is growing in popularity but due to high incidence of taxes, most of this growth is at the low-price end with importers seeking wines at Euros 3 – 5 price band. Only the most well-known brands at the premium end, sell healthy volumes. Brand familiarity is an important factor among consumers, so marketing is paramount.
The government has recently allowed digitisation of wine and alcohol by allowing retailers to operate an e-commerce business which makes the business environment very favourable for growth. Wine education through the digital medium is also on the upswing as both professionals and students are quenching their thirst for knowledge about wines by taking online courses (Sonal Holland Wine Academy saw a double digital growth in its uptake of online courses during the pandemic).
What grape varieties does India grow? What winemaking techniques are used?
India is home to a wide variety of wines made from different grape varieties: Chenin Blanc, Syrah, Viognier, Cabernet Sauvignon, Merlot (France), Nero d'Avola, Grillo (Sicily) and Tempranillo (Spain). Despite the tropical climate, India actually has no problem with excessive alcohol levels and very high or very low acid levels.
Wineries are experimenting with various winemaking techniques like cold soak for red wines, skin contact for white wines, whole berry fermentation, gentler extraction methods for better tannin management, more elegant use of oak, and late harvest style.
India produces a diverse quality of wines in terms of styles. There are all kinds of white wines ranging from dry to sweet. We have red wines which are both unoaked and oaked. We have a range of sparkling wines that try to emulate everything from a more prosecco style wine to slightly more complex and deeper, richer wines. We have rose of all levels of sweetness and colors.
---
"It is heartening to see Indian wines winning awards at international wine competitions, getting listed at Michelin-star restaurants in London and New York; and boutique agencies like Wines in India believing in the future of Indian wines for the UK market."
---
Considering the above, what are the perspectives of Indian wine on the international level?
I have been attending wine judging events and seminars internationally for the past decade. Earlier, people would be surprised to learn that India too produces wine. There was a total lack of awareness about its existence, but now, people seem more aware that India produces wine and would like to learn more about the styles, grape varieties, quality, wine making etc. I find myself being invited regularly at international forums to give a keynote address about Indian wines.
It is heartening to see Indian wines winning awards at international wine competitions, getting listed at Michelin-star restaurants in London and New York; and boutique agencies like Wines in India believing in the future of Indian wines for the UK market. At the core, wines offer a sense of discovery, learning and heightened appreciation and in this sense, every wine in the world has a rightful place as to where it belongs and who might enjoy it most. I look forward to the day when India finds its rightful place at wine tables around the world, and I am here to ensure it.
---
Drinks+ Files
Master of Wine Sonal Holland is India's most accomplished beverage professional and a domain expert on the business of wines and spirits in India. An in-demand speaker, thought-leader, educator, event curator, judge, broadcaster, communicator and consultant to the Hospitality, Food & Beverage and the Alcoholic Beverages Industry. Founder of India Wine Awards and an Entrepreneur at Vine2Wine Retail business. Awarded for her pioneering initiatives in the field of wine and spirts; she has won several accolades and has been recognised among the Top 50 most Powerful Women in Indian Luxury and Top 100 Most Influential People in Indian luxury. Awarded 'Wine Personality of the Year 2018' by Food Bloggers Association of India.