Today at Sotheby's in Hong Kong, spirited whisky collectors from Asia and beyond competed to lay claim to a bottle of the world's oldest single malt Scotch whisky – Decanter #1 of the Gordon & Macphail Generations 80-Years-Old, housing spirit from the Glenlivet Distillery originally laid down in 1940 in a bespoke oak cask by whisky creators Gordon & MacPhail.
---
Bidders from across Asia and Europe drove the final sale price to  US$193,000 (est. US$100,000-200,000), establishing an auction record for a bottle of the world's oldest whisky. The winning bidder was a European private collector, new to Sotheby's.
Jonny Fowle, Sotheby's Spirits Specialist, said: "From the moment news broke of the existence of a whisky matured in oak for eighty years, it generated a huge buzz of excitement. For those lucky enough to taste it, myself included, this is an exceptional whisky that not only lingers on the palate but also long after in the mind. As we have seen, exceedingly rare Single Malts are highly coveted, and when collectors are presented with something truly special, they are prepared to go the extra mile."
To house this most precious of liquids, Gordon & MacPhail commissioned internationally acclaimed architect and designer, Sir David Adjaye OBE to design a unique decanter and oak case around the theme 'Artistry in Oak' – a fitting tribute to this landmark moment for the industry, the longest-matured 'expression' ever to be released featuring spirit from a Scottish distillery.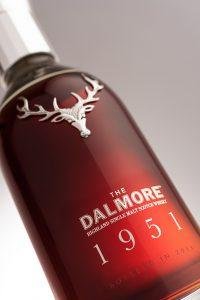 The lucky recipient of this special lot will also enjoy a whisky tasting experience for four in London, conducted by Gordon & MacPhail's Director of Prestige, Stephen Rankin and attended by Sir David Adjaye, in addition to the framed original cask head of Cask 340 which cradled the spirit for eight decades, and a one-of-one signed lithograph of Sir David's original, concept drawings.
As part of their release of 250 decanters (the remaining 249 decanters will be sold at retail), Gordon & MacPhail is supporting a local charity, Trees for Life whose mission is to rewild the Caledonian forest. Proceeds from the sale of Decanter #1 will be donated to resource the Trees for Life nursery which grows 100,000 rare, native trees, including oaks, from seed each year.
On February 3rd 1940, George Urquhart – from the second generation to own Gordon & MacPhail, founded in 1895 – had the foresight and vision to place into an oak cask a spirit to be enjoyed after his lifetime by future generations. Urquhart passionately believed that each cask needed to be left to reach its full potential, and only when the whisky was deemed ready should it be shared. On 5 February 2020, the decision was taken to bottle the cask's bounty, which had been nurtured over eight decades by four generations of the Urquhart family.