Daniel Mettyear looked at how the global beverage alcohol industry is changing through the Covid-19 era with insights and analysis from the latest IWSR data.
---
On June 10, the Wine Paris & Vinexpo Paris held a session with Daniel Mettyear, Research Director (Africa & Wine), who dived into performance and future development expectations of the key markets and categories.
Looking at total beverage alcohol (TBA) volume consumption at the global level, the actual resilience of the drinks market can be remarked over the past year. In fact, it exceeded previous expectations of 12% TBA decline in 2020 against 2019. In the end, it turned to be just a 6,2% decline what shows strong market resilience.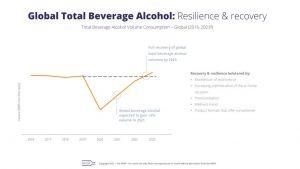 Even though every country has experienced a different path during the pandemic, there are certain components which drove the global tendency. Firstly, the industry pivoted quickly into the market. Adaptation was a key throughout the pandemic for everybody – distributors, retailers, legislators, even consumers.
The second of those features was related to strong alcohol consumption culture. It was supported by the e-commerce development sector and virtual tastings trend.
Two key drivers of global TBA are the USA and Chine. The return of TBA is expected to reach pre-Covid levels by 2023 growing 1,5% per year. Considering the consumption of pure alcohol, it is going to grow less – around 1% per year. Therefore, it underlines the movement towards lower alcohol products.

Breaking down TBA by regions, North America and the CIS were among the best performing regions. The USA, Canada, Russia demonstrated growth during 2020 depending on how severely affected those of the countries were by the virus itself. Similarly impacted, Brazil fostered some remarkable results as well. Those also impacted the South America region as a whole which only declined by below 3% during 2020.
However, in the rest of the regions, exposure to the own trade and to tourism, extending lockdowns and even alcohol bans in case of South Africa, India, and Mexico have made Europe, Asia, and Central America particularly susceptible to the situation. And Africa posted one of the worst results in 2020.
2021 is considered a year of transition rather than of starting recovery. Looking forward to 2025, we may see some healthy growth rate that is going to help us get back to pre-Covid levels, as mentioned by 2023.

On the category level, the performance of key categories may be pursued. Immediate Covid impact leaded to 6% decline in TBA. There is consistent decline between beer, wine, spirits, and to the least extend, cider. In contrast, the RTDs level grew by 26,4% in 2020. It is driven overwhelmingly by the continuing house sales boom in the US.
This is a trend that draws on demand for lower level of refreshment, variety of flavour, and convenience what switches us to a home premise. This was supported by a surprising level of a new product development and innovation despite the timing and the situation.
Looking on the final graph on long-term recovery prospects, all in all, except for RTDs, which remain an outlier, growth rate is going to be steady.
Some spirits markets received one-time Covid boost, such as Russia, Australia, the UK, Canada. There is an inverse V tread with a spike in 2020. They had an existing low on premise share of consumption in common which was quickly switched to the home premise. Furthermore, there has been a decline in socializing, eating out and travel, and it promoted the home consumption increase in 2020.
So, longer term trends of decline will certainly return to Russia, Canada, and the UK. However, Australia was looking dynamic at the moment, a flat year is expected before continuing moving towards 2025.

A similar lockdown boost in still wine can be observed in Canada, the UK, and Germany. However, the long-term trend for wine has declined in these countries. Some of the markets demonstrated better resilience. For example, wine remained stable in Brazil during 2020 and even grew by 28%. The US and Colombia also performed well, and Italy experienced a moderate level of decline despite its harsh situation.
On the other side of the spectrum, China's still wine market has continuously declined (about 30%) and experienced some difficulties. There was a big decline in Russia related to a new wine legislation of declassification of the market. Lockdowns, travel restrictions and low penetration of e-commerce contributed to the trend.

Even though sparkling wine is highly associated with toasting, parting, and celebrating, it showed a remarkable resilience in 2020. Surprisingly, it performs better than still wine market holding in under 5%. The attitude towards when and how sparkling wine can be consumed has been shifting. Colombia had a major home trend. Big female consumption was driven in Russia. Cava, Asti, Prosecco were registered in record sales in 2020.
On the negative side, the loss of tourism hit Thailand particularly hard. Philippines, Chine, and Brazil were impacted by trade exposure and the loss of occasion. The slight decline was observed in South Africa closely due to alcohol bans.
However, all in all, sparkling wine remains extremely robust and resilient. A quicker recovery for the category is expected comparing to previous forecasts. The pre-Covid levels may be regained by 2022.