Jancis Robinson gave recommendations to the Londoners, where they may find the wines Shabo and Beykush; as concerns 46 Parallel – she is ready to taste this wine in Kyiv.
---
Given the number of views counted on drinks.ua for our news that Jancis Robinson tasted wines by three Ukrainian producers, this information was appealing to the many. "This piece of news was lost today on very few," – one of our friends on FB commented. Indeed, more than two thousand readers during the first three days allowed the publication to become a leader among professional resources. Those were only Easter baking recipes that surpassed it in terms of popularity on gastronomic channels
.
And here's another piece of news: the tasting of Ukrainian wines initiated by Drinks+ Media Group was featured in the last Saturday issue of the Financial Times. Moreover, Ukraine was even in the headline, which, believe me, is worth much. And even too much
. Frankly speaking, our wines were featured along with the exotic Ethiopian ones. But when you get down to it, you understand that, for us, Ethiopia is a flagship, from the perspective of promotion on the international stage. After all, Ethiopia which was an exclusively "coffee country" not so long ago, currently has its national stand at international wine exhibitions, whereas Ukraine is only talking about it (not too confidently and amicably yet) .
So what did the readers of the Financial Times published in 24 cities around the world, read about our wines? In her regular publication, Jancis Robinson focused, again, on six Ukrainian wines offered by Drinks+, which she had previously assessed and described on her website. We should remind our readers that Mrs. Robinson is one of the world's top-end wine critics and one may appreciate her no-compromise approach to assessing wines as well as her sense of humor, by subscribing to JancisRobinson.com. Jancis is undoubtedly the most talented, but also the most principled wine journalist and writer of our time (co-author of Hugh Johnson's "World Atlas of Wine"), a regular columnist for the Financial Times since 1989, holder of the Order of the British Empire and honorary advisor to Her Majesty Queen of Great Britain.
Robinson's principled approach is legendary, culminating in a true story that happened in 2004, when after blind tasting Mrs. Robinson gave 12/20 to Château Pavie vintage 2003. Zest was added to the situation due to the fact that Robert Parker had given 98/100 to that wine coming from St. Emilion (at that time, it was sold at $ 230 in the US stores). Moreover, the tasting notes were unambiguous: "Completely unappetising overripe aromas. Why? Porty sweet. Port is best from the Douro not St. Emilion. Ridiculous wine more reminiscent of a late-harvest Zinfandel than a red Bordeaux with its unappetising green notes. 12/20".
Thus, despite her inherent rigour, Jancis Robinson gave excellent points to six Ukrainian wines and provided her tasting comments on JancisRobinson.com. In the article published by the Financial Times, she reiterated the impression that the wines had made. Without skirting contentious issues, which primarily related to packaging (which is fixable if our winemakers find these remarks well-grounded), Mrs. Robinson noted that Ukraine had pleasantly surprised her and particularly emphasized the autochthonous Telti Kuruk, calling it the "star of the show". Due to the fact that FT's headquarters is located in London, in the end of the article, the columnist also recommended to the Londoners affordable exotic wines (although these wines were not included into the tasting pool) and a place in the UK's capital, where they could buy such wines: «Shabo, Grande Reserve Saperavi 2015 Ukraine 13.3%. £55.20 Hedonism». In addition, she noted that earlier the same store there was selling – attention! – quotation: Beykush's seriously good Ukrainian dried-grape blend of Saperavi and Tempranillo".
Thus, the precedent has been set: Ukrainian wines were in the headlines of one of the world's oldest and most reputable newspapers. And the most discerning wine critic recommends Ukrainian wines to her readers a priori. Moreover, she is so confident in the new-wave Ukrainian producers that assesses their work as seriously good. Now, perhaps, it's high time to figure out, which of the Ukrainian wines were tasted by Jancis Robinson and what gave her such confidence.
Jancis Robinson's tasting pool included six Ukrainian wines by three companies: 46 Parallel, Beykush, and Shabo. As we wrote earlier, she assessed them pursuant to a 20-point scale ranging from Outstanding Wine to Excellent. Note that Jancis Robinson's comments are addressed to the professionals and can be adequately perceived only by a trained audience. As shoutcasters used to announce: take your children away from the screens!
In other words, we ask the wine neophytes not to disturb: it is only a professional who will understand that there is not always a defect implied by a remark from Robinson. As a rule, this is an ordinary business remark from one of the most principled judges in the world. Incidentally, we would like to speak aside and provide glimpses of Jancis Robinson's and her team's fresh impressions of the successful 2020 vintage in Bordeaux, published on JancisRobinson.com: Ch Beychevelle 2020 St-Julien– 16 points; Ch Pichon Baron, Les Tourelles de Longueville 2020 Pauillac – 16 points; Ch Montrose, La Dame de Montrose 2020 St-Estèphe (we should remind you that this wine participated in the landmark Paris tasting organized by Steven Spurrier) – 16.5 points; Ch Léoville Las Cases, La Petite Marquise 2020 St-Julien – 15.5+; Ch Pape Clément 2020 Pessac-Léognan – 16.5+; Ch Lascombes 2020 Margaux – 15.5; Ch Marquis de Terme 2020 Margaux – 15.5; Ch du Glana 2020 St-Julien – 15 … These figures are the points given to the wineries of the sacramental 46 parallel, and are provided here in order to understand, what kind of wine pool the Ukrainian wines got into.
Thus, Jancis Robinson's note that she was "delighted to taste this sample" and "would love to taste this wine in Kyiv" – should be read as the highest praise. In fact, as we understand, for Jancis Robinson, tasting these wines even became a motivation – though only a desire yet – to come to Ukraine. To be more precise: to come again. I hope we do not give out Jancis' personal secret, but in one of her letters to Drinks+ editorial board, she told us about her visit to our country: "By the way, in 1970 I visited Odessa, but on the very first night I was woken to a message that cholera outbreak had begun and we had to leave immediately!" And now, more than half a century later, in her comments about two Ukrainian wines, Jancis expressed her readiness to taste them at the place of their origin
.
We would venture a guess: it was due to the Ukrainian winemakers, whose new Ukrainian wines had captivated the critic to such extent that the impressions made by the Ukrainian wines supplanted the memories of the turbulent night and the Odessa epidemic in the critic's mind.
46 Parallel Grand Admiral Brut Nature 2018
Drinks+ Files:
100% handwork. Limited edition of 2620 bottles. «Late degorgage» is used in a technology process: discharge of sediment (degorgage) is made as needed, and not for entire batching as a whole. Aged on lees for min 26 months, the subsequent ones are still being aged.
Comments by Mrs. Jancis Robinson JancisRobinson.com:
16 points.
"Blend of Pinot Meunier, Chardonnay and Pinot Blanc. Traditional method. There is a host of text on the back label but it's so tiny that, alas, it's illegible. Not much mousse visible but on the palate there is no shortage of tiny bubbles. Clean but very light nose. The fruit/acid balance has been well judged in terms of dosage; it's dry enough – just. I would happily drink this at one of Kyiv's wine bars. Light astringency on the finish but not too much. Light lemon mousse flavour. Perfectly respectable even if a little light on flavor."
Alcohol 12,3%
When to drink: 2021-2023
46 Parallel Grand Admiral Merlot 2016 
Drinks+ Files:
Grapes are delivered from Kherson region. Fully manual production and micro wine-making principles. The wine was aged in 100% new French oak with "medium" and "medium+" burning. The highest requirements at all stages of production. It is a limited edition of premium wines produced in Ukraine from grapes of the best suppliers. In 2020, the company's wines came into the export markets of Canada, China, Nigeria and were represented at the exhibitions in Paris and New York.
Comments by Mrs. Jancis Robinson JancisRobinson.com:
15,5 points.
"From 20-year-old vines, 'the best grape suppliers' and, according to the label, 'proudly Ukrainian'. This producer makes much of being in the same 46th parallel as Bordeaux. Aged for 24 months in 100% new Bordeaux barriques and then for 12 months in bottle. Limited edition of 272 bottles (one barrique?). This bottle number 251 has a leather neck pennant. Transparent garnet. Pretty mature nose! But definitely sweet, spicy Merlot, plus a bit of sweet, spicy oak. I'd happily drink this in Kyiv. But I suspect it might have had a bit more fruit concentration a year or two ago. Just a little stringy on the finish. But fascinating to have tasted it".
Alcohol 12,3%
When to drink: 2019-2022
Comments by Anna Gorkun, СЕО and owner of 46 Parallel Wine Group:
"Presenting the wines of such a young company as ours for assessment by such a principled critic as Jancis Robinson was a risky step: after all, so much effort was put into our premium line that, of course, waiting for the world critic's verdict was tense. But, as many of you might have understood already: we are not looking for simple ways and are bound to get to the top. And, yes, we are confident in our work and proud of it! The production of premium quality wines in a high price segment is a long, risky, and uncompromising process. Given that from the very start, the company has relied on premium, and, therefore, ideal, quality of wines, we use only selected grapes of the highest quality in our production, while controlling all stages of vine cultivation, including, significant reduction of load on grapes clusters and harvesting grapes by hand. In addition, we have been using only new French barrique. All this is implemented in the framework of a very limited release. I am pleased that Jancis Robinson appreciated our wines and even expressed her readiness to taste both samples in Kyiv. I hope it will come true and if advisor to Her Majesty Queen of Great Britain ever comes to Ukraine, we will again have something to surprise her with! I think that in the near future, we will be able to offer our wines in the UK retail, too: it is a promising market for the wines of the class like ours. This is not just acknowledgement; it is a confirmation that we are moving in the right direction. Our goal is to put Ukraine on the world's winemaking map and worthily confirm our credo "Proudly Ukrainian". Together with our colleagues – SHABO and Beykush Winery – we demonstrate to the world, once again, that the wine-making Ukraine is entering the world arena. And we also demonstrate to the Ukrainians that domestic wines deserve to be highly appreciated on all continents and preferred in their own homeland. I would like to extend my gratitude Drinks+ for the idea and the realized opportunity to familiarize the English wine critic # 1 with the wines by 46 Parallel Wine Group".
Shabo Telti-Kuruk Grande Reserve 2017 
Drinks+ Files:
The wine that gained the status of AOC, vintage varietal dry white wine. Made from autochthonous grapes Telti Kuruk. All stages of production are controlled by international experts of SARL «Derenoncourt» (France). Grapes harvested by hand only from the best micro-plots of unique Shabo terroir when the air temperature is relatively low, carefully placed into the boxes (up to 12 kg per container) and loaded into refrigerated trucks with the temperature between +8 °С and +10 °С. Fifteen minutes later, the grapes are already at the Fine wine department where they pass 3 stages selection. The wine has a refreshing taste with light mineral notes.
Comments by Mrs. Jancis Robinson JancisRobinson.com:
16 points
"This is apparently an indigenous variety associated with the Ottoman period and the name means 'fox's tail', the shape of the bunches. Shabo is the name of a village near Odessa where winemaking was revived by Swiss colonists in 1822. There are 1,200 ha of vineyards in Shabo. Stéphane Derenoncourt is cited on the back  label.  Numbered bottles. The background notes say that production is always limited to 4,000 bottles but my bottle is number 8,336. Aged in French and Austrian oak for 'at least nine months'. Hand-picked grapes into small crates. Gravity-fed winery. Shabo is both the name of the producer (founded in 2003) and the village/terroir. Light, fresh nose of almonds. Quite a phenolic grip on the palate but no particular oaky flavour. This is clearly a variety with quite a distinctive minerally character and nobility. There's a laurel-leaf freshness. I can see why they boast it can last 'at least five to seven years'. Intriguing! I wonder whether it's identical to some Turkish grape variety?"
Alcohol: 12,4%
When to drink: 2021-2025
Comments by Giorgi Iukuridze, co-founder and СЕО of SHABO:
"The world community is already very well-familiar with our wines aged 5+ years. They have regularly gained the highest awards at the most prestigious tasting competitions. Including our 2014 Cabernet, which entered the TOP-5 of the world's best cabernets. In order to achieve such results, our family created SHABO almost 20 years ago. This year, we are presenting a collection of Great wines called Iukuridze Family Wine Heritage. At the same time, at the current stage, our winemakers see a great potential in the 2017 vintage. Therefore, it was interesting for us to receive a feedback on the Grande Reserve wine line. The high appreciation from Jancis Robinson of this still young wine, which has not yet unveiled itself, confirms to us that it has very high chances of becoming the Great wine".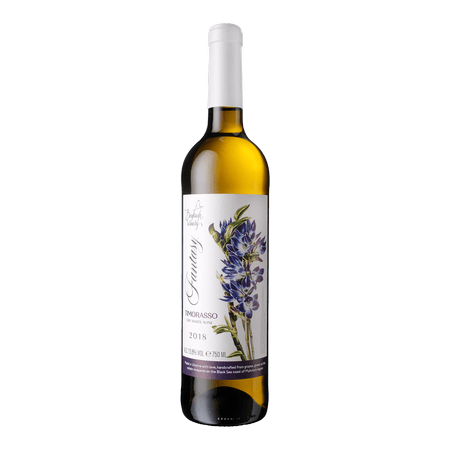 Beykush Timorasso 2018
Drinks+ Files:
9 years old vines of Temorasso, which are growing in the unique place, on Cape Beykush, whose shores are washed on one side by Berezansky Liman, on the other by Beykush Bay. The variety was recently considered endangered, at the time of planting in Ukraine there were only 50 hectares in Italy.
100% handwork. Fermentation at 15 °C at stainless steel tanks during 14 days. Aging in French oak barriques for 12 months.
Comments by Mrs. Jancis Robinson JancisRobinson.com:
15,5 points.
"Family-owned estate of 11 ha. 'Made in the Ukraine with love … on the Black Sea coast of Mykolaiv region according to the front label. Apparently the vineyard is on a promontory. Who would have thought to have found a varietal Timorasso here? Vines are nine years old. Aged for 12 months in French barriques.
Deep colour and that characteristic 'burnished' nose of Timorasso, followed by slight 'cheesiness'. On the palate it's a little more ordinary and the oak may not have been tip-top. The phenolics are a little rasping. But the label's attractive and it's a very enterprising effort. No shortage of acidity."
Alcohol: 13,8%
When to drink: 2021-2025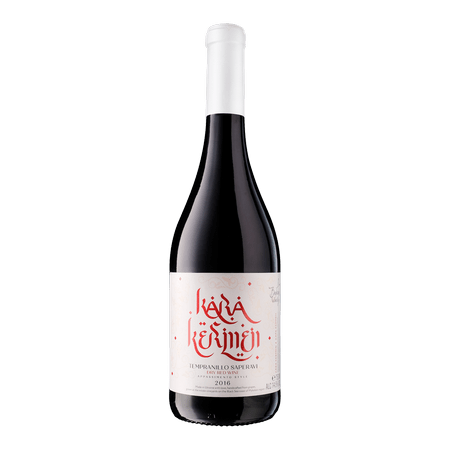 Beykush Kara Kermen 2016 
Comments by Mrs. Jancis Robinson JancisRobinson.com:
16,5 points.
"Nine year-old vines in the Mykolaiv region, Chernomorka. 50/50 Saperavi/Tempranillo. Grapes are dried so that they lose 40% of their weight which can apparently take up to 14 days. Dried grapes are slowly pressed, and the resulting wine is aged for 24 months in French oak. I wonder what the potential alcohol of the grapes was when they were picked? Skillful handling of the sweet oak on the nose of this wine. Good balance of ripe fruit and freshness with no apparent residual sugar nor excess of acidity. Very clean, ripe fruit. I don't think I'd ever be able to pick out the two grape varieties blind but they make a very pleasing whole."
Alcohol: 14,5%
When to drink: 2020-2025
Comments by Evgeny Shneyderis, owner of Beykush Winery:
"The wine critic, who is at the industry's top level, has tasted the Ukrainian wines, and assessment of such wines has resulted in establishing that they are on a par with the worthiest European samples. I hope this will help those who still have the [inferiority] complexes related to the wines made in Ukraine, to get rid of them. My special gratitude is extended to Drinks+ for organizing the tasting".
Note by Drinks+ editorial board
We presume that it would be fair to say "thank you" to Mrs. Jancis Robinson on behalf of the entire Ukrainian wine community: not only did she find time and agreed to taste the Ukrainian wines of the "new wave", but also told about such wines the readers of one of the world's most reputable and serious newspapers. The media are the fifth power, which is equally capable of destroying the winemaker's reputation and lauding it. It is particularly the case, when the world's class media are implied. We hope that was the moment of truth enabling the Ukrainian winemaking industry to turn over a new leaf in its history.