This sunny autumn weekend, October 8 and 9, the 4th edition of the Worldwide œufs en meurette Championship, WTA nominee and public voting winner, took place at the Château du Clos de Vougeot.
---
On Saturday, 8 October, 9 amateur cooks passionate about Burgundy recipes competed in the amateur competition. Sunday was dedicated to the novelty of this 2022 edition, the apprentice competition organized in partnership with the Lions Club Paris France Gastronomie, and of course, the Worldwide œufs en meurette Championship, which reserved its share of surprises and culinary demonstrations by the chefs to the public who came in large numbers to attend the event. On this occasion, thirteen chefs competed to win the title of world champion. The victory was gained by Joy-Astrid Blanchard-Poinsot, chef of the restaurant Chez Camille in Arnay-le-Duc, who succeeds chef Grégory Cuilleron (2021 World Champion), chef from Lyon at Restaurant Les Cinq Mains, Bruno Brangea, 2020 World Champion, and Frédéric Vardon, 2019 World Champion. This year, Jean-Bruno Gosse, chef of the restaurant Loiseau des Ducs received the creativity prize for its interpretation of the legendary Burgundian recipe.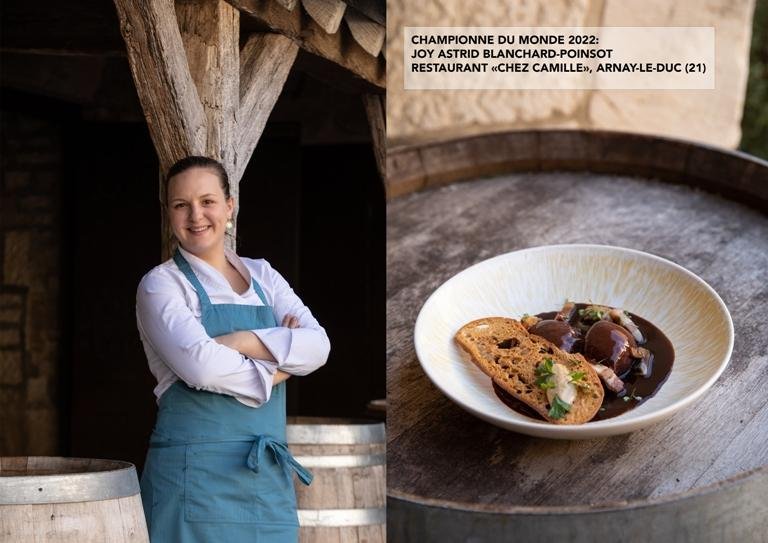 The 4th edition of this original culinary competition held by the Château du Clos de Vougeot was more international than ever. Indeed, last year, two foreign chefs were among the participants; this year, 4 international chefs were in the running!
On the international chef side are Pascal Aussignac, Restaurant le Club Gascon in London, Rainier Ng, Restaurant Gaston in Singapore, Eric Starkman, Le Gratin Restaurant in New York, Richard Van Oostbrugge, Restaurant DeJuvelier in Amsterdam. Among French chefs are Philippe Augé, Hostellerie de Levernois in Levernois, Joy-Astrid Blanchard, Restaurant Chez Camille in Arnay-le-Duc,  Thomas Collomb, Restaurant the Table d'Hôte de la Rôtisserie du Chambertin in Gevrey-Chambertin, Jean-Bruno Gosse, Restaurant Loiseau des Ducs in Dijon, Iza Guyot, Le Comptoir de Pagny restaurant in Pagny-le-Château, Sébastien Henry, Le Biz'tro restaurant in Beaune, Sandra Huguenin, Impala des Vignes restaurant in Chevagny-les-Chevrières, Maxime Lamoureux, Restaurant Chez Monsieur (Royal Madeleine) in Paris, Thibaud Morgenstern, Restaurant Nosch in Lyon.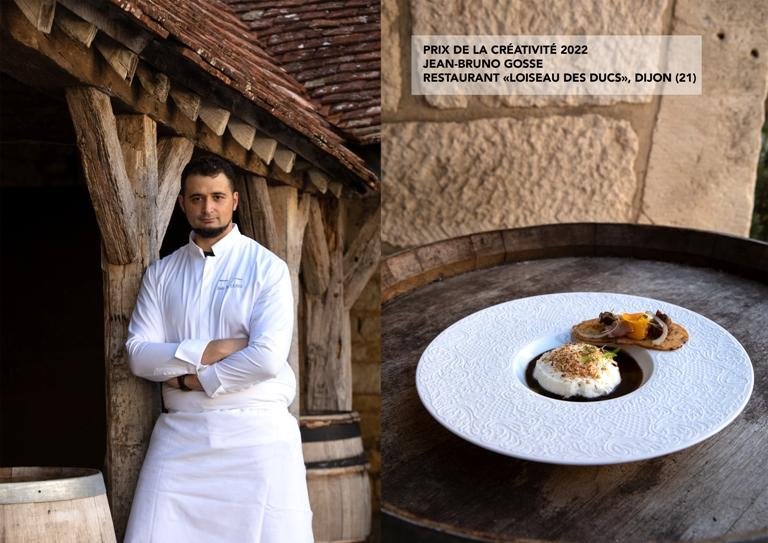 In addition, the amateur competition which took place on Saturday for the 2nd consecutive year, turned out to be successful for Thierry Andre from Beaune, chartered accountant by profession. He was chosen as a winner unanimously by the jury. He succeeds last year's winner Mickaël Thureau from Bordeaux.
This year's novelty, the apprentice competition has made it possible to reveal talents and to underline the extent to which the technicality of the oeuf en meurette recipe distinguishes the know-how of future leaders. Valentin Lavisse, 22 years old, an apprentice at the École des métiers de Dijon métropole, won this competition. Valentin also officiates at the Hostellerie de Levernois alongside chef Philippe Augé.
Photo: Benedicte Maniere