ProWein 2023, the world's #1 wine and spirits trade fair, opens its doors again in Düsseldorf on March 19-21, 2023, and will be greeting 10 Ukrainian wineries presenting their products under the Wines of Ukraine umbrella.
---
It's not the first time that Ukrainian wineries will be participating in ProWein. However, this year the Ukrainian Association of Craft Winemakers, being also the initiator and the founder of Wines of Ukraine, will give a bigger picture of Ukrainian winemaking to the visitors of the fair.
Ukrainian Association of Craft Winemakers was established in 2021 in order to coordinate and develop the national winemaking industry, as well as to enhance the competitiveness of Ukrainian wines internationally, and to promote the brand of Wines of Ukraine. In times of war, the Association also focuses on helping to rebuild destroyed wineries and on demining the vineyards liberated from russian occupation. Currently, the Association includes 72 manufacturers.
"Our mission is to actively develop the Wines of Ukraine brand," says Svitlana Tsybak, Wines of Ukraine representative, Head of the Association of Craft Winemakers of Ukraine and Beykush Winery's Development Director, "The attention that Ukraine is getting all over the world these days is extraordinary. We have to spread the word that, despite the war, life goes on here, we continue to grow grapes and produce our wines that have already been recognized by the world. We are happy to do our job, to work for our Victory."
The Wines of Ukraine stand at ProWein will present 10 wineries:
Beykush Winery (Mykolaiv region)
Father's Wine VB (Ternopil region)
Prince Trubetskoi Winery (Kherson region)
Chateau Chizay (Transcarpathian region)
Stakhovsky Wines (Transcarpathian region)
Biologist Craft Winery (Kyiv region)
Kolonist Winery (Odesa region / Southern Bessarabia)
Villa Tinta (Odesa region / Southern Bessarabia)
My Wine by Eduard Gorodetsky (Odesa region)
46 Parallel Wine Group (Odessa region).
Participation of Ukrainian winemakers at ProWine 2023 is supported by USAID Competitive Economy Program in Ukraine (USAID CEP) in cooperation with the Consulate General of Ukraine in Düsseldorf.
"Over the recent years Ukrainian winemaking industry witnessed an upsurge and Ukrainian wine has been highly rated. At the same time the appearance of craft winemakers with high quality products made Ukrainians prefer local. Despite the challenges faced today by Ukrainian businesses, now it's time for the world to find out more about Ukrainian wine. USAID CEP supports the participation of 10 Ukrainian winemakers in the ProWine fair. It will stimulate Ukrainian exports and help Ukrainian winemakers to the global market", — said Olesya Zaluska, head of the USAID Competitive Economy Program in Ukraine (USAID CEP).
Ukrainian winemakers are dealing with the horrors and challenges of russian aggression every day. Some wineries have suffered more than others. Prince Trubetskoy Winery, a historic chateau located in Kherson region, survived the Russian occupation. The winery's owners managed to retain their staff, but even now, after the de-occupation, it is not clear what happened to the production facilities, ancient wine cellars, a restaurant and hotel complex. It is still impossible to get there because the chateau is located in the territory suffering from daily shelling and missile attacks. Some of the vineyards have not yet been de-mined. Despite the challenges, Prince Trubetskoy Winery will participate in ProWein 2023.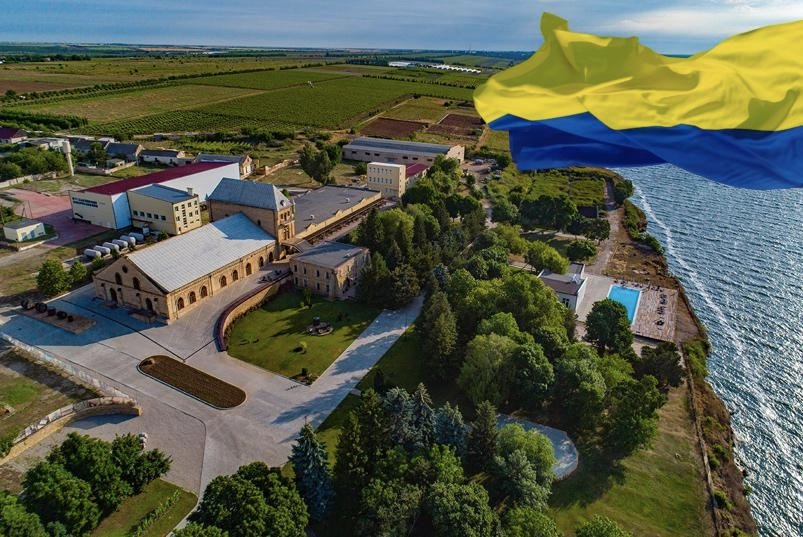 The international wine community already knows a few things about Ukrainian winemaking, considering Ukraine a "young" wine region. However, from a historical point of view, the traditions of winemaking in Ukraine have existed for several millennia.
"Our main goal is to place Ukraine back on the world map of winemaking, which has existed in Ukraine since the time of Trypillian culture (7 thousand years ago). It reached its peak between the 7th and 1st centuries BC. We have a variety of terroirs, dozens of local grape varieties, and most importantly, a new generation of winemakers who have revised the experience of their ancestors, linked it to modern trends, and are ready to present a new history of Ukrainian winemaking to the world," says Sergey Klimov, Wines of Ukraine representative, founder of the Kyiv Food and Wine Festival, ideologist and co-owner of Like a Local's wine bar.
"We are very happy that Ukraine has this amazing opportunity to present its wines to a selected audience of wine professionals from all over the world", shares her thoughts Victoria Agromakova, the Wines of Ukraine representative and founder of Wine&Spirits Ukraine expo. "Ukrainian wines deserve recognition and admiration, and our job is to spread the word and to grow our international business. We do appreciate the worldwide support that Ukraine and its people are getting. Helping Ukraine is a trend, and ProWein is not an exception. We are very grateful to the Ukrainian Consulate in Dusseldorf for their help and attention, and to the USAID Competitive Economy Program in Ukraine, for the support they provide to Ukrainian winemaking."
Wines of Ukraine stand: Hall 12 / A03.
In addition, Drinks+ & Wine Travel Awards invite to join the tasting of WTA nominees from Ukraine – SHABO Family Winery, Beykush Winery, 46 Parallel Wine Group, Stakhovsky Wines, Villa Tinta, Big Wines (Ukrainian branch of Vinos de La Luz) —  at ProWein. We are very happy to present the heroic Ukrainian winemakers who, even in the times of the war, under the attacks of enemy missiles, have faith in Ukraine's Victory, and continue to do their job with inspiration and create outstanding wines!
The tasting will take place on Tuesday, March 21, 2023 – 16.00 / Hall 13 (Forum 13.2).
Welcome to taste Ukrainian wines and meet the winemakers!
D+ files:
Winemaking in Ukraine has been historically predetermined: it has an advantageous geographical location, and its climate favours grape growing. The origins of winemaking in Ukraine date back to the 4th century BC (in Crimea), going 2500 years back in the Black Sea Region up to the 14th century in Zakarpattya (Transcarpathia).
The continental climate is characterised by hot summers and severe winters. In 2021, over 100 million litres of wine were produced from 40 thousand hectares of vineyards. Almost 180 grape varieties are cultivated, including the majority of indigenous or varieties grown here.
Ukraine's most famous indigenous variety is Telti-Kuruk, a white grape grown in Odesa region in the south. Another signature variety is a red Odesa Black, originating from Alicante Henri Bouschet and Cabernet Sauvignon.