Aimed at recognizing, evaluating and helping to promote spirits brands, each created and targeted to a specific audience, the London Spirits Competition has announced its winners. Drinks+ and Wine Travel Awards are the information partners of this event.
---
The organizers report that this year a record number of participants competed for the coveted bronze, silver and gold medals, with about 2,000 spirits brands from more than 80 countries coming to the competition. The London Spirits Competition is currently one of the most important spirits competitions in the world, with brands from all over the world participating. Alcoholic beverages are evaluated according to the three main criteria: quality, cost and packaging. To become a medalist, spirits must show a high rating in all of these three factors.
The competition prides itself on its judging panel, each year paying special, key attention to the judges, their names and track record. The stellar line-up included independent drinks brand consultant and spirits buyer Ivan Dixon; Harvey Nichols spirits and beer buyer Bryan Rodriguez; bar owner and industry consultant Salvatore Calabrese, director of mixology at the Donovan bar Federico Pavan, Soho House's Diana Aladzic, Electrics House bars manager Emilia Wrelton, Duke's Hotel head bartender Enrico Chaippini; Michal Fink, bar manager at One Hundred Shoreditch; and Minas Kotoulas, head of bars at Brasserie Zedel to name but a few.
The 2023 Competition saw 367 entries from the Australia as the top entrant country, followed by 303 products from United Kingdom and 138 from the United States. 695 Gins made Gin the top category entrant followed by Rum and Whiskey. There was a solid growth in participation of Rums showing signs that Rum is expected to grow in 2023.
Spirit of the Year: Downpour Scottish Dry Gin by North Uist Distillery at 98 points, United Kingdom.
Rum of the Year: Bodegas Papiamento Rum Caribbean Carnival by Bodegas Papiamento Aruba at 95 points.
Whisky of the Year: Courage & Conviction American Single Malt Whisky by Virginia Distillery Company at 98 points, United States.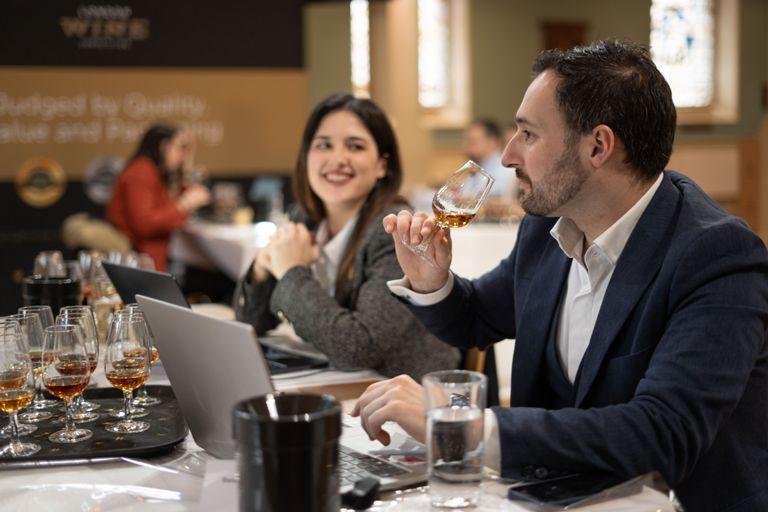 "The London Spirits Competition is becoming more widely known in the trade with each passing year, and as a result we are receiving an increased number of entries," commented Sid Patel, CEO of Beverage Trade Network, which owns and manages the event. "I have to say I am pleasantly surprised at the increased number of entries this year as the pandemic resulted in many drinks companies putting their NPD on hold and focusing on their core operations instead. This is just testament to the increasingly good reputation of the competition as word spreads in the industry that we offer something a bit different from other events."
For many judges, this year's low-alcohol and non-alcohol drinks were the standout categories. Matteo Torresin, the head bartender of Artists's at the Dorchester Hotel, emphasized that he particularly liked the non-alcoholic version of the sweet vermouth, which, according to the expert, would be perfect for a non-alcoholic Negroni. Torresin said he had recently seen increased demand for low-alcohol and non-alcohol sparkling wines in Dorchester. This trend was also noticed and voiced by Giusy Castaldo, bartender at Kwant. "Guests are increasingly ordering non-alcoholic drinks, but low-alcohol drinks are even more popular – people still want to drink but don't want to get drunk, so low-alcohol drinks meet all their requirements." According to Giusy, she was impressed with the number of new low-alcohol and non-alcohol products she tried during the judging process.
Non-Alcoholic of the Year: Sober – Whisky 0.0% by Sober Spirits Sas at 92 points, France.
Some judges, such as Tyriq Pitts from the Coral bar at the Bloomsbury Hotel and Mihal Fink, bar manager at One Hundred Shoreditch, noted the growing popularity of the Mezcal.
Mezcal of the Year: Defrente by Tequila Defrente at 93 points, Mexico.
The full list of winners can be found here.
Source: londonspiritscompetition.com
Photo: londonspiritscompetition.com