На ежегодном мероприятии Anteprime di Toscana 2017 Drinks+ предложил ведущим винным экспертам и журналистам из разных стран мира прокомментировать свои впечатления и дать профессиональную оценку винтажам, представленным на мероприятии. Ниже представлены тексты авторов.
Rojita Tiwari, Wine&Spirits Writer and Consultant, Founder Drinks & Destinations, India
I have been a regular at the annual Tuscan Wine event since 2012. In last few years, though the format of the event has remained more or less the same, there have been many small changes that have taken place in various consortiums. As the program includes consortiums of Chianti, Chianti Classico, Vernaccia di san Gimignano, Vino Nobile di Montepulciano and Brunello di Montalcino, you are expected to taste a wide range and styles of wines, all produced from one primary grape from the region-Sangiovese except, of course, the white grape Vernaccia in San Gimignano. While different regions have different rules with regards to yield, aging, classifications and price points, it is great to see how all the associations work together to promote the pride of Tuscany. It not just helps them promote the wines of Tuscany in the international market, the wide list of media, buyers, tasters who attend the event ever year also share their experience of the culture and culinary with the entire world through social media and other mediums. And, that's what is ultimately resulting in giving a boost to the tourism industry as well.
CAV. Subhash Arora, president Delhi Wine Club, Indian Wine Academy, editor DelWine, India Corres, Meininger WBI (Germany)
Anteprime Toscane has been a successful promotional concept that has been evolving and expanding during the last few years. Earlier, it used to be Chianti Classico, Montepulciano and Montalcino with San Gimignano tying up with a visit for a select group of journalists a day earlier. With the involvement and funding from the Tuscan government, it was added as a part of the programme. So were Chianti and 11 other appellations of Tuscany. This has made it a gruelling but comprehensive 8-day programme, giving an excellent overview of Tuscan wines as a whole.
Chianti Classico, Montepulciano and Benvenuto Brunello have been thoroughly professional and delightful programmes and were no less this year with excellent Sommelier service and range to taste from. Chianti and 11 other appellations are still under evolution stage and very cramped-one could barely get an overview. However, Montalcino was slightly disappointing and not fully satisfying because the producers were not present on the first day for interaction and a substantial number of journalists including me, were obliged to leave early on the second day. The most important tasting left something to be desired. Perhaps, the organisers should consider starting the programme with Benvenuto. All in all, it showed some improvements from the previous years, especially in the newer addition. A great programme to promote Tuscan Wines!
Irene Graziotto, Wine Writer, Wine Judge, certified AIS Sommelier
Anteprime Toscana is arguably one of the most important events concerning Italian wine landscape. It proves how teamwork is a winning tactic when it comes to assess impact on foreign audience and markets. This is particularly true in relation to the "minor" Consortia tasting event, which has allowed professionals to taste in a single day eleven different denominations. Amongst these, Southern Maremma is certainly one of those regions to keep an eye on, thanks to its wide variety and remarkable Vermentino. I would pick out also Montecucco and Morellino di Scansano which offer an interesting alternative to better known Sangiovese-based wines, Cortona with its Syrah and Valdarno di Sopra that aims at becoming a 100% organically farmed DOC. Unfortunately, the opening speech turned out to be rather disappointing: it is high time speakers stopped boasting that Italy has overcome France just because of a higher volume production when the average price for a bottle of French wine is three, four times more than an Italian one. When considering US – just to mention one of the most important markets for Italian wine – it emerges that Italy's main competitor is not France but Chile, a country with low production costs, against which Italy does not have a proper communication strategy. Data shown during the conference reveal that "Chianti" is still the most natural recollection when mentioning Italian wine. But what does "Chianti" stand for? Are we talking of the cheap red wine in a straw basket or Chianti as either a wine region or a wine designation opposed to Chianti Classico – with the latter option revealing a deeper knowledge of Italian wine? Wine production in the Chianti region has changed a lot indeed. On one side, Chianti appeal is still very strong as proved by the successful Chianti Lovers event open to public. On the other, things seem to get a little more confusing for Chianti Classico, with the newly established Chianti Classico Gran Selezione partially clouding Chianti Classico Riserva, which until a few years ago used to be the top product.
As for Vernaccia di San Gimignano, old vintage bottles showed how this wine can stand the test of time and how the best interpretations are the ones not overwhelmed by Sauvignon or Chardonnay.
Speaking of Nobile di Montepulciano, 2014 has been a very challenging vintage: Nobile seems to be still very young for a wholly enjoyable tasting and with some too much oaky samples. That said, some wineries are doing a great job and if I have to mention one that has pleasantly surprised me, this is Il Molinaccio.
Finally, Brunello di Montalcino 2012: a vintage that was rated with five stars and confirms its outstanding quality even though it is definitely less ready than the 2010 vintage tasted two years ago.
Michèle Shah, CEO OF MICHELE SHAH SRL – Marketing strategies – Italian wines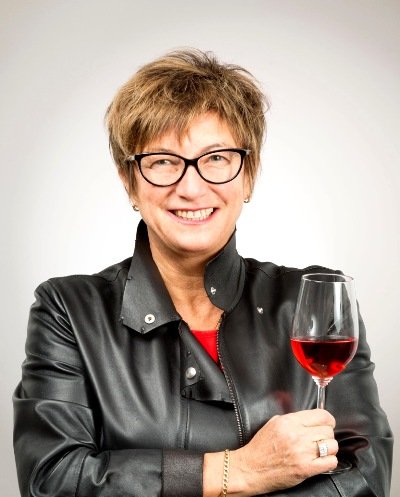 Anteprime Toscane is the scenario of the annual vintage release tastings for the Tuscan appellations, at which time professional tastings are set up for press and trade to draw their conclusions on the new vintages to be released to the market.
Regular Chianti docg was showing its vintage 2016 which was to all effects a good vintage, while Chianti Classico docg was showing vintage 2015 which is a super vintage, according to many vintners it is considered one of the best vintages over the last few decades. Vintners were certainly over the top about this vintage praising it as the best vintage they have seen in the past 50 years and one of age-worthy quality.
Going further south we come to Montepulciano, this year's vintage release for the Nobile di Montepulciano docg is vintage 2014. A very difficult vintage due to adverse climatic conditions during the growing season, showing harsh and unripe tannins. Not all producers were able to come out with a five-star vintage, in fact it has been declared a three-star vintage, but in some cases obviously, some producers did better and some worse.
Brunello di Montalcino docg vintage 2012 is very good vintage, with some notes in common with the legendary vintage 2010 which was praised throughout Italy as one of its top vintages over the last fifty years and difficult to beat. Vintage 2012 was a hot vintage and those vintners who managed best their vines made some impressive wines with beautiful aromas, vibrant fruit, lively acidity, and ultra-fine tannins and a pleasure to drink.
Vernaccia di San Gimignano docg 2016 is by all esteemed a great vintage, especially for whites where we find healthy grapes, thanks to the dry, ventilated weather that characterized the summer, producing balanced wines, perfectly "in line" with the sensorial characteristics of the variety.