Author's Presentation of SHUMI Winery
SHUMI Winery is one of the most internationally renowned wine tourism complexes in Georgia. The word «SHUMI», translated from the ancient Georgian language, means «the best wine» (which means «real, pure, without impurities»), which is quite symbolic.
Founded in 2001, SHUMI Winery is a leading producer of high-quality Georgian wines. This complex is located in the famous Tsinandali village in the Kakheti wine region. The winery's logo in the form of a griffin refers to a creature from Georgian mythology. According to legend, it was the griffin that brought people the first bunch of grapes, and from these grapes people began to grow vines on the ground.
Although SHUMI Winery is known for its distinctive Kakhetian style, they work to attract visitors from all over the world with an impressive vineyard collection of over 400 local varieties, as well as a museum of ancient wine artefacts.
In 2022-2023 SHUMI Winery received several WTA awards: The Visiting Card of the Country: The Visiting Card of the Country – Must Visit, Progressive Approach, та Art & History object, thus gaining recognition in three categories.
In 2023, the winery took part in the Mundus Vini Summer Tasting competition, where it received seven gold awards in the Best Producer in Georgia category.
During the Warsaw Wine Experience events, the author's tasting of unique samples of Georgian winemaking was conducted by Salome Lomsadze, Commercial Director of SHUMI Winery and a representative of the SHUMI family of winemakers.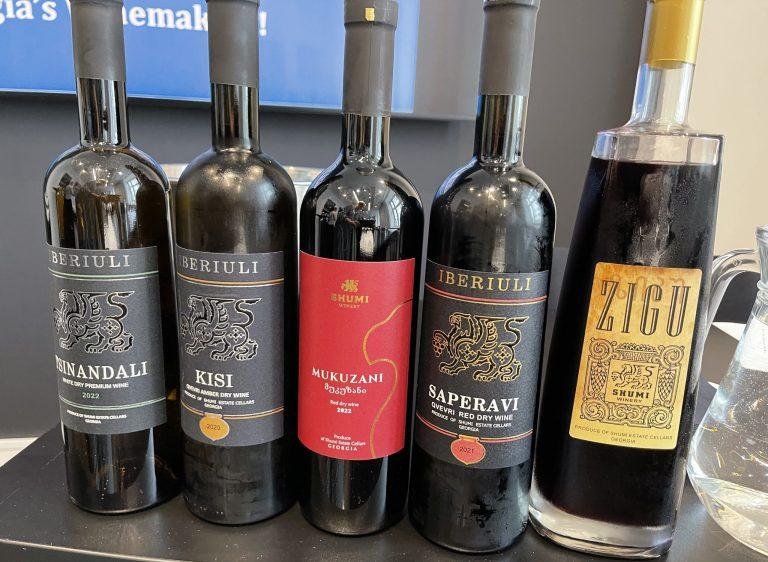 The presentation took place at the Hotel Nobu in Warsaw and was accompanied by a tasting of the best wines from SHUMI Winery:
Tsinandali Iberiuli 2022 (white dry)
Mukuzani 2022 (red dry)
Saperavi Qvevri Iberiuli 2021, Gold Mundus Vini 2023 (red dry)
Iberiuli Kisi Qvevri 2020
ZIGU (a legendary drink that combines the flavours of grape juice, wine, chacha and wine brandy, and the aroma is enriched with the scents of highland herbs)